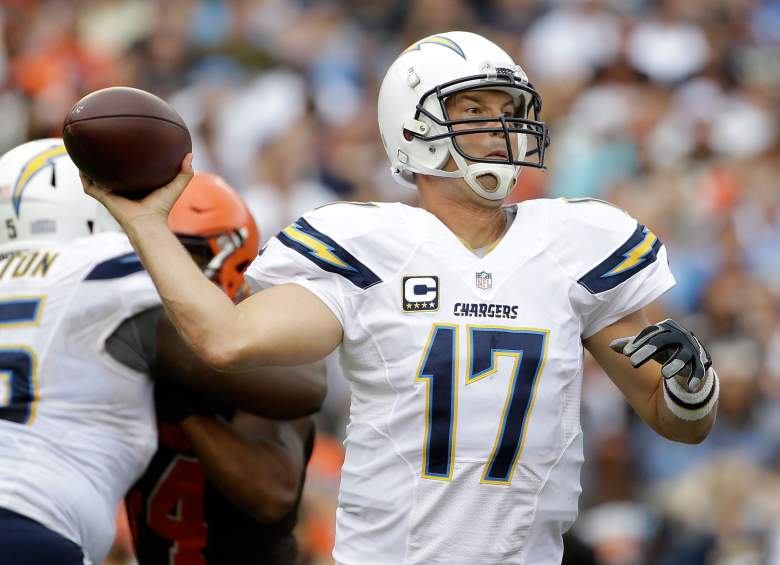 Fantasy football playoffs are now officially underway in most leagues. If you're looking for your best chance at advancing to your championship game, or just need an edge in daily fantasy, look no further.
Quarterbacks 
Stud- Phillip Rivers
Rivers is once again quietly having a solid year at quarterback. He's thrown for 27 touchdowns with very few real weapons, after Keenan Allen went down in week 1. He's also managed to average 19 fantasy points per game in a very tough AFC West division. Rivers faces a favorable matchup in week 15, going up against a Raiders defense that ranks 23rd in the NFL against the pass. It should also be noted that the Chargers QB racked up 31 points in Oakland earlier in the season. 
Dud- Aaron Rodgers
This is not a knock on Rodgers himself, but the Packers have a plethera of issues. The defense is not playing great, and more pressing is the complete lack of running game. While Chicago may not be an obvious threat, a one-dimensional passing attack could bode well for the Bears defense. The Bears rank 10th against the pass across the league, and have played incredibly well over the last few weeks. While Rodgers will still produce, don't expect a big day from him.
Stud- Matt Ryan
This is an obivous choice. Ryan has been in MVP talks all season, throwing for over 4,000 yards, 30 TD's, and just 7 picks. Couple that with an arsenal of recievers and a dismal 49ers defense, and you have all the makings for huge day from Matty Ice. Oh, and they're playing in Atlanta. Oh, and San Fransisco has lost 12 in a row.
Dud- Tom Brady
With or without an elite Payton Manning, the Patriots also seem to struggle in Denver. On top of that, the Broncos defense is still one of, if not the best in the league. The Broncos are tops in the league against the pass, and without Gronkowski to draw attention, Brady may be in for a long night.
Running Backs 
Stud- David Johnson
Another obvious canidate for a big game. Despite not being in the talks for MVP, Johnson is actually having a BETTER fantasy year than Dallas' Ezekiel Elliot. He's amassed 11 TD's on the ground, and managed to add on another 4 through the air. That's good for an average of 27.5 fantasy points per game. And hey, it helps that New Orleans has the 6th worst run defense in the league.
Dud- Spencer Ware
Ware has been a popular choice in the Kansas City RB carousel, but owners should be wary. Ware had a big game against Atlanta in week 13, but outside of that he has struggled to put up over 10 points per game over the second half of the season. Also to the suprise of many, Tennessee has managed to step it up on defnese this year, ranking 3rd against the rush for the year.
Stud- Carlos Hyde
Hyde has been wildly inconsistent all year, with three games above 20 fantasy points and three below 5. That being said, the OSU alum has played his best games against the 49ers' toughest opponents. Atlanta comes into this week at 8-5 and looking to secure a playoff spot. Hyde's tendency to rise up in big games, plus Atlanta's less than stellar defense could lead to another high scoring effort from Hyde.
Dud- Jay Ajayi
Though the Dolphins have been hot as of late, Ajayi had been mediocre at best. The Dolphins are up against the Jets this week, which on paper looks like a good matchup for the 2nd year running back. However if Tannehill does not play, the Dolphins would be forced into primarily running the ball. Defending the rush just happens to be the Jet's defense sole strong point, where they rank in the top half across the NFL. Ajayi struggled against the Cardinals, Bengals, and Chargers. Things won't be much better in New York.
Wide Recievers
Stud- Larry Fitzgerald 
Michael Floyd's dismissal from the team has further limited the passing options in Arizona. This sets the stage for Fitzgerald to break out against a struggling New Orleans defense. The veteran reciever has been held without a score over the last eight games, so he'll be looking to put on a show against the worst team Arizona has seen since week 10.
Dud- Julio Jones
Jones is a popular pick this week going against the league's 2nd worst fantasy defense, but be careful. As great as Julio has played this year, he's been very boom-or-bust. The perenial pro-bowler is also coming off of injury, so look for the Falcons to use him more as a decoy to open up the rest of thier productive recieving options.
Stud- Mike Evans
Evans is going up against Cowboys this week, who weigh in with a mediocre 26th ranked pass defense. Without an elite corner to cover him, theres no reason to think that Evans won't be primed to have a huge game in Dallas.
Dud- T.Y. Hilton 
The Colts and Hilton have put up great offensive numbers this season, but they tend to play poorly against the league's elite defenses. Despite a bad stretch of games, the Vikings still fit into that category.  Xavier Rhodes is slated to match up agianst Hilton, which could lead to QB Andrew Luck leaning more on his second and third recieving options.
Tight Ends
Stud- Tyler Eifert 
It's simple really: Tyler Eifert is good, Pittsburgh's defense is not. And with A.J. Green still out of the lineup, Eifert is by far the team's best option through the air.
Dud- Jimmy Grahm
Grahm has had an up-and-down year, and he doesen't seem to follow much of pattern. He has a tough test this week against LA, who have been very successful against tight ends this year. 5th best in the league, in fact. Russell Wilson will have plenty of other weaknesses to exploit in the Rams defense without having to force the ball to Grahm.
Defense 
Stud- Buffalo Bills
Any team that plays the Cleveland Browns is bound to put up good numbers. Cleveland ranks near the bottom in almost every offensive category, and there of no signs of things getting better in Buffalo this week.
Dud- Arizona Cardinals
The Cardinals have been one of the more dissappointing defenses in the NFL this season. The team has fallen off after multiple years of being a top 5 defense. Arizona still does alright against the run, but they will be barraged through the air this week when Drew Bress and Saints come marching in. Look for this to be a high scoring game on both ends.

NEO Sports Insiders Newsletter
Sign up to receive our NEOSI newsletter, and keep up to date with all the latest Cleveland sports news.