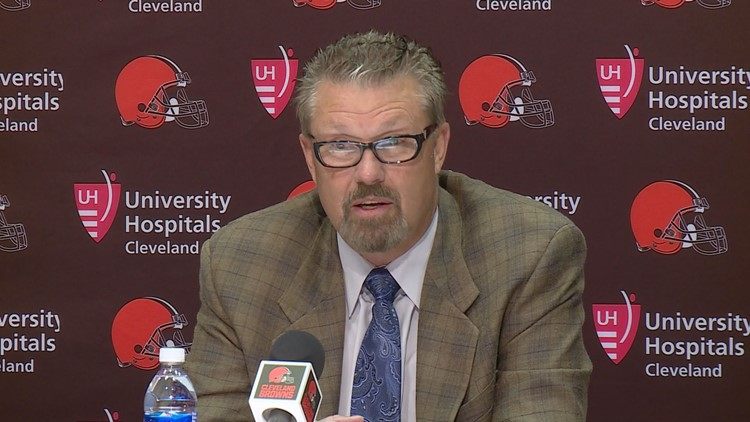 On his relationship with Browns GM John Dorsey
"John and I go way back. John and I go back to when he was still playing and I was coaching in this league. I have known him since forever and have had tremendous amount of respect for him as a player and then also had respect for him once he decided foolishly or whatever to go into this business, too. The grind that he had to be and the circuit and how hard he had to work to come up through scouting and be on the road all over the place. We used to run into each other in all of the different franchises I was at. He was at Green Bay for all of those years behind the scenes as an area scout. The respect that I saw him working with and then when he got the opportunity to move up and continuing moving up in the league, we would always communicate. Friends in this league only come from a respect that you can do your job. I tease everybody all of the time now. I am not looking for a whole lot of friends in life anymore. If I want a new friend, I will buy a Labrador.
"We have no chance of being friends unless I respect you at your ability to do your job at this level. I respected him for a long time before he continued to move up. To be quite truthful, when he ended up coming here, some people came down the hallway and asked me about him before if I knew anything. I spoke highly of him at that time. I did not hire him, but they asked my opinion and I knew of him. Ever since he has been here, it has been the same way. One of the things that has been fun since he has gotten here – you can ask him this, too – is his interaction with me.
"From the days that he came into the building, he was kind of like a player like the old player and coach back and forth where not a lot of people in the building do that with me for some reason – I do not know why; I am a pretty nice guy – but he started that right when he came into the building, and everyone else is looking at him like are you begging to get your [butt] chewed? What is going on? We have a great relationship. I respect the job that he does. I do not want to do his job. I want to do what I am asked to do. You can't be a master of all of those things at this level. I want to do my job, and that comes from my trust that you can do your job. We have a good trust with each other."

NEO Sports Insiders Newsletter
Sign up to receive our NEOSI newsletter, and keep up to date with all the latest Cleveland sports news.