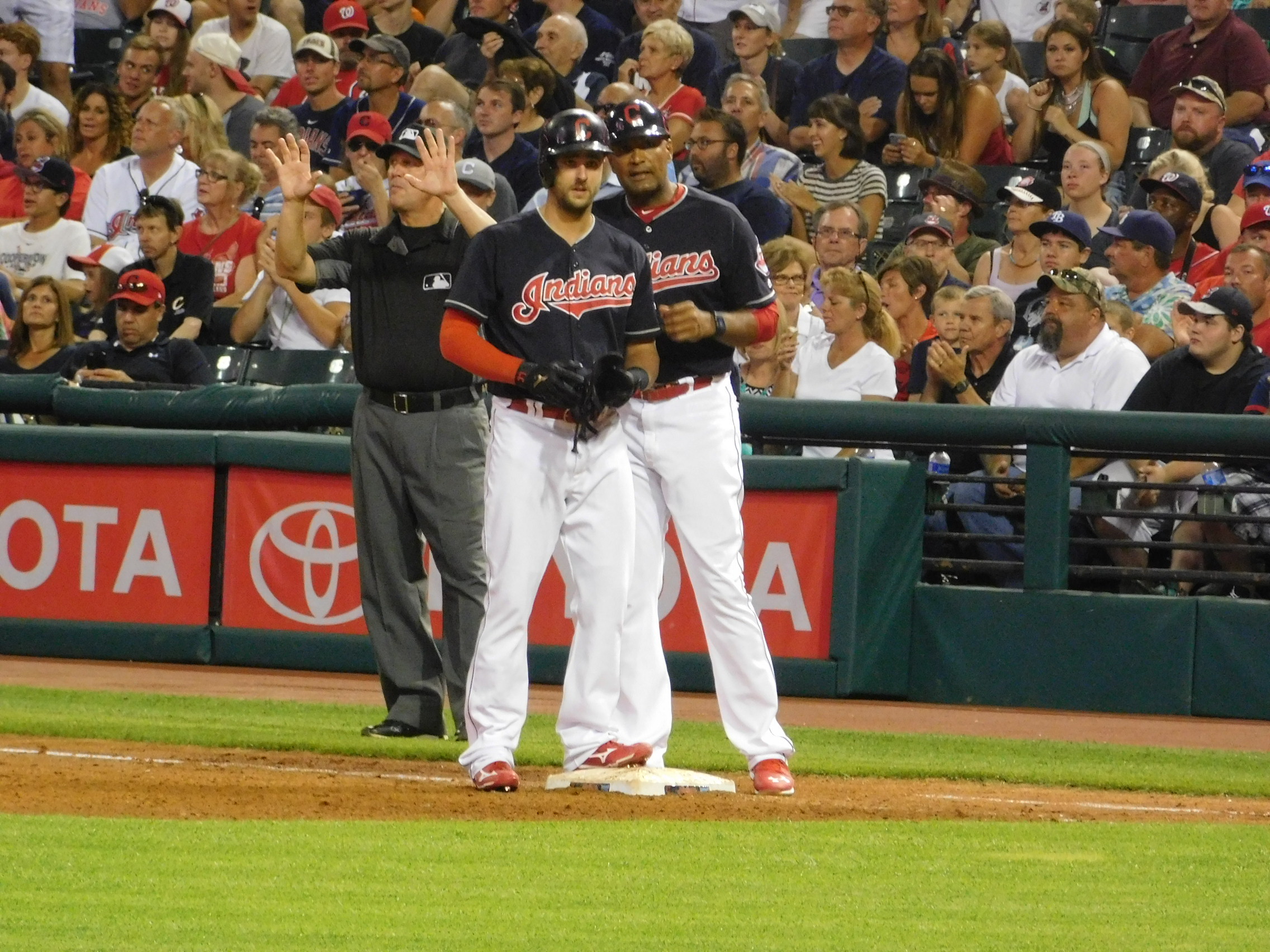 GOODYEAR, Ariz.– The Indians took on the Los Angeles Dodgers Thursday evening and came away with a 4-1 win.
Francisco Lindor hit a solo homer in the sixth inning to tie the game at 1-1. There was some levity to the moment, as he missed first base while he saluted Carlos Baerga in the Indians' dugout and had to go back to tag first base.
Francisco Mejia hit an RBI grounder in the following inning to give the Indians the go-ahead run. Nellie Rodriguez added two more runs off his RBI single in the eighth, while Rajai Davis recorded three hits of his own.
Josh Tomlin got the start for Cleveland, giving up three hits, one run and striking out four in three and one-third innings.
Read a recap of the game over at cleveland.com.
**The Tribe's home opener sold out even before tickets were made available to the general public, but you still have a chance to attend the game. Click on the link in the Tweet below to enter the team's home opener sweepstakes.
We're giving away two tickets to one fan for our Home Opener on April 6. https://t.co/gESJbuXBjF pic.twitter.com/cGxHGyuwOw

— Cleveland Indians (@Indians) March 8, 2018
**Be sure to check out this profile from Jordan Bastian on Lonnie Chisenhall. His teammates jokingly say he's old, but really, he tells Bastian it's just maturity. As Bastian writes, Chisenhall's "smarter now about hitting, willing to run out to any position and focused on winning a ring with the only organization he has known." And the fact that this could be his final year in Cleveland isn't lost on Chisenhall either:
"It could be my last year here," Chisenhall said. "I'd hate to not end it on a good note. So, we're coming in focused on winning the final game of the season. That's going to be a big talk and it's going to be an outward focus as a team. If we do things right collectively, we'll be fine."
**On the pitching side of things, the Indians are being conservative with Andrew Miller's workload. He's currently only pitched two Cactus League outings. He was scheduled to make his next appearance tomorrow against Colorado, but had that pushed back to Saturday against San Diego. The fact that he hasn't seen a ton of time isn't cause for concern, however, as Bastian writes:
"[Miller] and Cody are kind of on the same program," Francona said. "I don't think they need a ton of innings. They throw sides. Just because they don't pitch in a game doesn't mean they're showing up and going home. They're doing a ton of stuff to get ready for the season. Whether it's in the weight room [or elsewhere], they're just getting ready to try to log a heavy lift."
**Speaking of pitching, Zack Meisel spoke to pitching coach Carl Willis over at The Athletic. In the interview, Willis says he won't be making changes just for the sake of making changes. Afterall, Mickey Callaway didn't leave because of his negative job performance:
"If an adjustment needs to be made, we're equipped to make them. But we're not going to change something just because there was a change at the pitching coach position. The change at the pitching coach position wasn't made because of performance. It was made because Mickey got an opportunity to go manage. So the last thing anyone wants to do is step in and try to change something that's been very successful."
**Is there anything Bradley Zimmer has learned from Rajai Davis? Plenty when it comes to stolen bases, as he tells Fox SportsTime Ohio's Andre Knott:
What has @BZimmer5 learned from @rajai11davis? #TribeSpring pic.twitter.com/TBjduj376n

— SportsTime Ohio (@SportsTimeOhio) March 9, 2018
**Over at Waiting For Next Year, Jim Pete put out the first of two stories called "Finding Jason Kipnis: Part 1" Pete traces Kipnis' struggles going back to last year at spring training.
He's adapted to second, adapted his offense to whichever spot in the lineup that the Indians have needed, and has publicly agreed to whatever manager Terry Francona has needed of his All-Star second baseman, including a late-season move to center field last year. In so many ways on-the-field, Jason Kipnis is everything that the Cleveland Indians have always been about.

But it all seemed to come crashing down in 2017.

NEO Sports Insiders Newsletter
Sign up to receive our NEOSI newsletter, and keep up to date with all the latest Cleveland sports news.