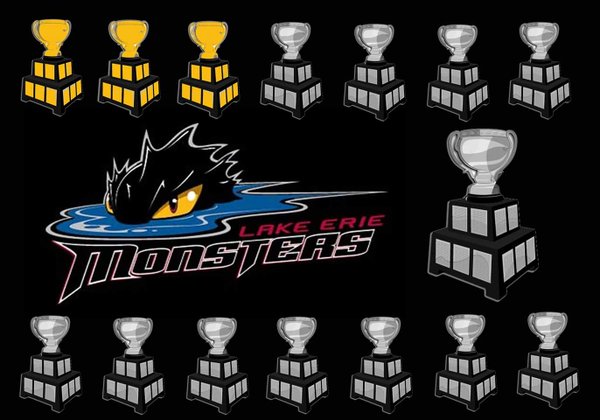 CLEVELAND, Ohio – With all eyes on the Cleveland Cavaliers, it may be easy to forget that there is another championship caliber team in town, playing in the same arena as a matter of fact.
As reported earlier today by NEO sports and Matt Loede, the Lake Erie Monsters have advanced to play in the AHL Western Conference Playoffs against Ontario. They are one of the best teams in the AHL and have a real chance at winning the championship. They are currently 8-2 in the playoffs and are on a roll. This brings up the question, if they win the Calder Cup (AHL Championship) and the Cavaliers fail to win the NBA championship, is the Cleveland Championship draught over? Some would say it ended Saturday night when Stipe Miocic took home the UFC Heavyweight Title. Others insist that unless it is one of the big 3 (Cavs, Browns, Indians" that it won't count.
People may forget, but the Cleveland Crunch won 3 NPSL soccer championships between 1994 – 1999 with such luminaries as Otto Orf, Hector Marinaro and Zoran Karic. They were beloved fan favorites who even packed the Richfield Coliseum in their earlier days of existence. The AHL Cleveland Barons Hockey Teams of the 1940'3 and 1950's also won 9 Calder Cups in a 15 year stretch but are often overlooked in Cleveland sports lore. Is it time we start giving these teams their due credit? I believe so, do you? I even went as far as to feature both teams in my book Cleveland's Finest that came out last year because I felt that they deserved it!
http://www.amazon.com/Clevelands-Finest-Sports-Greatest-Location/dp/1578605733/ref=sr_1_2?ie=UTF8&qid=1463507649&sr=8-2&keywords=Vince+McKee
You can follow the Monsters Western Conference Championship progress every day here at NEO. The schedule is posted below.
The Monsters' Round 3 schedule vs. Ontario is as follows:
Western Conference Finals – (best-of-seven)
Game 1 – Sat., May 21 – Lake Erie at Ontario (Citizens Business Bank Arena), 8:00 p.m. PST (11:00 pm EST)
Game 2 – Sun., May 22 – Lake Erie at Ontario (Citizens Business Bank Arena), 7:00 p.m. PST (10:00 pm EST)
Game 3 – Tue., May 24 – Ontario at Lake Erie (Quicken Loans Arena), 7:00 pm EST
Game 4 – Thu., May 26 – Ontario at Lake Erie (Quicken Loans Arena), 7:00 pm EST
*Game 5 – Sat., May 28 – Ontario at Lake Erie (Quicken Loans Arena), NOON EST
*Game 6 – Tue., May 31 – Lake Erie at Ontario (Citizens Business Bank Arena), 7:00 p.m. PT (10:00 pm EST)
*Game 7 – Wed., June 1 – Lake Erie at Ontario (Citizens Business Bank Arena), 7:00 p.m. PT (10:00 pm EST)