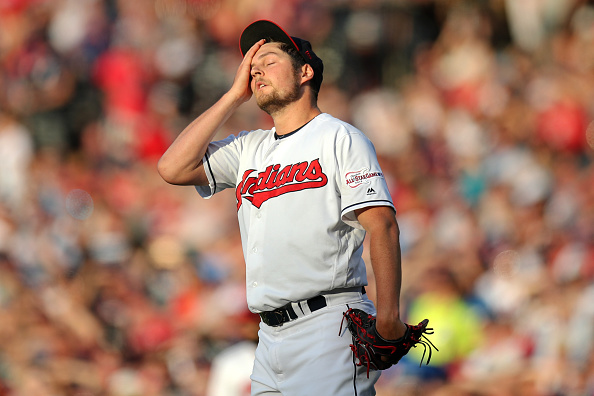 By Mike Holzheimer
A lot has been written and said about Cleveland Indians pitcher Trevor Bauer since his shameful display during the Indians-Royals game on Sunday.
Bauer, clearly frustrated with what was happening on the field, angrily threw the baseball over the outfield fence as Tribe manager Terry Francona was coming to the mound to take him out of the game.
I agree with Channel 3 (WKYC) Sports Director Jim Donovan's comment that you just don't trade him because of this incident-if you believe you'll get value and help now for him, then of course, make the trade.
I've also been reading a lot of comments that relate to Bauer's emotions and people liking his "fire" and his being a competitor. Well, you can have all those qualities and still be a professional. Bauer was anything but professional upon exiting Sunday's game against Kansas City.
Was he the first player ever to react out of frustration? Of course not, and that's an absurd observation by any of those who've commented in that direction. What he did was publicly embarrass his own team, showed up the opposition (tossing the ball over to the KC dugout) and showed up his own manager, who had to watch that tantrum as he was coming to get the ball from Bauer.
Coincidence he heaved the ball towards center field where teammate Oscar Mercado lost a fly ball in the sun? Hardly. And, he's not the first pitcher to have possibly gotten squeezed regarding the strike zone by a home plate umpire.
The Indians, and possibly Major League Baseball could suspend Bauer but I don't think a severe or extensive suspension is in order. But a heavy fine would seem to be heading Bauer's way, and possibly him missing his next turn on the mound is also a possibility.
No matter how many excuses Facebook and other social media commentators want to make, this was a bad look-and such actions must have consequences. Yes, he apologized, but that's of little consequence.
Being sorry becomes a shallow expression for repeat offenders. Furthermore, that's like publicly humiliating someone on social media because you're having a bad day, you're feeling sorry for yourself or you got the facts wrong, and then deleting the post thinking everything is okay now-WRONG!
Many have said words to the effect " what's the big deal? A federal case is being made over a guy losing his cool." Again, WRONG!
Losing your cool is throwing your glove against the wall in the dugout or beating up the Gatorade coolers. Publicly embarrassing people goes way beyond "losing one's cool."
Thinking before acting avoids these types of unpleasantries.
The team will decide if Bauer's antics become a distraction in moving forward trying to win a division title. Bauer will decide whether or not he provides another distraction the next time he pitches. Based on history, I have more faith in the team rebounding over this, and very little confidence that Bauer won't give another "repeat performance" tantamount to what children do when they don't get their way.
Once you disrespect or embarrass someone, you lose their trust. And that trust can be very difficult to get back. If Bauer thinks regaining his winning ways on the pitcher's mound is going to take a better effort, he may find himself working even harder to regain his teammates respect; something he literally "threw" away.

NEO Sports Insiders Newsletter
Sign up to receive our NEOSI newsletter, and keep up to date with all the latest Cleveland sports news.