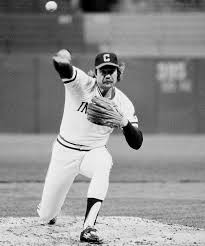 CLEVELAND, Ohio – I recently had the chance to sit down with Lenny Barker and talk about his perfect game from May 15, 1981 for my book "Cleveland's Finest". We relived the inning by inning drama. Here below is an excerpt from that book.
Lenny Barker took the mound on the night of May 15th in front of a crowd of 7,290 at Cleveland Municipal Stadium. Their opponents for the game were the struggling Toronto Blue Jays led by manager, Bobby Mattick. Taking the mound for the Jays was Luis Leal, who at that point in the season was a modest 2-3. Barker had come into the contest with a record of 2-1.
The "balmy" 49 degree Cleveland spring weather was perfect for a pitcher's duel. Behind the plate calling the balls and strikes was Rich Garcia with Greg Kosc, Don Denkinger and Jim McKean handling the calls on the base paths. Pitchers and umpires don't really mix, but Barker knew Rich Garcia and was familiar with is strike zone as Len discloses, "I knew Richie before that game, he was a good umpire who called a good game. Over time, you get to know the umpires and you can tell their strike zones. Most of them keep the same strike zones and some don't. Being a pitcher, you don't become friendly with umpires but you know who they are and remain cordial with them. There are a lot of good umpires but there are also a lot of bad ones."
The fans in the stands, who just wanted to kick back and watch some baseball, had no idea what a special moment they were in store for. Little did anyone know that Lenny Barker was about to catch the attention of not only the fans in the stadium, but also baseball fans nationwide. The battery mate for Barker that evening was Ron Hassey, who went on to catch another perfect game later in his career with pitcher, Dennis Martinez, in 1991.
Len looks back at working with Ron Hassey, "I felt really comfortable with Ron Hassey. He was a guy who was an all American third baseman out of Arizona. He was able to make a successful transition from third base to catcher. It was amazing to see how he progressed. He actually was a pretty darn good catcher, who did a good job and called a great game. He worked hard back there and was the only catcher to catch two perfect games, so he must have done something right. We also had Bo Diaz, who was an All Star in 1981. He was a pretty good catcher who caught for me down in Venezuela numerous times. I was used to both and they were both excellent catchers. Sometimes you get a relationship with a certain guy and who you feel comfortable with. The manager can tell when you get in a groove with a certain guy and they will keep that tandem working together."
All eyes were on Barker from the first pitch. As Barker wound up to throw his first pitch, the seal of history was about to be broken in epic fashion. Barker managed to get each of the first two batters to ground out to shortstop, Tom Veryzer. The third out came when George Bell grounded out to first baseman, Mike Hargrove. A rather routine trip through the top of the order became a common occurrence as the night went on.
Len walks (no pun intended) us through what he felt during the early part of the game, "It started off feeling like a normal game and I was throwing nothing but fastballs early. The guys behind me made a couple of incredible plays in the first inning. As we got later in the game, I started striking out batters at a good pace."
In the bottom of the first inning, a lead off single by Rick Manning got the Tribe off to a good start. After second baseman, Jorge Orta, popped out to the shortstop, Mike Hargrove reached first base on an error by first baseman, Mayberry. Andre Thornton wasted no time hitting a sacrifice fly deep enough to score Manning from third, giving the Indians an early 1-0 lead. Moments later, Ron Hassey singled and the lead grew to 2-0. Harrah ended the inning with a called third strike from Leal.
Facing Barker to lead off the top of the second was cleanup hitter and the person responsible for the first inning error, John Mayberry. His fly ball to center field started the inning off for the Indian's right hander. After Upshaw grounded out to second base, Garcia flew out to center field, which ended the second inning the same as the first, perfect for Barker.
After a bottom of the second that saw the Indians fail to add to their lead, Barker took the mound to face the bottom of the Blue Jay's order. Back-to-back ground outs by Bosettie and Ainge set the table for a fly out by Martinez that ended the inning. Barker had made it through the Blue Jays lineup once without allowing a single hit or base runner.
At the top of the fourth after the Indians failed to score again, Barker began his warm up tosses to prepare to face the top of the Blue Jay's order for a second time. Griffin managed to hit the ball out of the infield this time, but right into the glove of left fielder, Joe Charboneau. Barker recorded his first strikeout of the game by getting Moseby to swing and miss. It was quickly followed by another strikeout by Bell. Twelve Toronto batters had come to the plate and each failed to reach base.
A quick bottom of the fourth didn't give Barker too much time to rest between innings, but it also kept him from getting cold. Leading off the top of the fifth was cleanup hitter, John Mayberry. He became yet another strikeout victim, the third in a row and all swinging. After an Upshaw foul ball fly- out to third base, and another strikeout this time by Garcia to close out the top half of the inning, Barker was more than half way through the perfecto.
During the bottom of the fifth, Orta hit a two out single, only to get thrown out at second trying to steal with Hargrove at bat. Bosetti led off the top of the sixth by grounding out to second baseman, Duane Kuiper. Danny Ainge and Buck Martinez followed with back-to-back strike outs. They both went down swinging; Barker had earned every one of his strikeouts that same way. His pitching arsenal was appearing to be more unhittable by the inning.
The Indians continued to make things interesting by trying to add to their lead in the bottom of the sixth. They had hits by both Hargrove and Harrah. Leal managed to strand both runners on base by forcing fly-outs from Thornton and Hassey. He followed that with a groundout from Charboneau that closed out the inning and kept Cleveland still ahead 2-0.
With 18 outs down and only 9 to go, the chance of a perfect game arrived in everyone's minds, even Barker's. He discloses when he felt that he could be pitching a perfect game, "After the seventh inning, and then truly in the ninth inning. When I went out there in the ninth I knew my pitches were working, I still had great command of them and they couldn't hit them."
The once unlikely feat was now suddenly possible, even close enough to hope for. Barker wasted no time in getting Griffin to ground out to start the seventh inning. Barker then took matters into his own hands by getting both Moseby and Bell to strike out swinging. Barker was red hot as he now set down 21 batters in order.
All of his strikeouts resulted from Toronto batters swinging. Barker was in full command of all of his pitches, which was leading him towards a perfect game. Barker didn't have time to think about a perfect game too much because again the Indians went down in order to close out the seventh. With the top of the eighth inning on tap, the Cleveland Indians were beating the Toronto Blue Jays 2-0.
For the third time that evening, Mayberry went down swinging . With only five outs to go, the 7,200 fans at Cleveland Municipal Stadium started to roar like ten times that amount at every pitch. The atmosphere became intense and exciting as Barker closed in on what a few hours earlier seemed impossible to imagine. After an Upshaw ground out to second baseman, Kuiper, the crowd began to sense magic in the air. When Garcia struck out swinging to close out the top of the eighth inning, the small Indians crowd roared again with excitement as they were just three outs away from seeing baseball history.
Orta, perhaps filled with adrenaline from a possible perfect game, started off the bottom of the eighth with a solo homerun off of relief pitcher, Leal. It was an insurance run that brought the score to 3-0. Barker had a chance to breathe a sigh of relief before taking the mound at the top of the ninth. When Barker walked to the mound in the top of the ninth inning, he was no longer just another major league player; he was a man just moments away from achieving baseball immortality.
He was on the verge of pitching only the tenth perfect game in major league baseball history. He was no longer the hard throwing righty that the Texas Rangers had sent away after early control problems. Barker was a man on a mission and no one was going to stop him from achieving it. Len was so focused that he didn't thing of the possibility of Toronto laying down a bunt in the ninth inning, "It didn't cross my mind. I had a no hitter going against the White Sox once when their leadoff hitter bunted to reach base to start the seventh inning. The next time he came to bat I drilled him; that is part of baseball."
Bosetti completed his 0-3 night with a foul ball pop out to the left side of the infield to start the ninth. Desperate to try anything to break up the no hitter, the Blue Jays manager, Bobby Mattick, chose pinch hitter, Al Woods, to bat for Danny Ainge.
The move proved futile as Woods also struck out swinging giving Barker his eleventh strikeout of the game. When manager, Bobby Mattick, substituted Buck Martinez for Ernie Whitt, it was his last move. The tension in the crowd and the fans watching at home was thick. Barker had come so far and everyone knew they were just seconds away from witnessing history.
Barker forced Whitt to fly out to center fielder and current Indians television broadcaster, Rick Manning. The perfect game was complete and the city of Cleveland erupted in joy and pride for their beloved starter.
The crowd went wild with excitement after the last out of the perfect game! Lenny Barker had just pitched only the tenth perfect game in Major League Baseball history.
If you would like to hear more about this game, and also more from Len himself, you can pick up a copy of Cleveland's Finest at the below link.
http://www.amazon.com/Clevelands-Finest-Sports-Greatest-Location/dp/1578605733/ref=sr_1_2?ie=UTF8&qid=1463347742&sr=8-2&keywords=Vince+McKee

NEO Sports Insiders Newsletter
Sign up to receive our NEOSI newsletter, and keep up to date with all the latest Cleveland sports news.