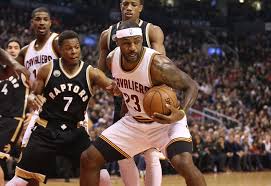 The Toronto Raptors eliminated the Miami Heat in a Game 7 showdown north of the border on Sunday night to advance to the Eastern Conference Finals. Game 1 tips off at 8:30 PM on Tuesday night in Cleveland.
The Raptors played 14 games in the first two rounds, going 8-6, while the Cavs went 8-0 and have rested for over a week.
Many criticized Toronto for choking in the playoffs in past seasons, particularly their two All-Star guards Kyle Lowry and DeMar DeRozan, who struggled at times in the first two rounds.
Lowry and DeRozan responded to critics by playing well in the Eastern Conference Semi-Finals against Miami, including an impressive Game 7 performance in which they combined for 63 points.
Another impressive factor of the Raptors series win over the Heat is that they were without starting center Jonas Valanciunas for most of the series, but Bismack Biyombo stepped up in his absence, taking advantage of the Miami Heat's small lineup, as the Heat were also without their starting center Hassan Whiteside.
We know the Cavs have looked great in their first eight games, sweeping the #8 seed and sweeping the #4 seed.
A few of the games came down to the wire, but the Cavs took care of business.
Although the Cavs have played great in the first two rounds, fans may be in for a surprise when the Raptors come to town, and it will not be nearly as easy as the first two rounds.
Here is a breakdown of the head-to-head player matchups in the series, as well as the bench matchups, and I'll conclude with my prediction for the series.
Starters
PG Kyrie Irving vs. Kyle Lowry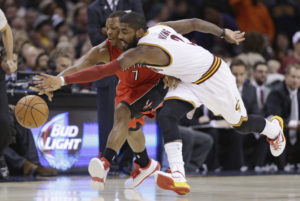 Irving has played arguably his best basketball of the 2015-2016 campaign in the playoffs, averaging 24.4 points and shooting 47.7 percent in the postseason up to this point. He's also been deadly from three-point range in the playoffs, shooting 53 percent from beyond-the-arc in the first two rounds.
As for Lowry, it's been an up and down postseason, but he appears to be peaking at the right time. Lowry averaged just 14 points per game in the first round against Indiana, shooting 31.6 percent from the field. In the Conference Semi-Finals against Miami, he turned it up a notch, averaging 23.4 points, shooting 40 percent from the field.
One of the most impressive aspects of Lowry's game in the second round was his ability to get to the free-throw line, particularly in Games 6 and 7. Lowry shot 21 free throws in those final two games and when facing the Cavs, he will look to be aggressive as he has been all season, and will be looking to attack Irving, who is not known for being one of the better defensive point guards in the league.
Lowry scored 25 or more points in four of the seven games against Miami. Games 6 and 7 were his best of the playoffs, as he scored 36 and 35, respectively in the two games.
In the regular season, Lowry faced the Cavs three times, but Irving was only on the floor in two of the games.
Lowry and the Raptors won a February game in Toronto, in which he scored a career-high 43 points, as the Cavs had no answer for him that night.
Irving got the better of Lowry in a January game in Cleveland, when he put up 25 points on 10-of-16 shooting, while Lowry scored 23 points in a losing effort.
The only other time the Cavs and Raptors met in the season was north of the border in November, but Irving did not play. Lowry had an impressive game, scoring 27 points en route to Toronto's win.
The battle between Lowry and Irving will be fun to watch. I consider this matchup a tie, although Irving has been more consistent in the playoffs up to this point. I expect both players to put up 20-25 points on a nightly basis and they will basically cancel each other out.
Shooting Guards
DeMar DeRozan vs. J.R. Smith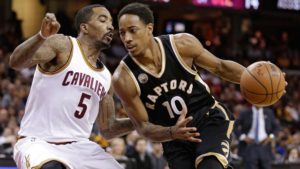 What's interesting about DeRozan's head-to-head record against the Cavs in 2015-2016 is that he did not play well at all in their most recent meeting, scoring just six points on 1-of-11 shooting. The Raptors still won. He was basically a non-factor in the game, but in fairness to DeRozan, he was dealing with "flu-like" symptoms.
DeRozan has received a great deal of criticism in the playoffs, as well, putting up inconsistent numbers in the first two rounds. Much like Lowry, he has started to peak in the playoffs over the last three games of the second round in particular. DeRozan scored 34, 23, and 28 in Games 5, 6, and 7 against Miami after struggling in the first four games of the series.
DeRozan has a knack for getting to the free-throw line, just like Lowry, and that can be something to watch for in the Eastern Conference Finals. It's no secret that Cavs Shooting Guard J.R. Smith gets called for an inordinate amount of fouls, many of which are justifiable, but some of which come from his reputation in the league. Smith will have to be careful not to let his emotions get the best of him. Smith has been a valuable defender this season, containing most of the players he is assigned to, but guarding an All-Star is no easy task, even for a great defender (see Kawhi Leonard).
Smith has been a streaky player in the postseason, which mirrors his play of his entire career. One night Smith can go off for 25 plus points and knock down five,six, or even seven three-pointers. Other nights he is more quiet and puts up around 10 or 12 points.
In this matchup, although Smith is a wild card to watch out for, it would be impossible to say he has the edge over the All-Star shooting guard DeRozan. DeRozan gets a clear advantage in this matchup.
It won't be surprising at all if DeRozan averages 20-25 points per game in the series, while Smith might have a game or two, where he scores 20.
DeRozan and Lowry are both clicking of late, which could give the Cavs backcourt a handful to deal with. But fortunately for Cleveland, the Cavs have one guy who nobody can even hope to shut down in their wildest dreams.
Small Forwards
LeBron James vs. DeMarre Carroll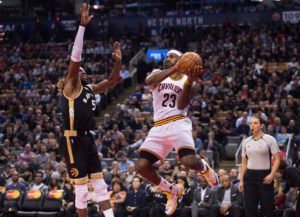 We don't need to go in-depth into this matchup. LeBron is LeBron. Carroll is a solid player, who knows his role and works hard. Even if Carroll does a solid job on LeBron, the one they call King James is practically guaranteed to average 25 points and close to a triple-double in rebounds and assists.
LeBron is the one guy on the Cavs who Toronto has no answer for whatsoever. Don't be surprised if Toronto puts Patrick Patterson on him to try and provide a different look, and although Patterson can keep up with him, the only hope for Toronto is for that combination of small forwards to just keep LeBron from going off for 35 or more points.
LeBron has a significant edge over Toronto, regardless of who is thrown at him.
Power Forwards
Kevin Love vs. Patrick Patterson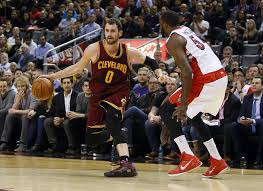 We mentioned that Patterson might be matched up on LeBron at times in the series, but he will most likely be lined up against Love for the majority of the series. Love has been great in the first two rounds of the playoffs, averaging 19 points and 12.5 rebounds per game. He's shooting 44 percent from three-point range and recently scored a game-high 27 points, knocking down eight threes in Game 4 against the Hawks.
Patterson is a guy who may not get a ton of praise, but fills his role perfectly with the Raptors. He's a versatile defender, who can get up and down the floor, and make it difficult for whoever he's guarding to get good looks.
Love has a huge edge in terms of his offensive potential and rebounding ability, but Patterson could surprise people and possibly contain Love to some quiet nights in this series.
Love gets the clear advantage in this matchup, but don't count on him to put up 20 per game like he has been in the first two rounds.
Centers
Tristan Thompson vs. Bismack Biyombo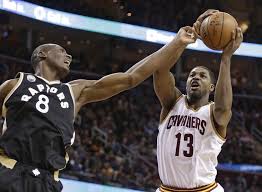 If you want to call them centers, go for it, but that position is becoming a dinosaur, no Raptors-related puns intended. The matchup of Thompson and Biyombo will be fun to watch. Both of these guys bring a ton of energy and do the dirty work.
Thompson is known for his offensive rebounds, averaging five per game in the 2015-2016 playoffs. He's averaging 10 total rebounds per game in the postseason so far.
Biyombo on the other hand, emerged after the injury to Jonas Valanciunas. He was most impressive in Games 4, 6, and 7 of the Eastern Conference Semi-Finals against Miami.
Biyombo hauled in 13, 13, and 16 rebounds, respectively in those three games. He blocked 10 shots in the four games in which he started in the series, and posted a double-double in Game 7, scoring 17 points to go with his 16 boards.
It's important to note that Biyombo did not have to go up against a true center on Miami because of the injury to Hassan Whiteside, but he is a guy that the Cavs may have some trouble handling.
Biyombo had a game back in March against Indiana, in which he hauled in 25 rebounds. Granted, it's only one game, but this guy is someone the Cavs should not take lightly because he has the potential to make a huge impact on the game. His rim protection and offensive rebounding make him every bit as valuable to the Raptors as Thompson is to the Cavs.
Although Thompson has the bigger contract, I would say this matchup is an even split.
Keep in mind, if Valanciunas returns in this series, he is one of the better centers in all of basketball. He was the best player for Toronto while Lowry and DeRozan struggled in the first round and some of the second round, but because of the injury, we can't expect him to be 100 percent.
If Valanciunas is even close to 100 percent when he does return to action, that is an area where Toronto has a big advantage.
Let's look at the benches.
Cleveland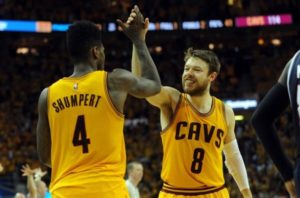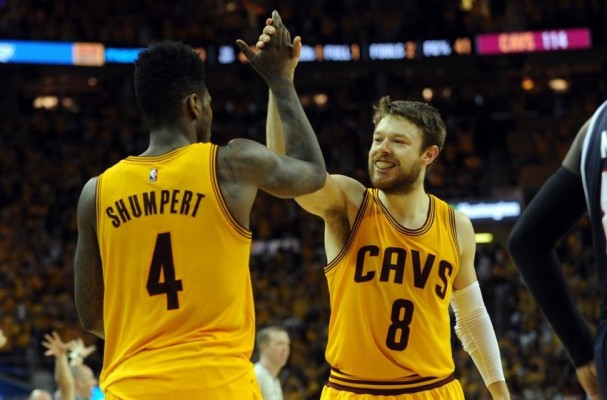 Matthew Dellavedova
Iman Shumpert
Richard Jefferson
Channing Frye
Timofey Mozgov
James Jones
Mo Williams
Cleveland's bench has four guys, who Cavs fans can expect big things from. Delly and Shump can provide quality minutes on the defensive end. Jefferson can give LeBron a breather and knock down a three-pointer or two, and use his veteran-savvy to make smart basketball plays. Frye is the biggest X-factor off the bench. When he's hot, like he was in Game 3 in Atlanta, he can make a huge difference in a game.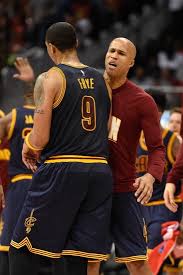 I would caution Cavs fans from expecting Frye to erupt every time he takes the court, but that one game was phenomenal. The Cavs bench is much improved from a year ago, but when LeBron is off the floor, it's all too clear they have some struggles and room for improvement.
We might see Jones in for a few minutes here or there in the series, but I don't expect him to be much of a factor.
Same goes to Williams.
The only way that we could see Mozgov on the floor for a significant amount of time is if Valanciunas is healthy and giving Thompson a nightmare.
Moving onto Toronto.
Raptors Bench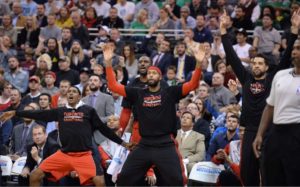 Cory Joseph
Terrence Ross
Norman Powell
Luis Scola
Jason Thompson
James Johnson
For the Raptors, we can most likely expect four guys to make significant contributions off the bench. Unlike Cleveland, who struggles often with their second unit on the floor, Toronto's second unit is one of their biggest strengths.
Guys like Joseph and Ross are major reasons why the Raptors were able to weather the storm of Lowry and DeRozan struggling early in the playoffs.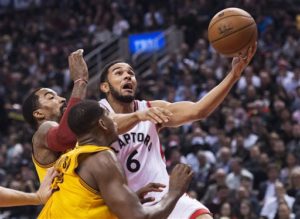 Joseph has had some big games in the playoffs, averaging 10 points off the bench, shooting 52 percent from the field. Some of his more impressive games in the postseason include performances of 18, 16, 15, and 14 points off the bench. Granted, that's only four out of 14 games, but he is someone the Cavs will definitely have to keep an eye on in this series.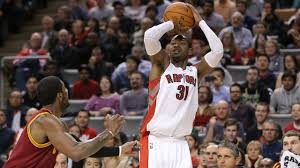 Ross is another guy who can provide scoring off the bench. Ross is averaging 7 points per game in the postseason, but did go off for 19 points in Game 1 against Miami, and has reached double figures in three playoff games so far.
Scola has not played much in this postseason, but is a savvy veteran, and it wouldn't be a surprise to see him make some clutch plays in this series.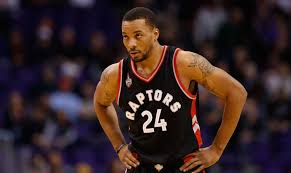 Powell is a rookie, who has thrived under pressure in his first postseason. He did not play much in the series against Miami because of matching up with the Heat personnel, but made significant contributions in the first round against Indiana, scoring in double figures in three games. No one is saying Powell is deserving of Sixth Man of the Year or anything like that, but he's proven to be a solid rookie off the bench.
All of this is to point out that Toronto's bench has been productive in the playoffs, averaging 27 points per game.
The Cavs bench averaged roughly 24 points per game, but Cleveland has had more "garbage time" late in games to pad stats, like Game 2 against Atlanta, where they were up by more than 30 after three quarters.
What gives Toronto the advantage in terms of the two benches is that they have guys who all know their roles. The Cavs are much deeper than a year ago, but no one can deny that the second unit has been an issue for Cleveland both in the regular season and postseason in 2015-2016.
So in summary, my matchup breakdowns go as follows:
Point Guard: Lowry vs. Irving = Very Close, Virtual Tie
Shooting Guard: DeRozan vs. Smith = DeRozan Clear Advantage
Small Forward: Carroll vs. LeBron = LeBron by a Landslide
Power Forward: Patterson vs. Love = Love Clear Advantage
Center: Thompson vs. Biyombo = Even Split, but if Valanciunas is healthy, Toronto has Clear Advantage
Bench: Toronto Clear Advantage
All of these factors lead to me believing the series will be neck and neck. These two teams finished one game apart in the regular season standings.
The Raptors won two of three regular season meetings, and Lowry was an imposing force, but LeBron displayed his usual dominant performances.
The LeBron factor obviously makes the Cavs the team to beat in the East. Whatever help he gets from his supporting cast can push this team from really good to great. But Toronto is significantly better than Detroit and Atlanta.
Playing Jeff Teague and Reggie Jackson is much different than playing Lowry, who attacks relentlessly and forces his opponents to be physical. Not to mention DeRozan, who can create his own offense, and makes up the other half of the best scoring duo in the Eastern Conference.
Valanciunas makes a huge difference when he is on the court, but Biyombo has proven to be much more than a serviceable backup.
With all of this being said, my prediction is Cavs in 7.
I expect both teams to defend home court and for the Cavs' sake, I'm glad a potential Game 7 would be in Cleveland.
Feel free to disagree. Let me know what you think in the comments section or tweet us @NEOSportsInside. We'll see how it plays out, but I'll just leave Cavs fans with the following:
The Cavs are in for a much more difficult test against Toronto than they had with Detroit and Atlanta. If you think it's going to be a cake walk, I believe many Cavs fans will be surprised.

NEO Sports Insiders Newsletter
Sign up to receive our NEOSI newsletter, and keep up to date with all the latest Cleveland sports news.