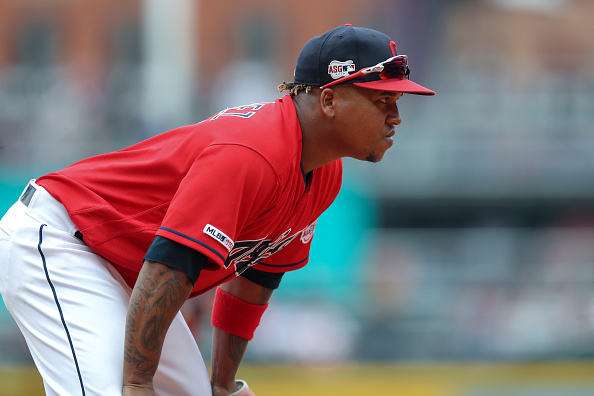 Thanks to the late start, it'd be understandable for Cleveland Indians fans to have missed last night's game in Seattle. If you did skip said game, you missed what could be the most important highlight the Tribe has produced in this young season.
We have homered in 2 straight games.#RallyTogether pic.twitter.com/QCV6fCpf9B

— Cleveland Indians (@Indians) April 16, 2019
Considering this was just a solo home run, you could argue my hailing its importance as being a bit overblown. That said, when you consider who did the hitting, I assume you'd understand my thinking.
Jose Ramirez, who has been slumping something awful, provided last night's home run and added in a couple walks and two stolen bases, as well. What may typically seem like business as usual for him was actually a huge night both he and his team desperately needed.
Though it's still early, consistent offense has admittedly been difficult for Cleveland to come by this season. Francisco Lindor's absence has hindered the lineup. A handful of players are still struggling to hit their weight. We technically didn't need to see the recently released pictures of a black hole, since proof of its existence could already be found at the bottom of the Indians' lineup.
All that said, the struggles Ramirez had been enduring so far were more alarming than anything else.
While he found a way to buck a similarly cold start last season, this slump felt a little different. For one, the issues he was experiencing at the plate started not this year, but instead way back in August. Ramirez stayed cold all the way through the postseason, failing to notch a single hit in the ALDS while his team was unceremoniously swept.
On top of this, Ramirez's funk appeared to be coming from an inability to adjust to defenses shifting on him. It seemed he was trying too hard to change up his approach at the plate and, as a result, was inducing nothing but weak contact.
To be fair, one good night at the plate hardly signals he's turning the corner. Ramirez could just as easily return to his slump tonight with an 0-for-5 showing.
At the same time, we can all agree both he and the Indians needed to see last night's towering shot to left field.
Ramirez needed proof that defensive adjustments weren't going to completely hinder what he offers at the plate. It was clear his inability to get on base was dinging his confidence. Without his trademark swagger, Ramirez is a completely different player. Proof of this was apparent for everyone watching during last year's postseason.
Likewise, with how shaky the Indians' offense has looked as a whole this year, a sign of life from one of their most proven hitters was certainly much-welcomed.
As noted heading into the season, Cleveland needs Ramirez's bat more than ever in the year ahead. Thanks to a questionable offseason strategy, the Indians are suddenly limited when it comes to reliable hitters. Watching one of the players who fits said qualification endure such a rough start to the year certainly didn't alleviate any concerns there.
I can only assume this helps explain how Ramirez's teammates reacted to his first home run of the year.
Jose getting the silent treatment pic.twitter.com/A8JGTTfVHz

— Andre Knott (@DreKnott) April 16, 2019
As you can see, this certainly wasn't seen as a ho-hum moment in the dugout. Ramirez's teammates felt this was a reason to celebrate, while I'm sure he personally felt a great sense of relief.
Again, this hardly means Ramirez's troubles at the plate have been left behind. That said, it was an indication this could soon be the case.
If so, it would definitely provide a much-needed sign of hope for Cleveland's offense in the season ahead.

NEO Sports Insiders Newsletter
Sign up to receive our NEOSI newsletter, and keep up to date with all the latest Cleveland sports news.