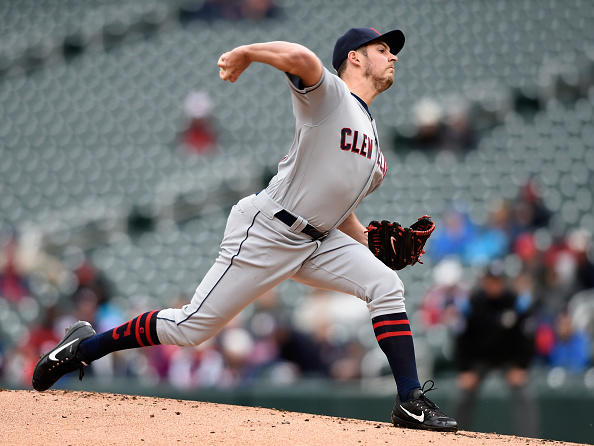 After a weekend in Kansas City in which the team couldn't hit for two days, and then couldn't pitch the third, Monday night in Seattle things finally came together for the Tribe, as they topped Seattle 6-4.
There was plenty of positives, from the return of Jason Kipnis, to Trevor Bauer going into the seventh allowing one run, to Jose Ramirez hitting his first homer of the season.
The win puts the Indians back two games over .500 at 9-7 on the year, and they will have two more against the M's before coming home to start a short five-game homestand with the Braves and Marlins starting on Friday night.
Here's a couple takeaways from Monday night's victory over the Mariners, dropping Seattle to 13-6, this after they started the season 13-2.
1. Bauer Shuts Em Down
Trevor Bauer continues to look like the best pitcher on the roster, despite coming off a loss against the Tigers last week.
Bauer struck out eight Mariners allowing a run on five hits over 6.2 innings, throwing 112 pitches, 68 strikes. His ERA sits at 2.05 this season, and he moves record wise to 2-1.
He got the benefit of a couple close strikes at the plate that the fans at T-Mobile Park didn't exactly agree with, but with the strike zone where it was he was able to get out of a couple innings where the Mariners had runners on base.
Bauer also used all his pitches to get K's, striking out batters with change-ups, fastballs, and curves, which has made him even more dangerous this season.
A great start to 2019 for Bauer.
2. Jose Finally Gets One
It's not been a good start in 2019 for Jose Ramirez, who was sitting after Saturday's game with an average of .135. He actually raised his average to .150 with his first blast of the season on Monday night, a no-doubt shot to left field.
If the Indians are going to be a contender in the American League in 2019, they must have Ramirez hitting the ball like he did in the first few months of 2018.
He just has not looked like the same player since last August, and the start of this season didn't get fans a lot of confidence that he found his stroke again at the plate.
Here's to hoping that Monday night was a turnaround, and that we'll see more of the early 2018 Ramirez than the Ramirez we've seen the last few months of 2018 and early 2019.
3. Kip is Back
After all the Brad Miller drama the last 24 hours, it was good to see Jason Kipnis back on the field for the first time in 2019, and more so giving the fans something to cheer about with a hit.
Kip went 1-for-3 with a walk and RBI in the matchup, his single coming in the first inning to bring Hanley Ramirez home to make it a 2-0 Indians lead.
Having Kipnis, and hopefully soon Francisco Lindor back in the lineup, should not only give this lineup a boost, but also give it some stability as the likes of Max Moroff and Eric Stamets won't be see quite as often as we're seeing them now.
If Kipnis can give this team at least a .250 average with some power at the plate and solid play at second base, it will only make this team better.

NEO Sports Insiders Newsletter
Sign up to receive our NEOSI newsletter, and keep up to date with all the latest Cleveland sports news.