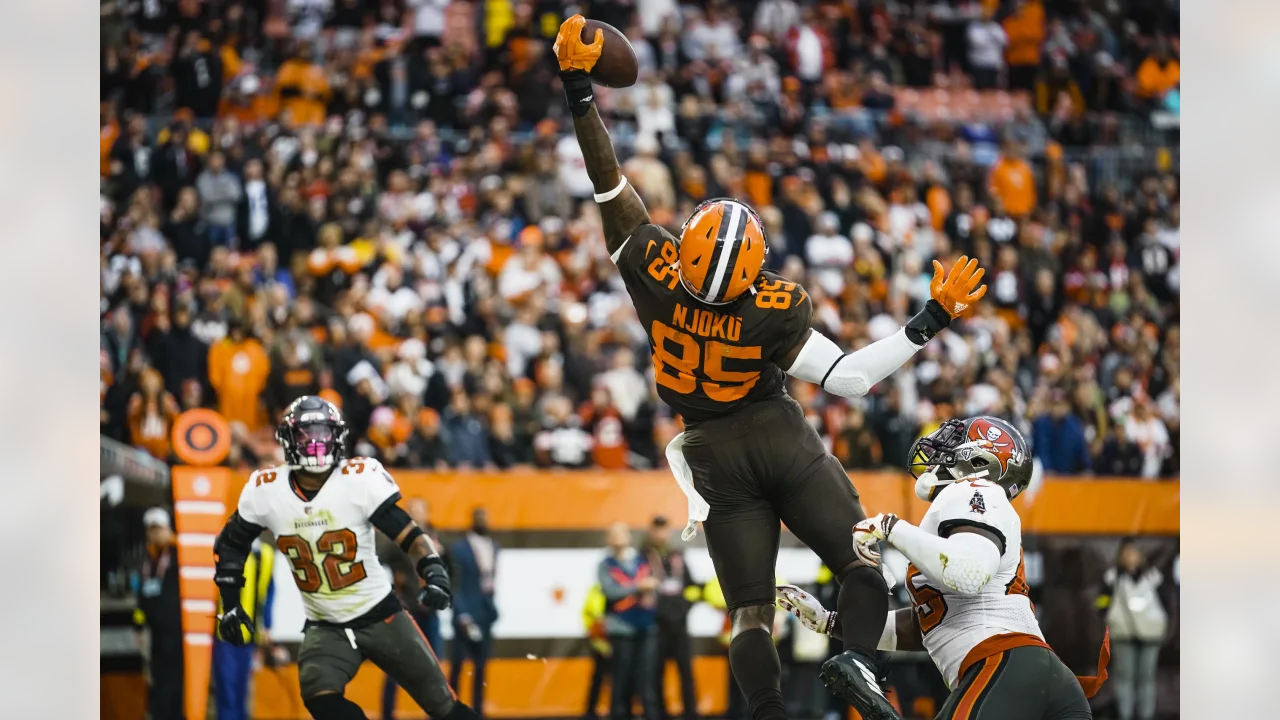 What an amazing win yesterday for the Cleveland Browns, and there were five plays that arguably could be season-saving ones. Let's delve into the list.
#5. The 65 yard punt and penalty!
Tampa got the ball in OT and went 18 yards in 8 plays. So, naturally the Browns had to just get into field goal range. But no. They go 3 and out and lose 8 yards! Enter Bojorquez!
One play being overlooked today was Bojorquez's punt from our own end zone to their 20/25

— Beerl@nd (@BlakeSkebe) November 28, 2022
Standing in his endzone, he blasted the punt 65 yards! Darden ran it back for 13 yards, but a penalty for an illegal block in the back added 10 more yards to it. Now Tampa was stuck at their 19! Huge 75 yard play!
#4. The Garrett/Clowney Sack late in the fourth!
Cleveland went nine plays and punted down 17-10 in the fourth quarter. Two minutes and some change left. After a strange second down call for a pass to Mike Evans in which Martin Emerson (WHAT A GAME BY THE ROOKIE!) was all over him like a cheap suit, the Bucs faced third and 13. Out of the shotgun, Myles and Clowney converged on Brady and dragged him down for a sack that allowed only roughly 20 seconds to run off the clock on that series!
#3. Game winner with Chubb!
He has been the MVP all year for this club. 116 yards on 26 carries yesterday, and the record of the Browns being undefeated when Chubb carries for 20 or more yards stays intact!
That's Game ❕❗️❕

2014 All-American Nick Chubb (@NickChubb) scores the game winner#Browns #AllAmericanBowl 🇺🇸

— All-American Bowl (@AABonNBC) November 27, 2022
#2. Cooper with a redeeming catch in OT!
Amari Cooper was angry at the drop he had on fourth and nine in quarter 4. Listen to this.
Amari Cooper Postgame Press Conference vs. Buccaneers | Press Conference #Cleveland #Browns #NFL Video: https://t.co/0GrV58hZrt

— Cleveland Sports (@Clev_Sports_Fan) November 28, 2022
The Browns stalled at Tampa's 45 yard line. After a Chubb 2 yard run, Brissett unwisely took a sack. On third down, Brissett found Kareem for a 6 yard gain. Going for the first down, Cooper was open for the pass but dropped the ball.  Tampa and Tom Brady now could win the game. He wasn't sure he'd get another chance. Enter OT! And Brissett seeing quickly what happened on the double move/CB fall made this a dream sequence.
Cooper makes BIG CATCH in Overtime 😳 #Buccaneers #browns pic.twitter.com/TKRwSKGQnl

— Brandon Mason (@BrandonMasonSho) November 27, 2022
#1. All Hail the Chief!
Just enjoy! OBJ who?
Photo courtesy of Doug Beigie/Cleveland Browns
Njoku and Cooper w/ 2 tough drops today, and how do they respond? Cooper catches one to set up game winner in OT, and @David_Njoku80 lights the house on fire with this gem.

What a game. #Browns pic.twitter.com/kbxbJuChmV

— Dave @ BIGPLAY (@BIGPLAY_Dave) November 27, 2022
Jimmy Donovan, take it away!
As called by @3JimDonovan on Browns radio: pic.twitter.com/ncpk42v1Vf

— Timothy Burke (@bubbaprog) November 27, 2022
The five plays that might save the season and more!
All plays on YouTube and the NFL.com site.
Honorable Mention:
Brissett block on Winfield!
#Browns with a reverse touchdown to open the scoring.

Anthony Schwartz shows his speed 💨 and Jacoby Brissett with a great block.pic.twitter.com/RrQxYsL81h

— Dov Kleiman (@NFL_DovKleiman) November 27, 2022
Rally Skunk
Skunk at the #Browns game taking over the entire section. pic.twitter.com/5cGXgf5uY8

— Tom Guard (@dailybragger) November 27, 2022
Six games left. Watson takes over the play-calling duties. Could this game and these five plays turn a once sad season into something special? Buckle up, fans! It's going to be a BUMPY ride!
Did we miss one? Please share your thoughts in the comments!

NEO Sports Insiders Newsletter
Sign up to receive our NEOSI newsletter, and keep up to date with all the latest Cleveland sports news.