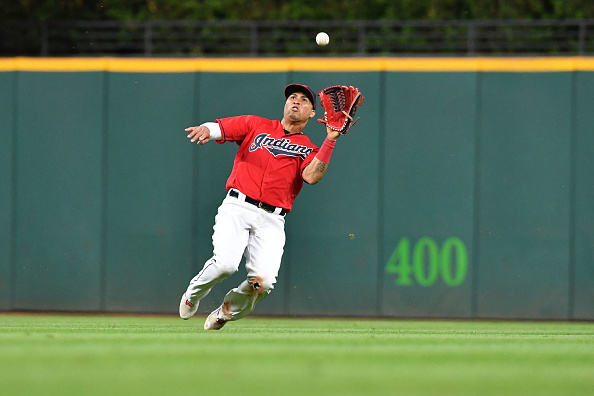 The Cleveland Indians' youth movement is officially under way.
After struggling to find opportunities early on in the season, outfielders Greg Allen and Oscar Mercado are now starting to get everyday playing time. The initial returns have been positive, as each player has provided some solid contributions at the plate over the past week.
While this marks a potentially exciting time for the Indians, it also comes at a cost for a team which has always valued veteran leadership. Specifically, this youth movement should indicate Leonys Martin's time with the Tribe will soon be coming to an end.
For reasons obvious, this reality will be difficult for the Indians to embrace. After all, the fact Martin is even playing baseball in general is a shock on its own.
Having suffered a bacterial infection which almost ended his life last August, Martin stunned many just by getting back on Cleveland's roster this season. After coupling this with a decent start to the year, his comeback seemed like it was setting up to be one of the league's best stories.
Unfortunately, two things are threatening to end that. Martin has been struggling at the plate, while players like Allen and Mercado are starting to heat up.
Despite boasting a .928 OPS in mid-April, Martin's numbers have been slowly declining ever since. He has just three extra base hits for the month of May, while his batting average (.223) and on-base percentage (.302) aren't anything to get excited about.
Meanwhile, Allen is starting to come around at the plate after struggling with uneven playing time earlier in the season. After a three-hit, four-RBI showing in the team's recent series against the Boston Red Sox, he's certainly earned an extended look in Cleveland.
Mercado, on the other hand, is already displaying the kind of offensive consistency the Indians' roster has been lacking for the bulk of the season. He's had at least one hit in all but four of his 13 games with the team, and has quickly locked down the two-spot in Cleveland's lineup.
Sure, Mercado and Allen have to prove they can sustain these hot streaks. What they have working in their advantage, though, is the likelihood of being involved in the team's plans beyond this season.
Martin, meanwhile, is 31-years-old and an unrestricted free agent at season's end. The odds of him being on the roster in 2020 are already slim, and this was the case before Allen and Mercado started heating up at the plate.
Knowing this, and knowing the Indians are beginning to shift their focus towards their younger players, it's getting difficult to see where Martin fits in with this team moving forward.
The Indians can afford to hang on to him as a platoon outfielder for the time being. However, with Tyler Naquin nearing a return from the injured list, the team has itself a difficult decision on the horizon.
Said decision certainly shouldn't be sending Mercado or Allen back down to the minors.
As commendable as it is for Martin to make such an impressive comeback, and as impressive as it was to see him carry so much of the offensive load early on in the season, the fact is he's not producing enough to merit consistent playing time. At this point, making him an everyday starter interferes with the much more important priority of getting Allen and Mercado consistent playing time.
This obviously won't be an easy call for Cleveland. After everything he's been through, severing ties with him midseason would be a difficult decision for the front office to make.
That said, the team's younger players are offering more than he is right now, and as a result, they need more time on the field. The Indians can't offer that and also ensure Martin plays enough to merit keeping him on the roster.
With that in mind, it's time for Cleveland to consider moving on. Frankly, it feels as though the Indians parting with Martin is only a matter of time.

NEO Sports Insiders Newsletter
Sign up to receive our NEOSI newsletter, and keep up to date with all the latest Cleveland sports news.