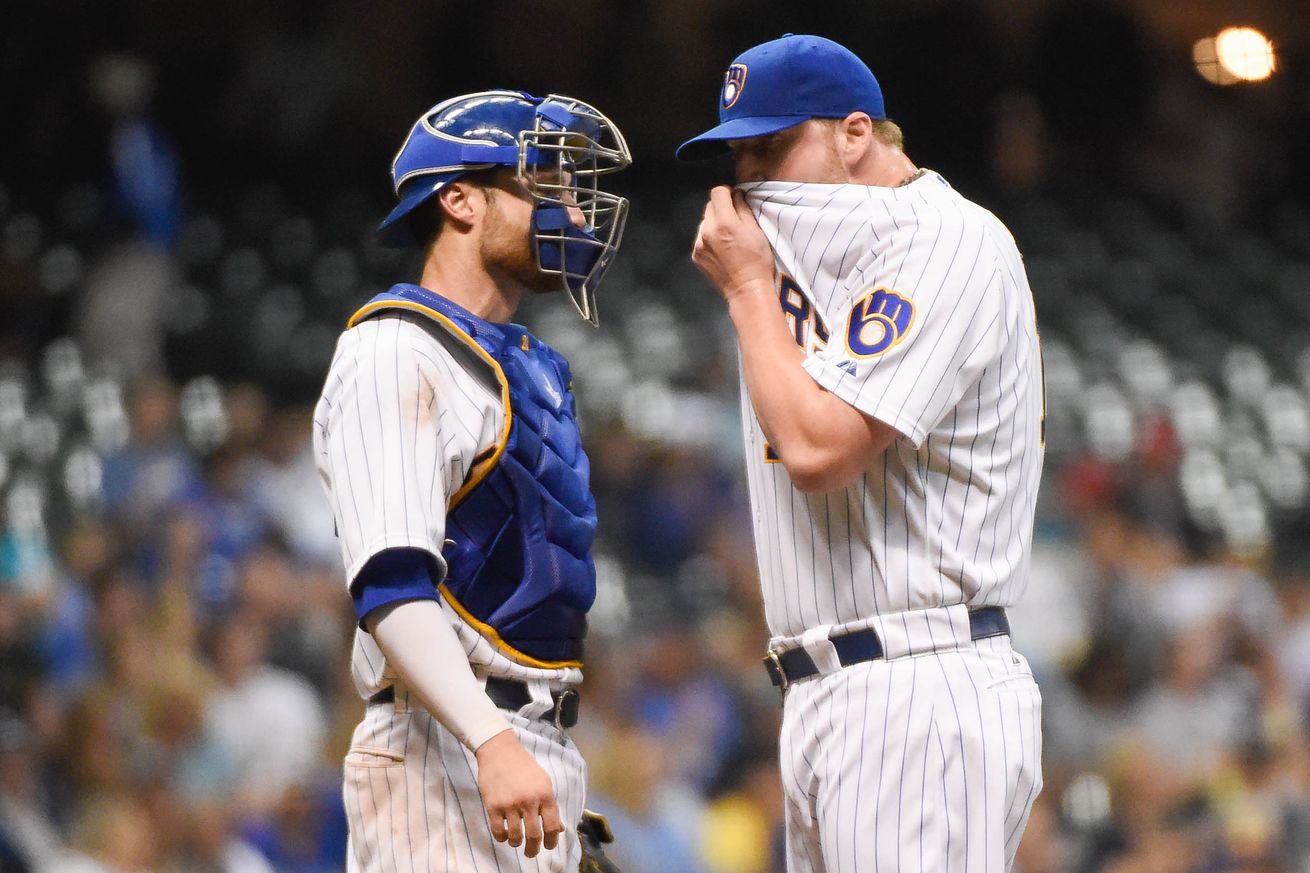 Let's play a game of Indians trade matchmaker. Be advised these are all hypothetical scenarios.
Indians Get:
C Jonathan LuCroy, LHP Will Smith
Brewers Get:
C Roberto Perez, RHP Mike Clevinger, LHP Justus Sheffield, SS Yu-Cheng Chang
Why The Indians Do It:
The Indians need an upgrade at catcher. Just look at the slash lines for the catchers this season:
Yan Gomes .165/.198/.313
Chris Gimenez .207/.245/.283
Roberto Perez .053/.310/.053
That's abysmal. Lucroy would bring a .301/.362/.491 to the table. Not to mention his 13 home runs and 50 RBI's would be good for fourth on the team. Don't try the argument that switching catchers is going to mess up the chemistry with the pitching staff. Chris Gimenez came to the team during the season and found chemistry right away. So Jonathan LuCroy a two time All-Star can't do what a career MLB backup can do? In terms of defensive wins above replacements, LuCroy is sixth in baseball and would be ahead of both Gimenez and Perez if they qualified. So not only is he an offensive upgrade but a defensive one as well.
The Indians would also add Will Smith, a left-handed reliever. While he did get roughed up the other day for five runs and his velocity was a little down, he would be a big upgrade over what the Indians currently have. On the season Smith has a 3.86 ERA, 1.18 WHIP, and 17 strike outs in 18.2 innings. He's dealt with some injury issues this season and that may be playing a part but the team would have him under control through 2019. For the left-handed relievers the Indians have used this year appearing in at least five games, Detwiler had an ERA of 5.79, Crockett 9.00, and Gorzelanny 21.00.
The Indians still give up a lot to make the trade happen. Roberto Perez, while he hasn't done much at the plate this year is a player the front office has been very high on. He gets moved in the trade because adding LuCroy would force Gimenez or Perez out and the other would likely go when Gomes returns. The Brewers would need a catcher to fill in right away, so they get the more valuable of the two. The Indians also send their number five prospect Justus Sheffield, number seven Mike Clevinger, and number twelve Yu-Cheng Chang. With the log-jams in the middle infield and starting rotation, they can move some of their farm depth at positions they are deeper in.
Why The Brewers Do It:
The NL Central is such a tough division that gearing up towards the future is almost inevitable. Stockpiling as many prospects as they can is a smart move, especially if contract talks with LuCroy have not advanced. So why do the Brewers take the offer the Indians laid out for the most valuable catcher on the market? For starters, they get a MLB player that can automatically fill in at the position they traded and is under team control through 2020. At 27 years old, he is a few years younger than LuCroy and has a lot less wear and tear at one of the hardest positions in baseball to play. After that, they get three of the Indians twelve best prospects. Mike Clevinger has seen the big leagues this season but is stuck in waiting for the rotation. He has torn up AAA, going 10-1 with a 3.17 ERA is 16 starts this season. He can come in right away and add to the rotation. Plus there is always less risk with more MLB-ready players. The other two are not expected to make the big leagues until at least 2018. That fits in more with the rebuilding model for Milwaukee. They get the Indians top pitching prospect that can be traded. Brady Aiken is the number one prospect but is just coming back from Tommy John. Sheffield is a top 100 baseball prospect and a lefty that can be a front end rotation guy. Chang is a SS, but would offer the most value for the Brewers going back to third. They currently have Villar at SS and the number four prospect in baseball, Oswaldo Arcia in the wings. What limits the Indians is they don't have a ton of top position players outside the top three that are not pitchers. In the end the Indians give them a starting catcher, a top prospect ready to stay in the big leagues and a couple other higher end prospects.
Why It Doesn't Happen:
The Indians didn't include Zimmer or Frazier in the deal. I would be hesitant to give up a cornerstone of the team in a deal this year. With the recent success of Lindor and Naquin, the Indians seem to be hitting on their top prospects as of late. Here are two other trades to put it in perspective.
In the 2011 trade for Ubaldo Jimenez, the Indians gave up their number two, four, and nine prospects along with a player to be named. Drew Pomeranz was the only one of that group to have success with a lot of them being low ball prospects at the time, and he found his success in San Diego after bouncing around teams and the bullpen. I would not regard LuCroy as high as Ubaldo but it comes down to two, four and nine versus five, seven, and twelve. That's not too far off and there are two more to consider with that. The Indians farm system is deeper now than back then and in my scenario the Brewers would get a MLB player in addition instead of a player to be named throw in.
The other trade is the one that might kill it. The Cubs sent a MLB reliever, along with their number one and five prospects and a player to be named for Chapman, who is considered a rental. The Brewers will likely view their players with more value because of their team friendly contracts. The difference here is the Cubs are a big market team that can afford to move all in. They have the best roster in baseball and have the money to spend in free agency to replace the players lost. The Indians do not have that luxury. Chapman is also a better player than Lucroy and Smith in most people's eyes. Going off what the Cubs did, they would likely look for a package of Perez, Frazier, Sheffield and a player to be named for them.
If the Indians can use their wisdom and talk the Brewers into doing it without giving up Frazier or Zimmer it's a home run. The Brewers get two MLB ready players a top notch pitching prospect and another double AA player who should see the majors. It's still a lot to give up but reminisces more of the past trade the Indians were willing to make.
Indians Get:
RHP Alex Colome
Rays Get:
LHP Juan Hillman
Why The Trade Happens:
The bullpen needs as much help as it can get. I've already talked on the lefty struggles, but the final two haven't been the best either. Shaw is 1-4 on the year with a 4.35 ERA in 46 games in the setup role for the Indians and is charged with three blown saves. Cody Allen meanwhile is 2-4 with a 2.55 ERA and is 19/21 in save opportunities. Colome was the All-Star closer for Tampa this year and is 1-3 with 21/22 on saves and a 2.34 ERA. He is very favorable to Cody Allen and the two can be the eighth and ninth inning guys for the Tribe and move Shaw to the seventh. If they can get a lefty and a setup man at the deadline then they did their job. Relievers usually cost less but Colome is an All-Star. With Tampa being out of it and talks of them moving Archer or Odorizzi, the Tribe will send them one of the better starting pitching prospects. Hillman ranks tenth overall for the Indians and it will be quite some time until he sees the majors but the Rays get a potential nice arm for selling.
Review:
In the end the Indians upgrade at catcher, add a left handed reliever, and a setup man. The cost isn't cheap losing Roberto Perez as well as their number five, seven, ten and twelve prospects including three pitchers. With the rotation set for now, they don't need as many pitchers and they are still left with some good ones. Brady Aiken was the former number one overall pick. Triston McKenzie is posting a 0.47 ERA in seven starts at Mahoning Valley. Rob Kaminsky and Shawn Morimando are still left in Akron as top eleven prospects. The biggest note is the Indians still keep Clint Frazier, Bradley Zimmer, and Bobby Bradley, setting up the future outfield and 1B of the team because Napoli and Santana will not last forever. The Zimmer/Frazier duo is already getting close as both were just promoted to Columbus so their time can be coming soon, but the Indians made themselves better right away with keeping a lot of the major pieces they need for the future.

NEO Sports Insiders Newsletter
Sign up to receive our NEOSI newsletter, and keep up to date with all the latest Cleveland sports news.