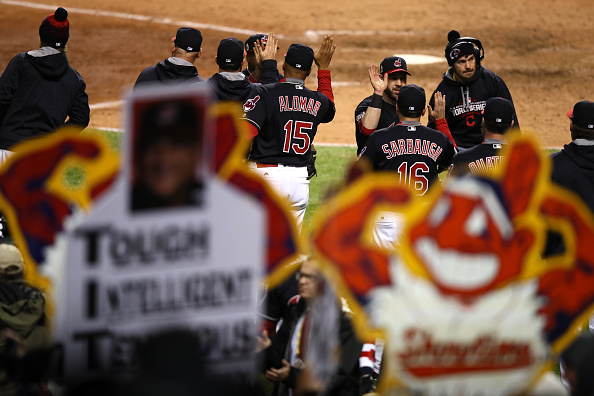 CLEVELAND – There's not many negatives you can say about a dominating 6-0 win over the 103-win Chicago Cubs in game one of the World Series on Tuesday night, giving the Indians a 1-0 series lead in the best-of-7.
While it's a short turnaround to game two, there were a couple keys in the win, and a few things to look for in game two, which will feature Indians thrower Trevor Bauer trying to come back from the finger injury that limited him to just 2/3 of an inning in game three in Toronto in the ALCS.
Here's a couple thoughts on game one with some things already for game two:

1. Huge First Win
The numbers for teams that win game one of the World Series are rather staggering, as if you consider the following you have to love the Tribe's chances moving forward. Teams winning the first game have won 12 of the last 13 and 17 of the last 19 World Series. Wow. Don't get too ahead of yourself, but this was a big win for that reason alone, and just think what the numbers could be like with a win on Wednesday.
2. Roberto
The fact that a guy who hit three homers in the regular season came to the plate and hit two on Tuesday night shows that you just never can tell in the playoffs, but that's just what Roberto Perez did. While everyone will talk about the homers, let's not forget about the way he called the game behind the plate, and he was a big part of helping Andrew Miller get out of that bases juiced jam in the 7th with the game still very much in doubt with the Indians up 3-0. To think that Perez would have this big of an impact in the World Series is mind blowing to say the least.
3. Klubot
Corey Kluber made history with eight K's in the first three innings, and didn't let the moment get to him on Tuesday night, going six innings as he almost made it look easy. He was able to get first pitch strikes, and unlike the first start vs the Jays, he didn't give up any big two out hits to keep innings alive. To think that he's going to pitch two more times if needed in this series has to have the Indians feeling good about their chances.
4. Miller Time
Andrew Miller did have to labor in Tuesday's win, and clearly didn't have his best stuff. With that, he still threw up a zero, and got out of the biggest jam yet this postseason with a flyout, K and K in the 7th with the bases loaded and no outs to keep the Indians up 3-0. He threw 46 pitches, and while Terry Francona didn't rule him out for Wednesday, it's tough to think he's going to be able to pitch much in game two. Still he's having an incredible postseason.
5. Cubs Pen
Joe Maddon seemed to be trying to do whatever he could to keep the Indians bats at bay once Lester left, and that meant going to his pen – a lot. He used no less than four pitchers out of his bullpen, but it wasn't enough to stop the Indians from tacking on three more runs, as Perez slammed a clinching three-run bomb in the 8th to put the game away. The Cubs pen could be a big trouble spot for Chicago this series, and it showed on Tuesday night.
6. Bauer
Trevor Bauer (12-8, 4.26 ERA) will look to give the Indians a commanding 2-0 series lead as the game for Wednesday has been moved to 7:08pm with weather concerns. Jake Arrieta (18-8, 3.10 ERA) will go for the Cubs, and now all the pressure is on Chicago to try and even this thing up, or the Indians may be able to make this a short series like they did against the Jays. Bauer's finger will be the most watched finger in baseball history, and here's hoping he's had time to heal to give the Indians at least 5-6 good innings for Wednesday's start.

NEO Sports Insiders Newsletter
Sign up to receive our NEOSI newsletter, and keep up to date with all the latest Cleveland sports news.