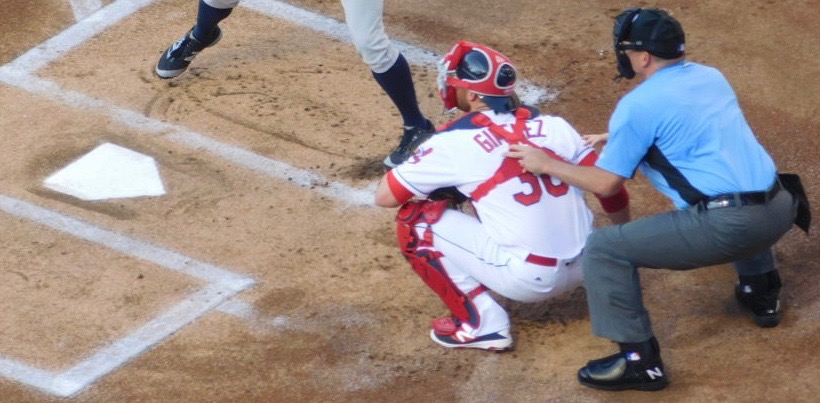 The nightmare that has been Yan Gomes' 2016 campaign reached its climax when the former Silver Slugger separated his shoulder in a nasty collision at first base Sunday.  It was a tough break for the backstop, and his trip to the DL has led to the murmur about the Tribe making a deadline deal for Milwaukee catcher Jonathan Lucroy grow even louder.
The case for Lucroy is pretty simple: The 2-time All Star is batting .303 with 12 homeruns and 45 RBIs.  He also has just about identical defensive numbers as Gomes, with a .989 fielding percentage and 38.6 percent caught stealing rate.  The thinking goes, then, that Lucroy would be an upgrade offensively without losing anything defensively.  He's also under team control through 2017.
While the sales pitch sounds enticing, especially for a first-place team that looks to be a big player in the trade deadline, a trade for Lucroy could be a big mistake for the Indians.  Staying put with Chris Gimenez and Roberto Perez will help the Tribe both in the short and long term for a few reasons.
The catcher position is one of the most important, if not the most important, non-pitcher position on the diamond.  It's crucial for a pitcher to develop a good rapport with his battery mate, that the two are familiar with each other and know the pitcher's tendencies, strengths, and weaknesses.  Especially with the stellar staff the Indians have, pitcher-catcher chemistry is key.
Perez and Gimenez have already developed this chemistry with the Tribe staff.  Trevor Bauer has developed so much trust in Chris Gimenez that he's become Bauer's personal catcher this season.  That level of trust and chemistry doesn't come overnight no matter how talented a catcher may be.
In addition to the on-field chemistry, Gimenez has become a leader in the Indians' clubhouse.  While he has never been an All Star-caliber player, he is still an 8-year veteran who knows what it takes to earn a playoff berth after helping Texas capture the AL West crown last season.  Perez is a well-liked and respected teammate as well.
This Indians team has proved to be incredibly tight-knit.  You don't get everyone to participate in an elaborate "sacrifice" to the baseball gods for a struggling teammate if the guys aren't close.  Making room for Lucroy by getting rid of Gimenez or Perez could have an impact on overall team chemistry as well.
The Tribe would also of course have to give up some minor leaguers in a deal for Lucroy.  His team-friendly contract and control through 2017 will most likely drive the asking price higher and could include top prospects like Clint Frazier or Bradley Zimmer.  Even with the Tribe in contention for the playoffs and maybe even the World Series, it's not worth it to mortgage what could be the club's future stars for a 1.5 year rental.
There's no arguing that Lucroy would most likely produce better offensive numbers than the combination of Gimenez, Perez, and possibly Gomes if he comes back at some point this season.  However, the Tribe isn't hurting for an offensive spark.  Players 1 through 9 in the lineup have provided big hits and RBIs all season, including Gomes who still managed to hit 8 homers and drive in 32 despite a batting average that has been under the Mendoza line since May 1.  Mike Napoli, Carlos Santana, and Jason Kipnis have produced about as expected, but Jose Ramirez, Tyler Naquin, and Rajai Davis have exceeded expectations and don't seem to be slowing down.  The offense will be just fine even without an All Star offensive catcher.
It's tough when a player like Gomes can't seem to get anything to go his way in a season.  Luckily, the Tribe has two solid backstops in Gimenez and Perez that can hold down the fort while he recovers.  The Indians will probably consider a trade for Lucroy, but they're better off leaving things as they are.

NEO Sports Insiders Newsletter
Sign up to receive our NEOSI newsletter, and keep up to date with all the latest Cleveland sports news.