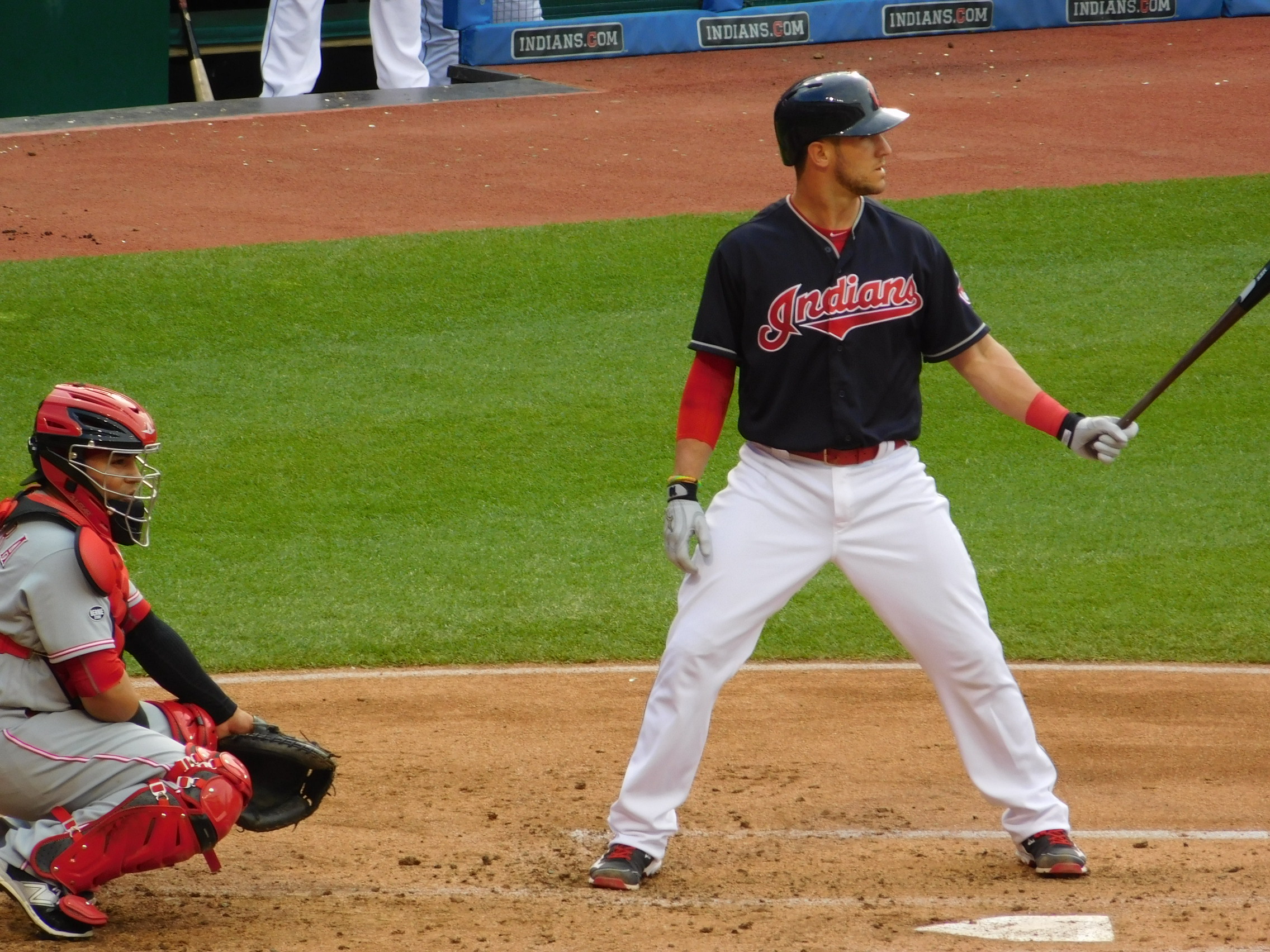 It has certainly been a tough season for Indians Catcher, Yan Gomes.
To say the Indians' beleaguered backstop has had a difficult season is an understatement. Going into July 17th, Gomes was hitting .165 with an on base percentage of .198. Despite hitting the ball hard recently, he managed only two hits since June 29th.
In a season where the Tribe is overachieving, the 2014 Silver Slugger Award winner has been the only underachiever.
To put it another way, you have to be in a major slump for your teammates to perform a "Major League" inspired ritual to get you back on track.
The Indians have managed to overcome the black hole Gomes has created in the batting order, thanks to surprising years from a number of players like Tyler Naquin and Mike Napoli. But, as the team emerges as realistic World Series contender, an every day player hitting 45 points under his playing weight isn't going to cut it.
Gomes' value to the team has been the way he's handled the pitching staff.
He has been handling the staff for over two seasons, and has developed a great relationship with one of the best starting rotations in baseball. That type of chemistry is hard to find, and Manager Terry Francona was willing to suffer an automatic out to keep the pitching staff running on all cylinders.
Gomes's season long slump has forced Francona to ask a very difficult question: How long do you remain loyal to a player who is hurting the team?
On Sunday, Francona's decision became a little easier to make.
Gomes was injured on a collision with Twins first baseman Kennys Vargas.
Gomes will be out for 6-8 weeks with a separated shoulder, giving the Tribe a reason to go with catchers Roberto Perez and Chris Gimenez for the recent future. Nobody wants a player, especially a well respected one like Gomes, to get hurt, but it gives Tito the cover he needs to make the team better without ruffling the feathers of the rest of the clubhouse.
The injury helps the Yanimal as much as his team. His slump looks to be here for the season, and shutting it down for the year will give Gomes a chance to put a forgettable 2016 season behind him. The backstop has had two very tough years and needs to go back to the drawing board, something that he would a tough time of doing in the midst of a pennant chase.
This solution doesn't come with it's own set of problems.
Perez and Gimenez are untested, and haven't been Major League starters at any point of their careers. The Tribe will have to monitor the catching position very carefully in the next few weeks. The clock is ticking to the trade deadline on July 31st. Whatever decision they make, has to be made quickly.
Either way, if Gomes' replacement is already on the roster, or will be acquired in the next couple weeks, they will be in the middle of a pennant race handling the best pitching staff in the American League. Time will tell if The Indians will make the right decision. One thing for sure, to make a run at World Series, many more tough decisions will have to be made.

NEO Sports Insiders Newsletter
Sign up to receive our NEOSI newsletter, and keep up to date with all the latest Cleveland sports news.