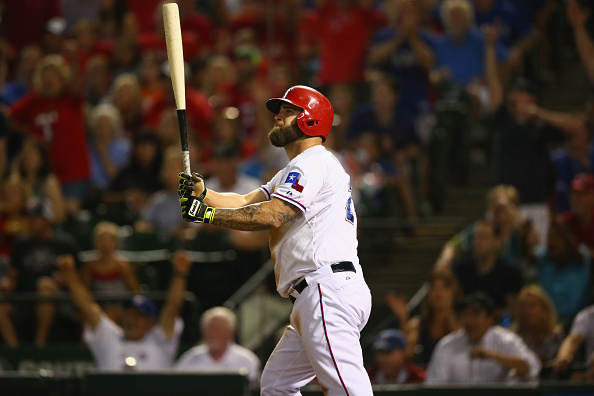 Good job by the Cleveland Indians' front office.
The Tribe's decision-makers abandoned the team's bizarre aversion to right-handed hitters, agreeing to contracts with veterans Mike Napoli and Rajai Davis.
Finally, the Indians may be using some common baseball sense in assembling their roster, instead of being so guided by a "sabermetrics" or "analytics" approach that has annually left them with a dearth of righty swingers.
Granted, both Napoli and Davis are in their mid-30s, but given the Indians' budget constraints and considering their needs, the two additions likely meet the apex of what the team can do without dealing away some of its most precious commodity — starting pitching.
Napoli, who turned 34 on Oct. 31, is reportedly set to sign a one-year contract for around $7 million, with another $3 million or so available should he meet various incentives.
Davis, 35 on Oct. 19, reportedly will get somewhat above $5 million in his one-year deal, along with incentives. Like Napoli and as is customary in player transactions, Davis too must pass a physical.
Don't be surprised if one or both of these players provide the Indians with solid production, let alone bringing better balance to a lineup that has for years been too heavy with left-handed hitters.
I wouldn't have minded if both these contracts had been for two years, if the players were agreeable, because indications are that these guys have something left in the tank. Yes, bat speed can be lost over an off-season or even during a campaign, but today's sophisticated training and conditioning methods are extending players' productive years.
Considering this era's monster — and often questionable — contracts, it wouldn't be stunning to see Napoli and/or Davis deliver more bang for the buck than many big-leaguers on much wealthier deals.
In a report for NEO Sports Insiders on Nov. 17, I listed a dozen free agents that I thought made sense for the Indians to pursue. They included Napoli and Davis.

NEO Sports Insiders Newsletter
Sign up to receive our NEOSI newsletter, and keep up to date with all the latest Cleveland sports news.