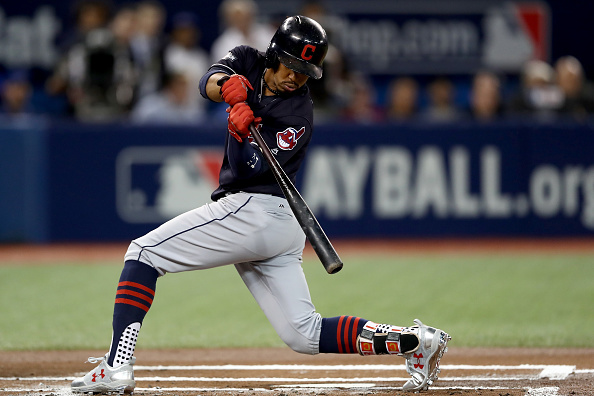 Newsflash – the Indians are not unbeatable.
The champagne and World Series t-shirts will have to stay put away for at least one more day, as for the first time since a rain-shortened game in Detroit back on September 28th, the Indians were on the short end of the scoreboard Tuesday, losing to the Blue Jays 5-1 in game four of the American League Championship Series.
What does it mean?
Well, that now up 3-1 in the series, the Indians are still very much in control of the series, with two more home games compared to just one for the Jays, that being on Wednesday at 4:08pm at the Rogers Centre.
It also means that despite the loss, the Indians have lined up their ace pitcher for a possible game seven Saturday back in Cleveland, as Corey Kluber couldn't close the door on the Jays in their house.
Kluber wasn't the reason for the loss, as he allowed two runs on four hits in five innings with seven strikeouts on short rest. The reason for the loss was an offense that did next to nothing against Jays starer Aaron Sanchez and three pitchers out of the Toronto pen.
Sanchez was very good, holding the Indians to one run on two hits over six hits with two walks and five strikeouts. He was aggressive against an Indians lineup that other than a RBI double by Roberto Perez to make it a 2-1 Jays lead in the 5th, really held them in check.
Down 2-1 in the 7th, the Jays put the game away against Indians reliever Bryan Shaw, who was only able to record one out in giving up a pair of insurance runs for Toronto.
Shaw threw a ball away on a swinging bunt to allow runners on second and third, and then Edwin Encarnación's two-run single was the nail in the Indians coffin, making a 2-1 game into a 4-1 game.
Now with the series sitting at 3-1, the Indians will look to a rookie to try and close the door on Wednesday afternoon, as they will go with Ryan Merritt against Marco Estrada, who the Indians beat in game one when Francisco Lindor hit a two-run homer for the only runs of the game.
Merritt threw a key game in the final week of the season, going five scoreless innings against the Royals.
"It's an honor to be pitching in the playoffs," Merritt said. "It's my first year in the Major leagues, and it's a great feeling that Terry Francona trusts me to go out and try to win a baseball game for them in the playoffs."

NEO Sports Insiders Newsletter
Sign up to receive our NEOSI newsletter, and keep up to date with all the latest Cleveland sports news.