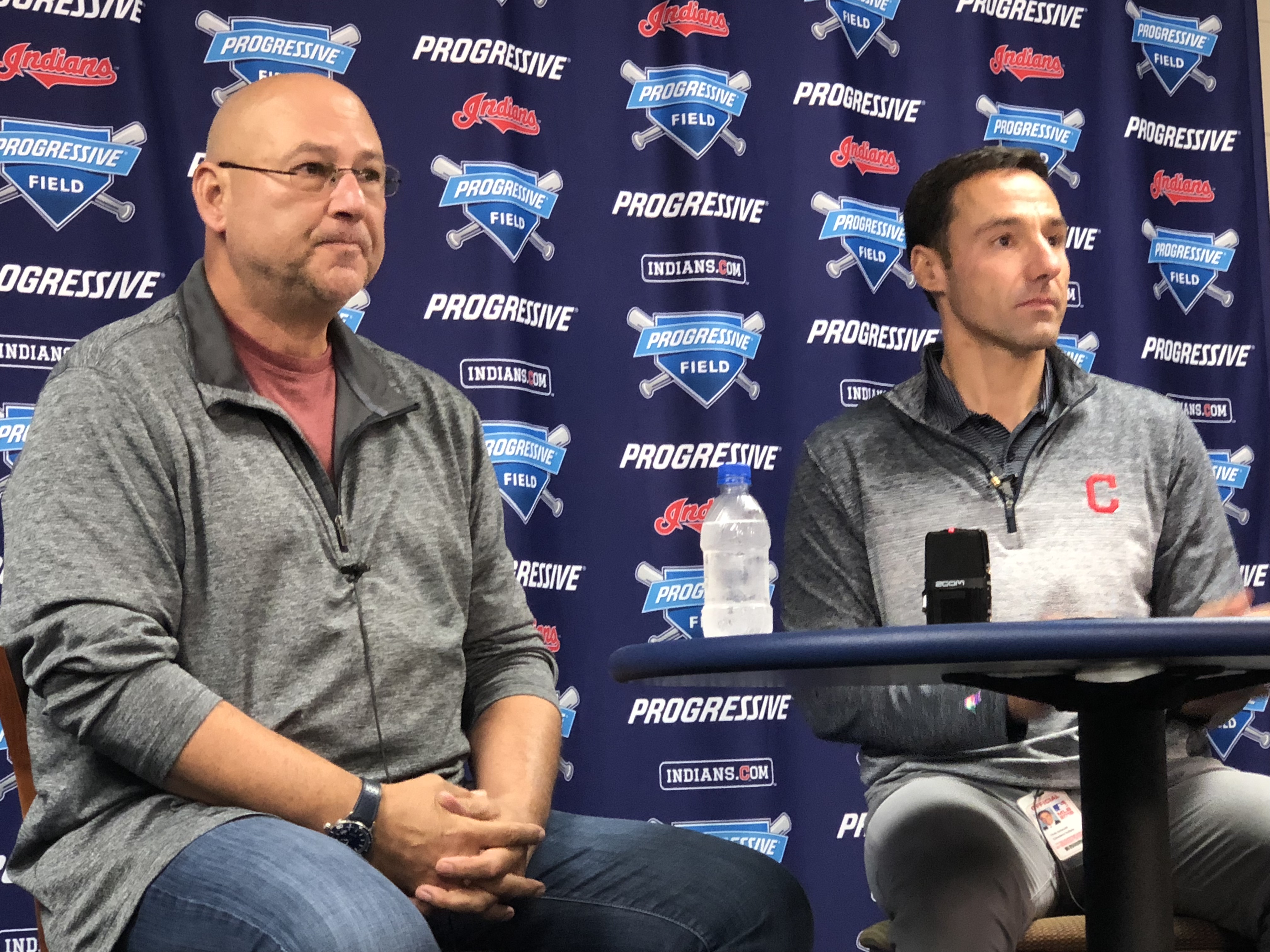 CLEVELAND – As they have the past two times after disappointing results in the post season, Indians team President Chris Antonetti and manger Terry Francona faced the music on Wednesday, talking about the this years' latest setback, as well as what lies ahead for the offseason.
Both Antonetti and Francona admitted that Tuesday was a tough day within the organization with exit interviews with the players, and tears were shed when it came to chats with the likes of veteran outfielder Michael Brantley, who is due to hit free agency after playing with the Indians since 2009.
Topics such as the sting of losing again in the playoffs, the way the outfield may look next season, Jose Ramirez's hitting struggles and more were discussed by the manager and team President, and here's some videos from the press conference with what they both had to say on various topics.
Terry Francona on the sting and disappointing end of the season 2 days later #Indians pic.twitter.com/4lXVI9J6Tz

— Matt Loede (@MattLoede) October 10, 2018
Terry Francona on the season long issues with the pen and thoughts for 2019 #Indians pic.twitter.com/YvrbNWaYnE

— Matt Loede (@MattLoede) October 10, 2018
#Indians President Chris Antonetti says retooling the teams outfield will be a main offseason focus pic.twitter.com/v1uWpmZc73

— Matt Loede (@MattLoede) October 10, 2018
#Indians President Chris Antonetti says chats about impending Tribe free agents have already begun pic.twitter.com/WofeywlL0x

— Matt Loede (@MattLoede) October 10, 2018
#Indians manager Terry Francona says that despite losing 9 of their last 11 postseason games, it's tough to lump them together – each one has to be looked at individually pic.twitter.com/vFcRUL10SA

— Matt Loede (@MattLoede) October 10, 2018
#Indians President Chris Antonetti on Bradley Zimmer and how he's still expected to be a big part of the team's future pic.twitter.com/WB0flteKMa

— Matt Loede (@MattLoede) October 11, 2018
#Indians manager Terry Francona on Josh Donaldson and what he added in the last month of the season pic.twitter.com/u6tLa4tydP

— Matt Loede (@MattLoede) October 11, 2018
Terry Francona on Corey Kluber's recent playoff struggles #Indians pic.twitter.com/DJIdMX8NSP

— Matt Loede (@MattLoede) October 11, 2018
#Indians manager Terry Francona asked if he considered moving Jose Ramirez down in the lineup pic.twitter.com/CxMv6P9pbD

— Matt Loede (@MattLoede) October 11, 2018
#Indians manager Terry Francona said the team tried to eliminate as many "what if's" entering the playoffs with the bullpen, but right away it rested its ugly head pic.twitter.com/TURjOlF7Nl

— Matt Loede (@MattLoede) October 11, 2018
#Indians President Chris Antonetti said exit interviews were tough considering the teams' crop of free agents and knowing a number likely won't be back pic.twitter.com/eIxUVla8HU

— Matt Loede (@MattLoede) October 11, 2018
#Indians manager Terry Francona asked point blank about what happened to Jose Ramirez and why he struggled at the end of 2018 pic.twitter.com/8KuuOMdSwy

— Matt Loede (@MattLoede) October 11, 2018