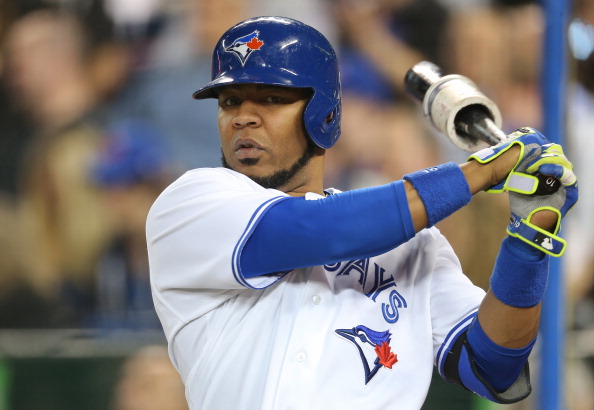 The Indians today made it official, adding slugger Edwin Encarnacion to the 40-man roster, inking the former Toronto Blue Jay to a three-year deal which has been estimated to be worth $60 million guaranteed, and includes a club option for $20 million for 2020.
Encarnacion fills a huge void in the Indians lineup, as last season with the Jays he slammed 42 homers and 127 runs batted in (an American League high).
The rumblings of bringing aboard the 33-year-old started during the 2016 MLB Winter Meetings back in early December, but many felt it was just a tease and the team would eventually bring back Mike Napoli, who played in the same spot a year ago splitting time between first and DH with Carlos Santana.
As time went by, reports were that the options for Encarnacion narrowed down to the Jays and the Indians, and then right before Christmas it was reported that he had chosen the Indians as his new destination.
"All along we thought Edwin was a good fit for us," Indians President Chris Antonetti said Thursday at Progressive Field.
"At the start of the offseason, we didn't think this would be possible, because of the economic situation."
Last season with the Jays Encarnacion collected single-season career-bests in hits (158), runs (99), extra-base hits (76), RBI (127) and total bases (318) and equaled his career-best in home runs (42).
He finished tied for first in the American League in RBI (with David Ortiz), tied for third in home runs, sixth in extra-base hits and 10th in OPS. The 127-RBI marked the fifth-highest single season total in Blue Jays history as he finished his Toronto career third in career home runs (239) and sixth in RBI (679) in franchise history.
Encarnacion said Thursday he's well aware of the potential the Indians have, and the young talent already on the roster that came within a run of winning the World Series.
"That's why I came here," he said. "I know we can win a World Series with the talent we have"
He will donate $100,000 annually during the life of the contract that will be split between Cleveland and Dominican-based organizations.
As for the roster move that went along with the signing of Encarnacion, team designated lefty pitcher Edwin Escobar for assignment.