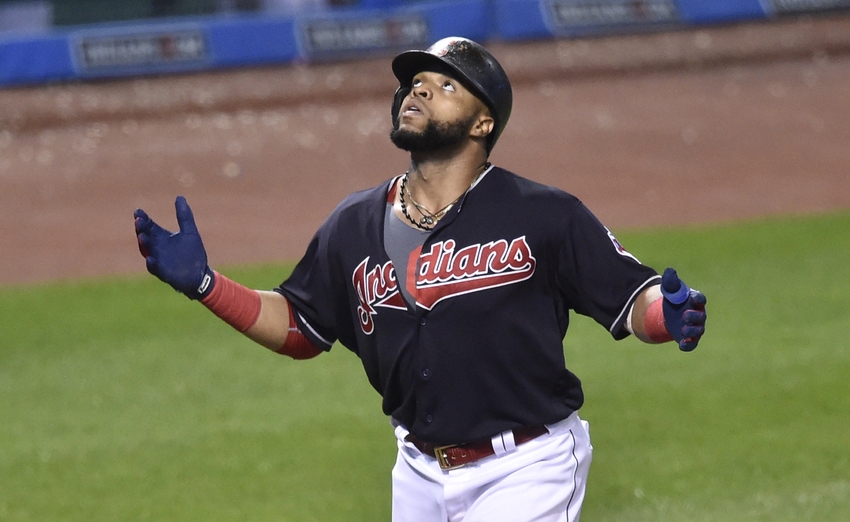 As many of you already know once the 2017 season is over with, Carlos Santana will be set to be a free agent.
Carlos Santana is not the only Indians player that will be a free agent after this season, Jay Bruce will also become a free agent.
As of right now, it appears that the Tribe is going to have to pick one or the other and it is very unlikely the Indians will have both Santana and Bruce returning for the 2018 season.
Santana has been with the Cleveland Indians organization since 2008 when the Indians traded Casey Blake to the Los Angeles Dodgers for Carlos Santana and John Meloan.
According to Paul Hoynes of Cleveland.com , Carlos Santana does not want to leave Cleveland.
Carlos Santana had this to say about free agency looming next season and how it impacted him early on in the 2017 season:
"It was tough for me. My friend Edwin told me, 'Bro, just enjoy the game, enjoy the time, enjoy your teammates and worry about winning." He kept telling me to relax. And I relaxed."
Santana had this to say about Cleveland :
"I love it here. This is my home. I love Cleveland. They gave me the opportunity to play in the big leagues, to play every day. Progressive Field is my house. Everybody knows me and I know everybody here."
The Indians first baseman finished with this to say about free agency coming in the offseason :
"This will be tough for me after the season, but I'm going to have to make a hard decision about my career. I love it here. I don't want to go anywhere. Everybody knows. My teammates know. The front office knows. But that's not something I can control."
*Quotes courtesy of Cleveland.com*

NEO Sports Insiders Newsletter
Sign up to receive our NEOSI newsletter, and keep up to date with all the latest Cleveland sports news.