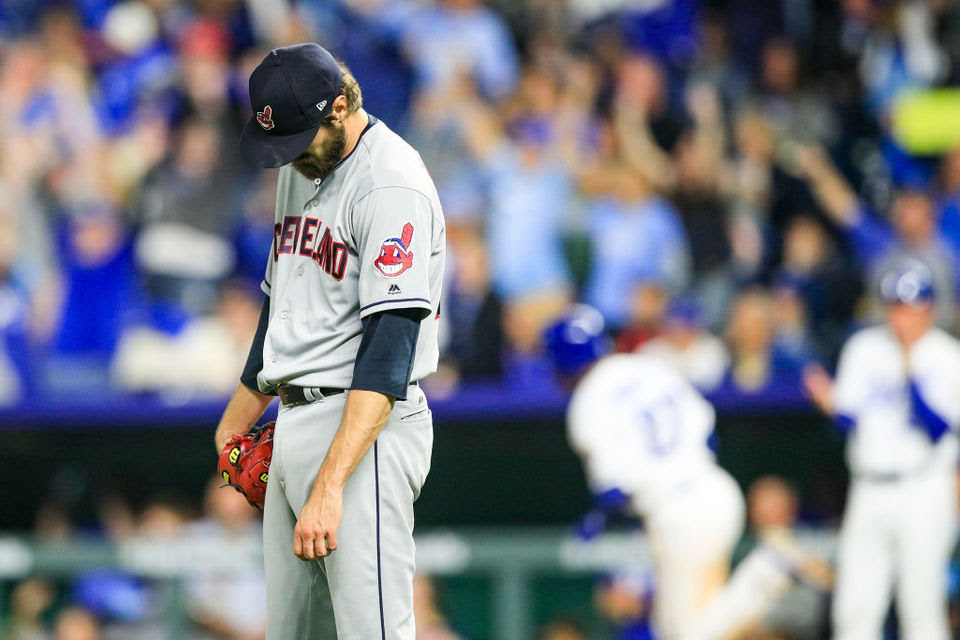 The Indians lose against the Kansas City Royals 9-4 in tonight's AL central battle. The Tribe drops to 90-71 with one game to go. Tomorrow's first pitch set for 3:10 P.M. EST
Corey Kluber made his final start in regular season, pitched in total of seven innings.
Andrew Miller came in the game in the sixth inning which the Royals scored four runs against the left handed.
Indians led the game early on 3-1 but rest was history as Royals scored four runs in the sixth inning.
1. Okay night for Kluber
Despite Kluber didn't get his 21st win but the ace still pitched decent. He gets a no decision as the right hander will be getting ready to face the Astros Friday for game one of ALDS Friday. He finished the regular season with a 20-7 record. Tonight, he gave up three runs on seven hits. However, strikeout six batters.
2. Rough night for Andrew Miller/bullpen
It was definitely a rough night god the bullpen. Andrew Miller came in the game in six inning which couldn't get of. Immediately he gave up 4 runs on fine hits. Cody Allen also pitched tonight as it was a rough night for him as well. Finished the game giving up two runs on theee hits.
3. One more to go
Tomorrow, Indians will try to end the season on a high note before the big dance starts Friday. Also will try to go for a weekend split as they also loss Friday. First pitch is set for 3:15 and Carlos Carrasco will be on Hill for Tribe.

NEO Sports Insiders Newsletter
Sign up to receive our NEOSI newsletter, and keep up to date with all the latest Cleveland sports news.