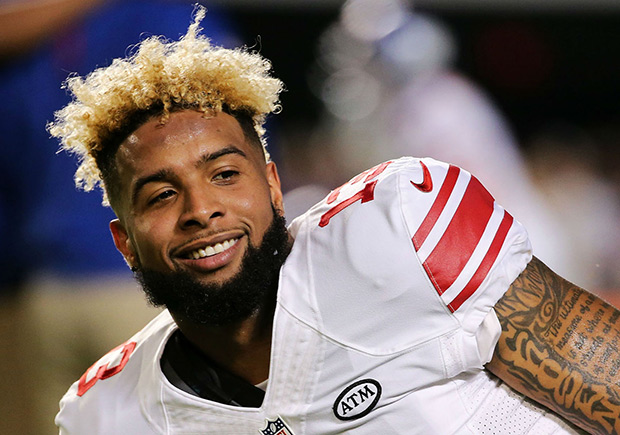 The Browns pulled off the trade that fans have been salivating over for the last few months on Tuesday night, acquiring wide out Odell Beckham Jr. from the New York Giants for two 2019 draft picks and safety Jabrill Peppers.
The fever pitch from fans could be heard across the airwaves as well as on social media, and fans everywhere that root for the Brown and Orange are pumped about the arrival of Beckham to the Browns offense in 2019.
Here's some of the Twitter react from Browns fans over the pickup of one of the biggest playmakers in all of the NFL.
It's happening. 😤 @obj pic.twitter.com/YUx5xgIHqz

— NFL (@NFL) March 13, 2019
So the Steelers trade away @ab84 and the Browns acquire @obj to pair with @God_Son80 and @bakermayfield and just like that you have to think the AFC North is Cleveland's to lose.

I just typed that without a stutter.

— Rich Eisen (@richeisen) March 13, 2019
Man.. oh man. If the #Browns weren't MUST SEE already this upcoming season..

Welcome to Cleveland, @obj!

But the real question here.. does the First Energy Stadium scoreboard hit triple digits or what? 😎

— Johnny Gargano (@JohnnyGargano) March 13, 2019
It's more than a movement. IT'S THE NEW WORLD ORDER! RIP NFL! @Browns @bakermayfield @God_Son80 @obj #browns pic.twitter.com/w6if67ECGK

— Browns Rally Possum (@BrownsRally) March 13, 2019
Welcome to NE Ohio! @obj pic.twitter.com/QMgZqnZpUP

— Akron RubberDucks (@AkronRubberDuck) March 13, 2019
.@Browns from 0-16 laughingstock and punch line to must watch @NFL team. @obj with @bakermayfield oh my. Amazing what a real GM can do. Hats off to JOHN Dorsey. Can't wait to see the #Browns schedule. Can every game be in prime time ? #BaldysBreakdowns

— Brian Baldinger (@BaldyNFL) March 13, 2019
LIVE LOOK IN at the Odell Beckham Jr trade. OBJ is done with the Giants. Traded to the Browns. WHAT A TIME TO BE IN CLEVELAND… #Browns #OdellBeckhamJr pic.twitter.com/zyZLz1zEPS

— Rob Lep (@RobLep1) March 13, 2019
We have live footage of Odell Beckham Jr. arriving at Cleveland Hopkins International Airport…..
WELCOME TO THE LAND OBJ pic.twitter.com/RHXfMNEnLj

— BagMan (@TheTrueBagMan) March 13, 2019
Welcome to The Land @obj

— Stipe Miocic (@stipemiocic) March 13, 2019
"The #Browns have made a deal with the Giants that brings Odell Beckham Jr to Cleveland to team up with Baker Mayfield"

Browns fans:pic.twitter.com/J6HWSWwusU

— CleWest (@erjmanlasvegas) March 13, 2019
The Browns sign Odell Beckham Jr.

Me: pic.twitter.com/OfereGH3pk

— McNeil (@Reflog_18) March 13, 2019