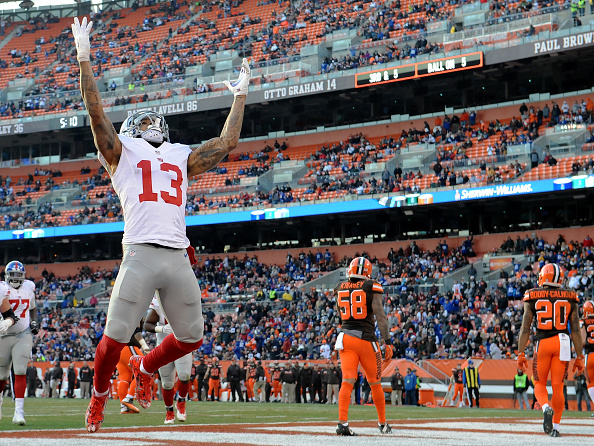 For the second year in a row, we're hearing trade rumors regarding New York Giants wideout Odell Beckham Jr. For the second year in a row, many believe the Cleveland Browns should pursue him.
Last year, I was wholeheartedly against it for several reasons. This year? I can't push for this enough. If Beckham is indeed available, the Browns better be blowing up the Giants' phone on an hourly basis.
Admittedly, such a deal wouldn't come cheap. Will Brinson of CBS Sports predicts it would take a first-round and high second-round pick from this year's draft, or two first-round picks. This comes with some understandable sticker shock. That said, look at what Cleveland would be getting in return.
The Browns, who need help at wideout, would be getting a three-time Pro Bowler. They'd be getting easily one of the best receivers in football, in his prime. They'd also have him under contract all the way through 2023.
It's a hefty contract, there's no denying that. Beckham will come with a $21 million cap hit next season, a number which goes down slightly in the following years. However, Cleveland has more available cap space than most teams in the NFL, so this really shouldn't be a problem.
I should probably stop here to explain why, at this time last year, I couldn't have been more against the idea of the Browns trading for Beckham. It should be noted, though, much of the situation has clearly changed since then.
For one, the two first-round picks in question last year happened to be the first and fourth overall selections. For reasons obvious, this was too much for Cleveland to give up.
On top of this, Beckham had not yet signed a contract extension with New York. As a result, the Browns would've been ponying up massive draft assets for a player they may have only had as a one-year rental. It was incredibly risky, especially considering they were coming off an 0-16 season, which certainly hurt the appeal when it comes to Beckham re-signing.
This year, the Browns are drafting 17th overall. If they plan on targeting a receiver with this pick, why wouldn't they just use it as part of a trade for a proven NFL star at that position?
Outside of these concerns, a recent video had been released at the time featuring Beckham and an unidentified white substance in the background. While it was a red flag then, nothing has come of it since.
One item which I'll admit hasn't changed is Beckham's noted attitude issues. He can indeed be a hot-head on the field. I'm not here to argue that's no longer an issue. What I will say is, when considering the potential headaches Beckham may cause, you have to ask if the juice is worth the squeeze.
I'm not sure how anyone could look at a scenario where Baker Mayfield is throwing to Beckham and Jarvis Landry and not see this as worth the squeeze.
In gauging Browns fans' thoughts on this potential trade, I've seen plenty who are against it. They don't want Beckham because he's a distraction, because he could be a problem in a locker room.
To that, I'd say if Cleveland was worried about distractions and potential rifts on the team, it wouldn't have signed troubled running back Kareem Hunt earlier this week. While he comes much cheaper than Beckham, he's also months removed from being cut by the Kansas City Chiefs for lying about an incident where he shoved and kicked a woman.
I also see fans who wouldn't want this trade because of how it'll impact the Browns' cap. This one is even easier to dispute.
As mentioned, cap space is hardly an issue for Cleveland right now. The bulk of the team's core is still on rookie contracts. Most importantly, the Browns are showing signs they're ready to become a contender now. Knowing this, why are we fretting about how their salary cap will look in four years?
This may seem like a flip-flop on my part, but I don't look at it this way. I see it as a situation which has drastically changed since this time last year.
Bottom line – the Browns are ready to become a playoff team. They also need a receiver. If Beckham is indeed available, I can't see a better way to solve both situations.

NEO Sports Insiders Newsletter
Sign up to receive our NEOSI newsletter, and keep up to date with all the latest Cleveland sports news.