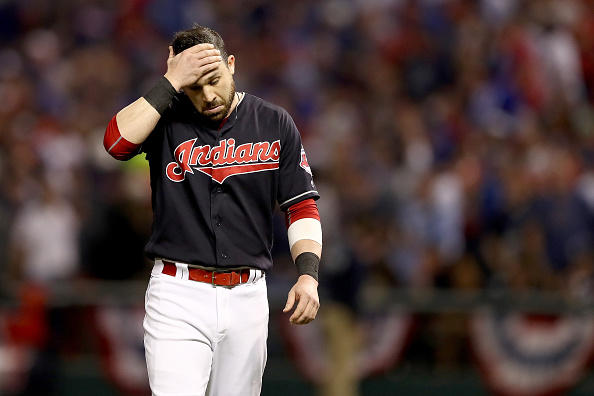 CLEVELAND – In Progressive Field well over an hour after the game you could hear Cubs fans singing their theme song "Go Cubs Go" as they celebrated their first title in 108 seasons.
The Indians clubhouse on the other hand, there was no singing, no celebrating, as the Tribe closed out a heartbreaking game seven setback to the Cubs falling 8-7 in 10 innings.
The Tribe rallied all the way back against the odds. They trailed 6-3 in the 8th inning, and were down to their final four ours of the season before taking the Cubs to the brink with three runs to tie the game at six.
"We knew it was going to be a battle to the end, even when we got down early," Tribe second basemen Jason Kipnis said. "We've overcome everything else this year, so why not keep fighting."
"Extremely proud of what we did, for us to even fight and make that a ball game, kind of shows you what we've been doing all year long."
The talk in the Tribe clubhouse centered around the pride the players had in one another to never give up, but also about the heartbreak that comes along with losing a final game that could have given Cleveland its first baseball title in 68 seasons.
"It was a microcosm of our year," Indians starter Corey Kluber said. "We got punched in the mouth a few times in that game and never gave up, we kept fighting back, and that's kind of how the season went for us."
Kluber kept his head down at his locker for a good 15-20 minutes as reporters walked around talking to various players on the team.
Fellow pitcher Josh Tomlin came over and gave Kluber a pat on the back along with a little hug, showing his appreciation for the pitcher that helped carry the Tribe to game seven of the World Series.
Wednesday though he clearly didn't have his best stuff, as just four pitches into the game he gave up a solo homer to Cubs leadoff man Dexter Fowler, and by the time he left the game he allowed four runs which put the Tribe behind the 8-ball and in catch up mode.
After Kluber was Andrew Miller, who despite having some rest also scuffled, allowing two runs on four hits in 2.1 innings.
Miller was a stud after the deal that brought him over from the Yankees at the trade deadline, and after the tough loss he had nothing but positive things to say about the team he helped get to within one game of a title.
"I love these guys in here, it was a blessing to end up over here, to be with these guys and to be with this team and this staff," Miller said.
"It's going to take awhile, it's going to hurt awhile."
While it's going to hurt for some time, the Indians have youth and talent on their side. They played basically the entire 2016 season without Michael Brantley, and also dealt with more injuries than you can shake a stick at.
One reason to be optimistic is the teams' young dynamic shortstop, Francisco Lindor. The former first-round pick is just 22 years old, and is part of a young core that very well could be right back in the title hunt in 2017.
"It hurts that we lost, I wanted to finish it, it's just part of the game, I don't know when we're going to be back, but I truly believe in what we have, and we look forward to it," Lindor said.
Rajai Davis, who hit the dramatic two-run homer in the 8th to tie the game, could be one of the few players that doesn't come back to the team in 2017, but that appears to be a decision that will be left to the Indians.
"This is the best season I've ever had in my Major League career," Davis said. "To make it to the World Series, Game 7… that's something."

NEO Sports Insiders Newsletter
Sign up to receive our NEOSI newsletter, and keep up to date with all the latest Cleveland sports news.