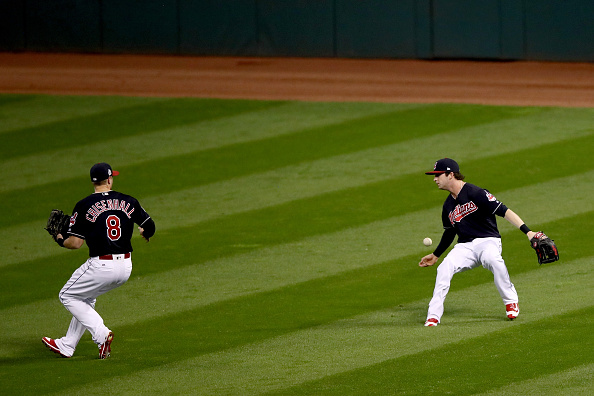 CLEVELAND – Indians fans went to bed early on Wednesday night, some probably with tissues by their side to wipe away tears after the team fell in game seven of the World Series to the Chicago Cubs 6-3.
Like a punch to the stomach, the Indians needed just one more game after Saturday's 7-2 win over the Cubs in Chicago, and Tribe fans were already saving their pennies after Jason Kipnis' three-run blast sealed the deal to give them the 3-1 advantage.
Instead, Chicago won on Sunday, but the Indians still felt good with two more shots – at home – to win their first World Series in 68 years.
It was not to be.
We look at some of the key moments (in no particular order) of the Indians first three-game losing streak at home (and only second of the season) since they dropped three to the Twins to start the month of August.
1. Kris Bryant's Solo Blast in Game Five
The Indians held a 1-0 lead after Jose Ramirez's solo shot in game five, and would have loved to have closed out the Cubs in Wrigley. But against Trevor Bauer, who to that point had been great, Bryant started the Chicago fourth with a solo blast that started the Cubs three-run inning, which was enough to get the win. It was just one run, but it was the one that got the Cubs moving.
2. Pérez's Groundout to End the 7th in Game 5
The Cubs were hanging on to a 3-2 lead when Mike Napoli singled and went to second on a passed ball. After Carlos Santana flied out, Joe Maddon went to Aroldis Chapman, and he got Jose Ramirez to strikeout, but then hit Brandon Guyer to put runners on first and second with two outs. With a chance to either tie the game or do even more damage, Roberto Perez grounded out to second, ending the inning and allowing the Cubs to keep the lead they would never lose.
3. The Outfield Blunder in the First inning of Game 6
Everyone already knows about the mixup in the first inning between Lonnie Chisenhall and Tyler Naquin that allowed a ball to drop in between them and have two Cubs runners come around to score. The result turned a 1-0 Cubs lead into a 3-0 Cubs lead, and started the snowball rolling to a 9-3 win. It was very much Naquin's ball to catch, and after the game he said the loud crowd had something to do with why the ball dropped in. "It was just loud at there," Naquin said. "It was kind of one of those in-betweeners. Lonnie got a good break, I got a break, it's just one of those deals. In the moment, me being the center fielder, I need to take charge on that. That's my mistake."
4. Russell's Blast Third Inning Game Six
Dan Otero had allowed just two homers the entire season, but he picked the worst possible moment to give up his third, as Addison Russell's grand slam off Otero in the 3rd inning put the Cubs in total control of game six as it went from a 3-0 lead to a 7-0 lead. Sure Otero was in a tough spot with the bases loaded and one out, but in a situation where a groundball double play would have been ideal, instead he let the Cubs clear the bases in the worst of ways to make it a touchdown lead for Chicago.

5. Naps Bad Throw to Second in Game 7
The Indians had clawed back into game seven with a run in the third to tie the game at one apiece, but Chicago took advantage of an Indians mistake in the field to take the lead back quickly. With a runner on first, a ground ball was hit to Mike Napoli, who quickly looked to make a 3-6-1 double play, but his throw to Francisco Lindor at second base was high. Lindor with hops was able to jump up and get it for the force, but the inability to get the double play allowed the Cubs an extra run, one that would come in handy, as they tacked on two runs in the inning to take a 3-1 lead.

NEO Sports Insiders Newsletter
Sign up to receive our NEOSI newsletter, and keep up to date with all the latest Cleveland sports news.