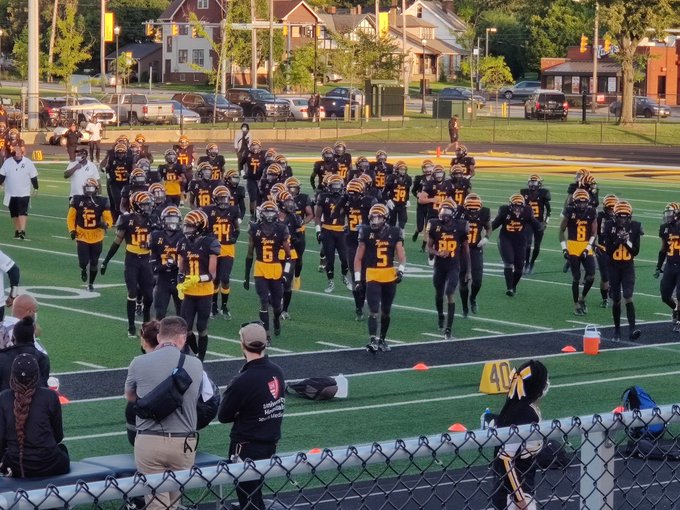 Euclid's defense set the tone early with four 3-and-outs on Cleveland Height's first four drives. This was a microcosm for what was to come with as the Panthers defeat the Tigers 34-7.
"We tackled very well," Panthers' coach Jeff Rotski said after the win. "When you play great coverage and you tackle very well you have a chance to win every football game. We had a really good scheme in [too]."
After Euclid (2-1, 1-1 in GCC) forced the first 3-and-out, the offense capitalized with a 33-yard touchdown run from running back Atiba Fitz to open the score 7-0 early in the first quarter.
Panthers' quarterback Andre Rallings said that play had a great effect on the team for the rest of the game.
"On the sideline [after Fitz's touchdown run], everyone was smiling and jumping up and I feel like the coaches self-esteem boosted the players self-esteem boosted," he said.
The only points Cleveland Heights (1-1, 1-0 in Lake Erie League) put up was on a 90-yard kickoff return for touchdown by Armond Scott in the first quarter after Euclid's quarterback Andre Ralling threw a 23-yard touchdown to Claishon Ivory.
The Panthers defense gave the offense great field position in the first quarter as they started only one drive from their half of the field in their shutout.
Euclid's running game played as much an influence as the pass. Running backs like Fitz and Ahjay Cody, Jayvon Colvin, with a touch of Ralling gained tough rushing yards to open up the pass. The team rushed for 180 total yards.
Along with Fitz's touchdown early in the game. He also played a huge role setting up another Panthers' touchdown as he rushed the ball on a second an 12 to for 53 yards to allow Cody to bash his way into the endzone to extend Euclid's lead to 34-7 with less than four minutes remaining in the fourth quarter.
Ralling and Ivory found their rhythm together as they connected two times for touchdowns. The other being from 37 yards out in the third quarter on their opening drive. They led 21-7.
"Claishon (Ivory) is a tremendous football player," Rotsky said.
"He's a great kid. He's grown up, in some respects, more than most young men than I have ever seen. He's only a Junior… We got him the ball. We thought we'd get him the ball on some quick [passes]. We missed a couple opportunities down the field… But, at the end of the day, we scored some points."
Ivory caught five passes for 81 yards and two touchdowns.
Rallings completed 15 of 20 passes for 135 yards, and three touchdowns. The other touchdown was a 7-yard pass to Alonte Pryor. The score was 27-7 with 22 seconds remaining in the third quarter.
Ahjay Cody scores on a 4-yd TD for Euclid.

Panthers 34
Cleveland Heights 7

3:47 in Q4@GoHeightsTigers @FOX8FNTD @EUCPanthers pic.twitter.com/2Ppt2u40tA

— Mark Perez-Krywany (@MarkPerezK10) September 12, 2020
Despite the night Rallings had. He and Rotsky feel like there is still room for improvement as he fumbled the ball and did other things he wished he could have had back, but looks to improve on in practice.
[This game] was not the best I could play," Rallings said.
"I did some good things, but I did some terrible things, (like) fumbling the ball; missing reads. So, I gotta clean those things up in practice… I just feel like no matter what, win or loss, there is something that you can take away from the game."
This win did not come easy for Euclid. After the loss to Mentor last week, the grueling and highly competitive practices prepared them well for Week 3.
"We practiced much harder," Rotski said.
"We challenged these kids Saturday morning (after the loss to Mentor), because we were not happy. Mentor is a really good team, but we had every opportunity to be in the game and win the game. There are a lot of 'ifs, ands, and buts.' We competed better in practice, we practiced harder and we made each other better and that shows up on Friday nights."
Euclid's offense produced more points (34) against Cleveland Heights than they did the first two games of the season (19).
Next week, both teams have conference matchups as Euclid will go on the road to face Strongsville and Cleveland Heights will host Garfield Heights on Friday, Sept. 18.

NEO Sports Insiders Newsletter
Sign up to receive our NEOSI newsletter, and keep up to date with all the latest Cleveland sports news.