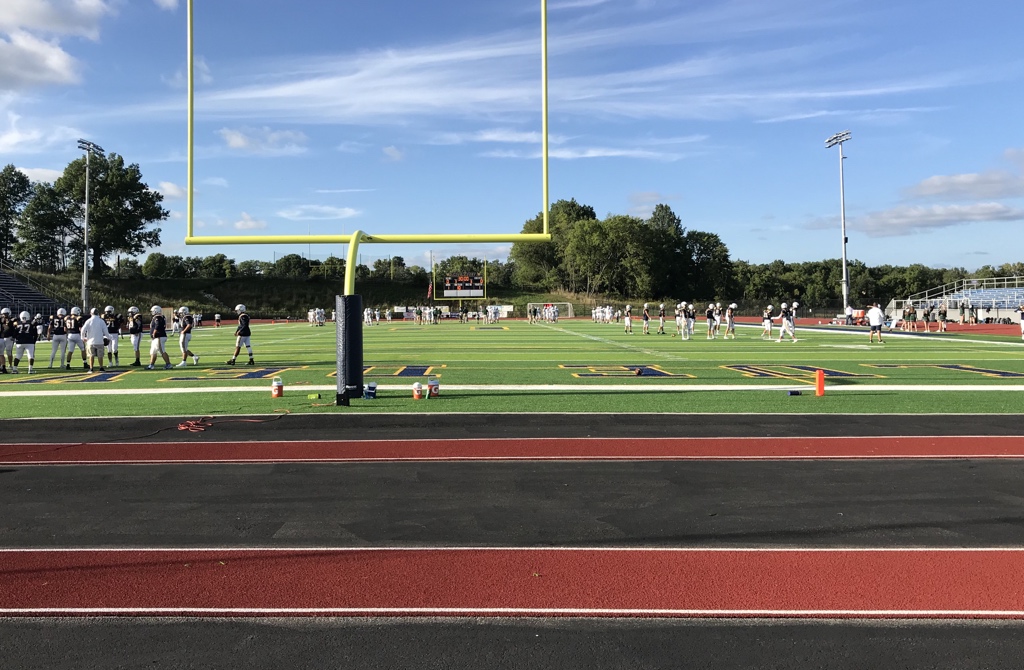 By Don DiFrancesco @MayorNEOPrep
Aurora 13 22 20 7 = 62
Tallmadge 7 7 14 0 = 28
The Aurora Greenmen were impressive on offense, scoring nine touchdowns and overwhelming host Tallmadge 62-28 on Friday night.
Tallmadge took an early lead when sophomore linebacker Collin Dixon grabbed a tipped ball and raced 44 yards to the end zone with 7:41 to play in the opening quarter.
Aurora came right back, going 56 yards in three plays with junior quarterback Alex Moore picking up the final 5 yards on a keeper. The big play on the drive was a 46-yard pass play from Moore to junior wideout Ryan Weber. A two-point conversion attempt was foiled by another Dixon interception.
The Greenmen took their first lead following an interception return by junior Aiden Henderson to the Tallmadge 16. Three plays later, senior running back Evan McVay scored from three yards out giving Aurora a 13-7 lead.
Tallmadge responded with their best drive of the game, going 80 yards in ten plays and scoring on a nifty 30-yard pass play from junior quarterback Ty Hederson to sophomore receiver Seth Yacobucci with 11:11 remaining in the first half. The conversion kick by senior Reece Parry gave the lead back to the Blue Devils at 14-13.
Aurora then mounted a long drive of their own: 67 yards in 12 plays, with junior Jacob Matousek covering the final ten yards, taking a pitch and racing around right end for the score.
The Greenmen came up with two additional touchdowns before halftime, aided by a Tallmadge fumble that gave Aurora the ball on the Tallmadge one-yard line with just over a minute to play in the first half. The resulting 35-14 lead proved to be too much for the Blue Devils to overcome.
Both teams lit up the scoreboard with a combined six touchdowns in the second half, but the outcome was never really in doubt.
Aurora looked to be running out the clock after taking over on downs at their own 11-yard line with 3:09 to play in the fourth quarter. But sophomore quarterback Matt Geier snuck around the left end and scooted 89 yards untouched down the left sideline for the final points of the game.
1st Quarter
Tallmadge Collin Dixon, 44 interception return (Reece Parry kick) 7:41
Aurora Alex Moore, 5 run (pass failed) 6:19
Aurora Evan McVay, 3 run (Mason Bizjak kick) 2:24
2nd Quarter
Tallmadge Seth Yacobucci, 30 pass from Ty Hederson (Parry kick) 11:11
Aurora Jacob Matousek, 10 run (Bizjak kick) 5:36
Aurora Dylan Fishback, 6 run (Matt Geier run) 1:35
Aurora Toto Gomez, 1 run (Bizjak kick) 1:14
3rd Quarter
Aurora McVay, 14 run (pass failed) 10:01
Tallmadge Dixon, 13 pass from Ty Hurst (Parry kick) 5:35
Aurora Ryan Papesh, 25 pass from Moore (Bizjak kick) 4:03
Tallmadge Yacobucci, 10 pass from Hurst (Parry kick) 1:27
Aurora Derek Blum, 35 pass from Moore (Hayden Hall kick) 1:01
4th Quarter
Aurora Geier, 89 run (Hall kick) 2:54

NEO Sports Insiders Newsletter
Sign up to receive our NEOSI newsletter, and keep up to date with all the latest Cleveland sports news.