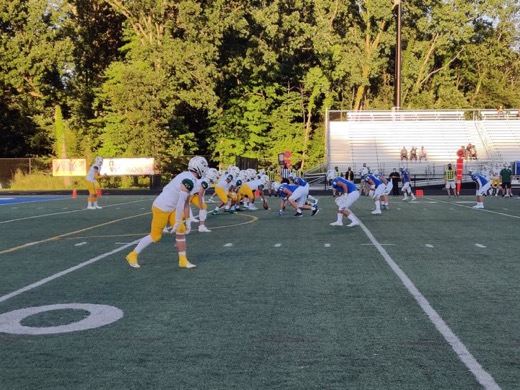 BRUNSWICK, OHIO – With less than a minute remaining, the Medina Bee's faced a 4th-and-10 on the 50-yard line against the Brunswick defense that has put pressure on them all game.
It took a team-effort to get the incomplete pass to seal the 28-21 Blue Devil's victory to get their season back on track.
"We were right there with that Euclid game and we let it slip by,.." Blue Devils' coach Mark Pinzone said after the win.
"We feel that we have the players and the talent and the experience to be a big-time team, but we can't beat ourselves like we did last week. I think that we did a little better this week."
Defense was key for Brunswick (1-1, 1-1 in GCC). They forced five Medina (0-2, 0-2 in GCC) turnovers and turnover on downs each.
"Credit Jesse Dooling, our defensive coordinator, and our coaches and especially our players. They put in a great gameplan," Pinzone said.
"We worked on pressuring off the line of scrimmage quite a bit this week… We were able to accomplish some things with that preparation.
Three of the five turnover on downs happened inside the redzone. Proving they can get stops in high leverage moments.
The Blue Devil's offense capitalized off their defensive success.
Brunswick's quarterback Ethan Fritz threw 12-of-19 for 119 yards and three touchdowns.
The special teams stepped up as Jacob Dye returned a kickoff deep into Medina territory right after the Bees tied the game 7-7 to set up a 1-yd touchdown run for Nicolas Vadini, another player who stepped up to make the score 14-7 with :03 remaining in the first quarter.
HS Football: Brookside Cardinals Win a Week Two Thriller Over Wellington 28-26
Vadini scored a second touchdown of the game in the beginning of the second half after Jake Scherette, their hybrid Senior leader, was carted off the field with an injury.
Vadini immediately responded with a 16-yard touchdown reception from Fritz.
"[Getting the touchdown] was tough," Vadini said after the win.
"It really hit my emotions, because Jake (Scherette), one (is) of our closest friends, one of our best teammates… It really hit the heart. Hopes and prayers go out for him for sure."
Coach Pinzone did not know the extent of his injury after the game.
One thing that worked for the Bees was their star wide receiver Luke Hensley, who had over 100 receiving yards and two touchdowns in the first half.
Wadsworth and Stow HS Football Game Cancelled Due to Student Testing Positive for Covid-19
He finished with nine catches, 158 receiving yards, two touchdowns, and a fumble off a fake punt.
Medina started to mount a rally after they forced a three-and-out and converted a fourth-and-long, which led to a 1-yard touchdown run from Dorian Boyland to trail 28-21 with enough time remaining for another drive.
Boyland's touchdown marked Medina's first touchdown of the season in the second half.
Medina tried to surprise Brunswick in the beginning of the game with an onside kick. The Blue Devils recovered the kick, which led to a 48-yard touchdown catch from Scherette on their second play from scrimmage to open up the scoring 7-0.
Next Week, Brunswick will go on the road to face Elyria and Medina will also go on the road to face Strongsville to try and get their first win of the season.

NEO Sports Insiders Newsletter
Sign up to receive our NEOSI newsletter, and keep up to date with all the latest Cleveland sports news.