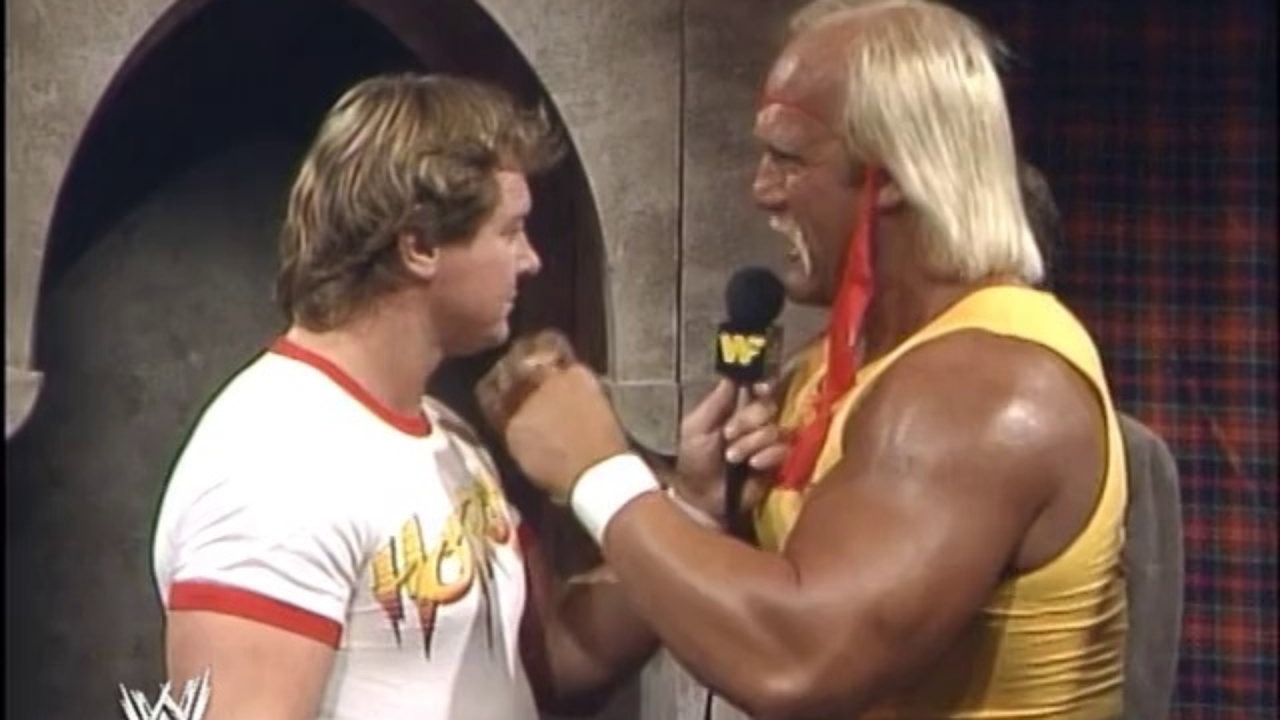 Hulk Hogan vs Rowdy Roddy Piper was one of the first great feuds in Modern Day Professional Wrestling. Many feel, including myself that it was the feud that kicked off the 1980's boom period of Rock N Wrestling.  A level of popularity that was only briefly seen again during the "Attitude Era".
This feud was also responsible for the first ever Wrestling Pay Per View, entitled "The War to Settle the Score".  As well as headlining the first WrestleMania alongside teammates Mr. T and Mr. Wonderful Paul Orndorf.  To this day, 32 plus years later, it remains the only WrestleMania to be headlined by a Tag Team match.  That alone proves just how hot that feud was.
It seemed as though it would be a feud that could stand the test of time no matter how many ways or attempts the WWF chose to re-incarnate it over the years, it just always seemed to work, and work well! The WCW came along and screwed it all up.  Let's take a closer look on how WCW took a sure fire thing, and turned it into a total joke.
The NWO era had just begun, Hulk Hogan was freshly turned as a heel and had just disposed, of another longtime rival in the Macho Man Randy Savage at WCW's Halloween Havoc 1996.
It was a horrible main event that saw a monster truck which made no sense, a random appearance by Ms. Elizabeth which made even less sense and a post-match promo that made fans want to throw a brick at their TV.
While Hogan ran his mouth in the ring, showered by boo's and garbage, who would appear by Rowdy Roddy Piper. What ensued next was the most boring, senseless and some of the worst back and forth in WCW history.  Piper proceeded to ramble for 20 straight minutes about how he was the biggest ICON in pro wrestling history.  The fact that he would claim that is a bigger joke than anything else.
And what was Hogan's response to this "verbal lashing"?  He told Piper to "go to the bathroom and squat".  This beyond stupid insult proceeded to get ZERO response or reaction of any kind from the fans.  Then, had things not already been bad enough, they managed to get worse as the two started bickering again as the allotted time for the Pay Per View cut off.  This left the fans at home completely scratching their heads and irate as there was zero payoff or conclusion to what they were watching.
The stupidity of this angle hadn't even begun to reach its full peak as Hogan and Piper were just getting started.
World War 3 in 1996 saw Hogan and Piper sign the contract to fight at that years Starrcade. It led to a post beatdown of Piper from the NWO.  That in itself wasn't bad, it was Hogan forcing Piper to show everyone his hip surgery scar that did further damage to the feud's integrity.  It came off awkward and offensive.
They followed up that spectacle with an even worse showing at Starrcade. In a match that can be best described as slow and clumsy.  A rusty Piper and an over the hill Hogan stumbled around the ring for 25 minutes until Piper made Hogan fall asleep in the Sleeper.
Common sense would say, Hogan was the champion so surely Piper must be the new champion now? WRONG.  Despite slaying the evil NWO on his first try, Piper was never given the belt or named champion.  No reason was given or even mentioned on the broadcast.
From there, things went from bad to worse. Their next bout would be at Super Brawl 1997.  This is when things went from stupid to completely asinine.  In order to hype up the main event and toughen up the image of skirt wearing, hip scar having Piper, they sent him to Alcatraz for a week. Words cannot do that last sentence justice so I will let it be.  Piper would go on to lose for the first time in years after Macho Man turned on him from ringside in the Main Event.
WCW laid off the feud for awhile after that, and for good reason. Lex Luger became the next sacrificial lamb until Hogan was ready for Sting at Starrcade 1997.  With the one brief exception of Halloween Havoc 1997 when Piper, yet again, beat Hogan by submission, and yet again, wasn't awarded the Big Gold Belt.
This year's worth of pointless feud between Piper and Hogan didn't do anything to advance either man and just left the fans feeling empty, confused, angry and bitter!  More or less, WCW had their champion lose twice on Pay Per View and still keep his title.  It also went a long way into making Piper look like a moron.  He won twice on Pay Per View against the champ, he wasn't smart enough either time to make sure it was a title match he was in, and his biggest moment was spending a week in a abandoned prison?!
Way to go WCW!