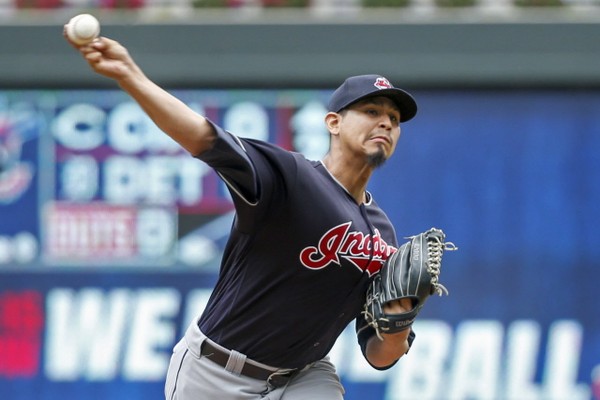 Wednesday as the Indians took the field to take on the Minnesota Twins at Target Field in the finale of a three-game set, there was one question among a lot of Indians fans that normally fans don't have to ask.
What station is the game on?
No, Wednesdasy's game was not on the normal SportsTime Ohio, nor was it on TBS or Fox Sports National, but instead the game was on a channel that was really isn't a channel – but an element on the social media platform founded by Mark Zuckerberg – Facebook.
Yes, Wednesday's game was on 'Facebook Watch' – a video element on Facebook that has been growing and growing and now is involved with Major League Baseball.
You could only watch the game if you had a Facebook account, and for some it was downright confusing how to watch Wednesday's game.
We took to Twitter, another social media platform, to ask Indians fans the following question: "Now that it's over – what was your take on the #Indians being on Facebook Watch today? Good? Bad? Annoying?"
We give you the following answers to the question asked above, and by in large it sounds like the test on Facebook Watch wasn't much of a success.
Didn't watch. Hammy on the ears is better than any TV (can we still call it tv?) broadcast.

— Jeff Raycher (@Raycher33) August 2, 2018
Watched it… I actually didn't hate the announcers like some (tho parts definitely annoyed me). I hated the lag tho. Had to mute it part way thru cause feed kept stopping and starting. I also don't need to keep seeing how many people are "live" in the upper left corner…

— Matt Bretz (@MattB_WOF) August 2, 2018
It was kinda annoying especially since it was rainy outside & Will really wanted to watch the game ??‍♀️

— Wikki (@Princesswikki) August 2, 2018
I listened to Hammy and Rosey at work, like I do for most away day games.

No difference at all.

— Monte the Color Man (@Monte_Colorman) August 2, 2018
Bad idea to put only on #FacebookLive, commentary was average. #RallyTogether go #Indians

— DAVID RIVERA (@daverivera440) August 2, 2018
I thought it was cool seeing people in the chat from around the world. I liked it.

— Corey Rader (@Corey_Rader) August 2, 2018
It was awful from the buffering and the lagging. At one point it was almost a full inning behind the radio broadcast. Scott Braun was mediocre and the analysts provided little insight. As an MLB Indians subscriber, not being able to watch the game made me mad about money soent

— Jim Beward (@jimb300) August 2, 2018
I don't have Facebook. Very annoying.

— proud2BfromCLE (@proud2BfromCLE) August 2, 2018
Awful. Couldn't get audio, video would stop streaming. Waste of time. Listened on radio.

— Saucy Old Mare (@OldSaucy) August 2, 2018
Never again

— Jacob C (@jacobmichael92) August 2, 2018

NEO Sports Insiders Newsletter
Sign up to receive our NEOSI newsletter, and keep up to date with all the latest Cleveland sports news.