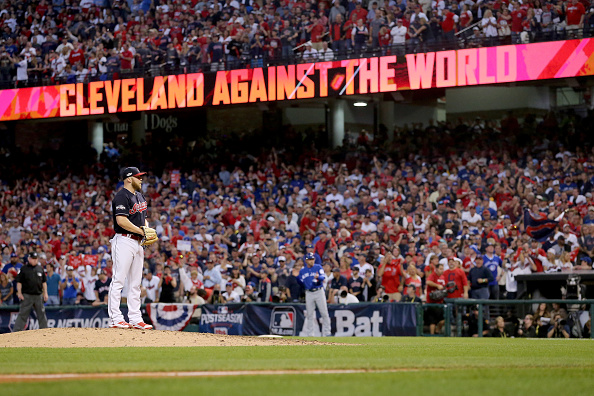 Let me tell you something you may not already know.
Baseball will break your heart.
It's a tough sport to love. It's long. It's slow. There are way too many games. Sometimes the weather prevents play. It tests your patience every single night.
But I love it.
"Careful, kid. They'll break your heart."
These are the words spoken by a man named Uncle Carl to a young boy named Ben Wrightman in the 2005 feel good romantic comedy, Fever Pitch.
The fictional movie is based around the true events of the 2004 Boston Red Sox who break "The Curse of the Bambino" and capture that elusive title. Ironically enough, that team was managed by none other than Terry Francona.
"Careful, kid. They'll break your heart."
Those words floated around in my head the morning after the Game 6 loss. I couldn't shake the uneasy feeling I had… but then I remembered something.
There was still a Game 7 to be played… and it was in Cleveland.
This wasn't the old Cleveland, and nothing could have prepared us for the ride we were about to take. Soon, all eyes were on us.
When Stipe Miocic took the heavyweight title, things started to inexplicably change.
The Lake Erie (now Cleveland) Monsters were mixing it up on the ice, eventually winning the Calder Cup.
The Cavs did the unthinkable and came back from a 3-1 deficit to bring Cleveland its first title in 52 years.
The party just kept going. We were having the time of our lives.
Meanwhile, the Indians were playing cool, quiet, winning baseball on the other side of Gateway Plaza. They went red hot and surged through a 14 game winning streak with improbable wins. They were pulling away in the division. Things were looking great…
Until the injury bug ignited in September.
Yan Gomes separated his shoulder mid July, then during his rehab assignment in mid September he fractured his hand after being hit by a pitch. Danny Salazar was sidelined with an elbow injury. Carlos Carrasco fractured a finger after taking a liner to his pitching hand. Michael Brantley wasn't going to return. Things couldn't have looked worse.
Despite the adversity, the Tribe pushed on and clinched the division in enemy territory in Detroit, and rolled into postseason play without knowing who would be pitching what games, and how they were going to make a run at this thing. The national media didn't think we stood a chance, but the guys in the locker room begged to differ.
They swept Boston with ease. Terry Francona's bullpen usage powered them through and they sat back and waited to see who they'd face for the American League Pennant.
Despite the infamous Drone injury that Trevor Bauer sustained that became the talk of the series, the Indians took the Blue Jays in 5. That's what they did. They rallied together. They were American League Champs.
Finally, after 19 years of waiting, the Indians were headed back to the Fall Classic with a chance to put those 90's Indians' teams demons to rest.
Not only was Progressive Field electric for Game 1 in Cleveland, the entire city was. Remember those World Champion Cleveland Cavaliers? Yeah, they were getting their rings and raising the banner right next door at the Q.
The stage was set, and Game 1 was for the Tribe to take, and that they did with a 6-0 victory.
Game 2 was a flat out dud with the Tribe falling 5-1.
Game 3 at Wrigley was destined to be a chess match and the Indians came in and scratched their way out with a 1-0 victory thanks to a pinch hit RBI single in the seventh delivered by Coco Crisp.
Game 4 the Tribe cruised away with a 7-2 victory which included a 3-run bomb by Jason Kipnis and masterful pitching by Corey Kluber. The Indians took a 3-1 lead in the series.
Game 5 the Cubs finally got a win in front of their fans on their own turf in a hard fought 3-2 victory to stay alive.
Game 6 back in Cleveland ensued what could've been one of the worst starts the Indians could imagine going down 3-0 in the 1st, and ultimately being routed 9-3 by the Cubs to force a Game 7.
What more could you ask for? It would be Hendricks vs. Kluber battling for two ball clubs and their fan bases that desired to get the Commissioner's Trophy after waiting so, so long. Only one team could win.
What followed was the greatest game of baseball I have ever seen.
The Indians trailed 5-1 heading into the home half of the 5th. Corey Kluber struggled to get that one last great performance and Andrew Miller, who had been near perfect all postseason long, allowed one run after taking the mound.
With two outs, Carlos Santana drew a walk which was enough for Joe Maddon to end Kyle Hendricks night. Jon Lester and David Ross made their way to the diamond in preparation to start to put this thing away for the Cubs.
Jason Kipnis managed to get an infield single, and advanced to second which moved Santana up to third on a throwing error by Ross. In an unlikelihood of events, Lester's next pitch bounced off the mask of the vet behind the dish, and it ricocheted away from him as Santana and Kipnis BOTH SCORED! Really? A wild pitch? It was 5-3, the crowd was back into it, but there was a lot of work left to do.
Did I mention baseball will break your heart?
With one down in the 6th, and just when we thought momentum was taking a swing, David Ross did what baseball does to you. The 39 year old, who's playing in his final season, went yard on Andrew Miller, and extended the Cubs lead to 6-3. It didn't seem fair… but I wasn't about to let it break me. The offense still has 12 outs to work with.
You do weird things as a fan. A lot of this for myself stems from being a former athlete, but mainly, there's just this unwritten rule that by doing these things you can help your team win. You might flip your hat inside out. You may not wash your socks. You build a shrine. Whatever it may be, we pulled out all the stops in my household on Wednesday night. Rally Towels plastered our walls. We mimicked things we did during the NBA Finals. We lit candles. We broke out the bobble heads. We did it all, and for whatever reason, as a last ditch effort, I had one last trick up my sleeve; a plush BB-8 doll from Star Wars. Fandom is weird.
With two outs in the 8th, and our World Series dreams slipping away, I wondered if we still had any magic left in the tank. Jose Ramirez delivered as he reached on an infield single to second. It had to be Rally BB-8, right? We knew what was coming. Enter, Aroldis Chapman.
In one of the best at bats of the night, Brandon Guyer somehow plugged the gap in right center, and Ramirez crossed the plate. Ok! Only down two runs, now! We can still do it! I'm pacing everywhere. I'm biting my nails. I believe.
What happened next was downright unreal. 
Rajai Davis, whose postseason numbers were essentially nonexistent, sent the city into a frenzy.
A 2-run blast to left.
The crowd erupted.
LeBron went crazy.
Shirtless JR Smith and my Rally BB-8 pulled it off.
My boyfriend and I crashed into each other jumping around and screaming in our living room. I was crying uncontrollably, and I just kept looking at him, wondering how this was even possible.
But it wasn't over. We had a tied game.
Cody Allen, who relieved Miller in the 7th, was relieved by Bryan Shaw in the 9th. He had walked Ross, and got one out. Shaw struck out Baez and with two down, and Jason Heyward on third, Dexter Fowler, who had been a pain in our side all night, shot one up the middle. I held my breath.
Somehow, Francisco Lindor was there, and gunned him down at one. How? Regardless, we were headed to the bottom of the 9th with the top of our order up, and a chance to win it all.
One. Two. Three.
That really hurt.
It was ok. I stayed positive. There had to be another opportunity. Extra innings were ordered.
Rain fell from the sky and the right thing to do was throw the tarp down. After a quick 17 minutes, play resumed, and the Cubs were ready to go.
They put up two runs before Terry Francona made the call. Trevor Bauer worked out of the pen and would get the last two outs before the Indians had one last shot at winning the whole thing.
Carl Edwards Jr came out in the 10th for the Cubs. The Indians found themselves with two down before Brandon Guyer stepped into the box for one last time.
He worked hard for a walk, and the Cubs allowed him to take second. In another improbable scenario, Rajai Davis once again came through delivering a RBI single to center, cutting the lead to one! Rally BB-8!
Now as a team that was exhausted and out of options, lifelong minor leaguer Michael Martinez stepped into the box after having entered the game in the 9th. One last move by Maddon had Mike Montgomery headed to the mound.
We watched a grounder roll toward Kris Bryant over at third.
8-7. Final. Ballgame.
In that moment, after that final out was made, 19 years of waiting finally caught up to me. I couldn't control my emotions. After you watch 162 regular season games, battle through the playoffs, and face adversity all just to fall one run short in extra innings in Game 7 of the World Series, it's hard not to. I dropped to one knee, clutching that plush BB-8 doll, and took a few minutes for myself. Like most of us, I'm a lifelong Cleveland sports fan, but baseball was my first love. I was just a little girl with a big blonde ponytail sticking out of the back of my Indians ball cap back in the 90's, falling in love with the game. 
I'm sure you all have seen it said by now, but what we witnessed this season had an eerie familiarity to the Cavs 2015 championship run. They ultimately came up short after losing two of their top players and exhausting every single member of the team. They gave it their all and were so close, but just didn't have all of the tools to make them world champions. They came back even stronger the next year, and look at what they accomplished then. They taught us to believe. They taught us to never give up. They taught us how to be Champions.
So I'm asking you, please don't hang your heads on this one. I am so incredibly proud of how this young and inexperienced team handled themselves. Some of the unlikely heroics that got us to that point should be enough to make anyone smile. What a season. There is nothing to be ashamed of. I know how badly we all wanted to cap off this incredible year for our city, but it just wasn't the Indians time. The team with the best record in baseball did what they had done all season – win. Hats off to the Cubs and their fans. 108 years is far too long for anyone.
I know it stings. I know it hurts. Just don't let it get you for too long. I promise you they left it all on the field, and the Indians will be back, better and stronger than ever.
In the meantime, we have those guys in the Wine and Gold who are defending their title next door to keep you preoccupied. I know people will want to throw shade and say the Indians blew a 3-1 lead… but I don't see it that way in the slightest. 
The Cleveland Indians didn't break my heart.
After All, we weren't even supposed to be here.
We are a new Cleveland.
We are Believeland.
We are a City of Champions.
We're All In.
We Rally Together.
And it's ALWAYS Us Against the World.