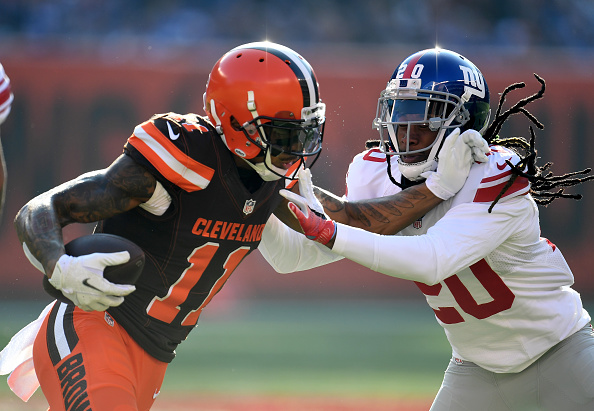 CLEVELAND – Taking the high road.
That's exactly what Browns wide receiver Terrelle Pryor did on Sunday after New York Giants cornerback Janoris Jenkins took to twitter after the Giants 27-13 win over the Browns, slamming Pryor for his play on the field Sunday.
What's interesting is Pryor had the best day of any wide out on the field, including that of highly publicized Giants pass catcher Odell Beckham Jr.
Pryor on the day caught six passes for 131 yards, and was the Browns best playmaker in the loss. That didn't matter to Jenkins, who said the outing for the former Buckeye could be attributed to zone coverage.
Here's a tweet for Jenkins – and please note there's some harsh language in these tweets that may not be safe for work.
Lol, cause he sucks, he caught balls n Zone coverage.. HeASh*tEaterToMe

— Mr.Clampz2.0 (@JjenkzLockdown) November 27, 2016
Jenkins then tweeted direct at Pryor about the game.
@TerrellePryor You a Sh*t Eater to me, u really sucks.. #

— Mr.Clampz2.0 (@JjenkzLockdown) November 27, 2016
Pryor, not having anything else to prove after going off for 131 yards, tweeted back at Jenkins:
You are a great corner. Solid defender! You played a solid game. God Bless !! Good luck rest of year https://t.co/Lomh8ke4YW

— Terrelle Pryor SR (@TerrellePryor) November 27, 2016