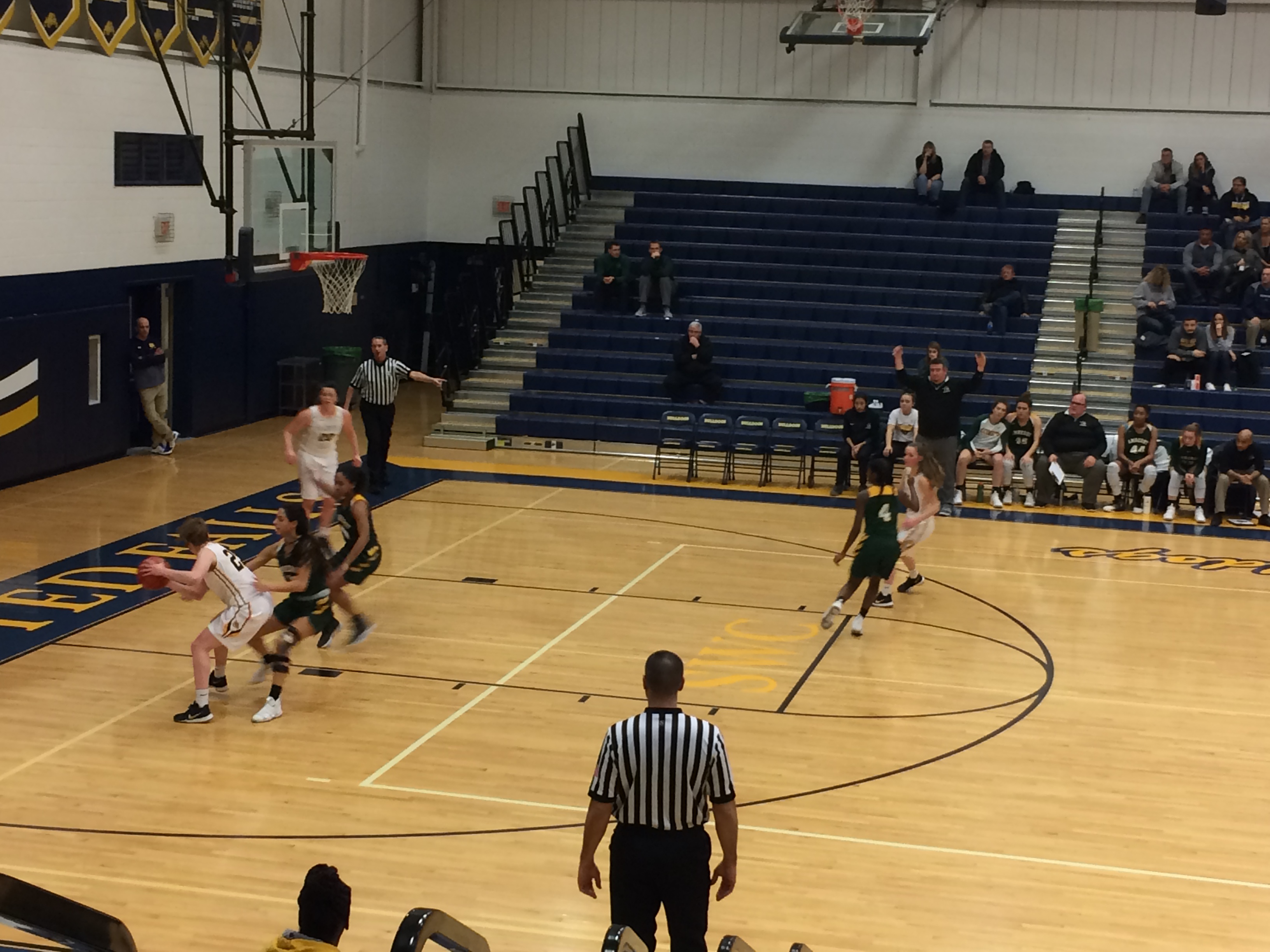 OLMSTED FALLS, OHIO– No. 2 seeded Olmsted Falls Bulldogs defeated the No. 7 seeded Amherst Comets 61-56 in a game that Olmsted Falls controlled much of the way.  The scoring started early for the Bulldogs.  Shannon Carr hit back-to-back three pointers for the Bulldogs and hit another later in the quarter.  Carr finished with 19 points.
"Obviously you'd rather start fast than slow," Olmsted Falls Coach Jordan Easton said. "That just comes from focusing prior to a game.  We've had some games where we don't start so fast and it hasn't turned out in our favor or we've had to work really hard to win those games.  Today and the last few we've done a good job of staying focused and starting fast."
Amherst got the majority of their points in the paint in the first quarter and throughout the game.  Leading the charge on the interior for the Comets was 6-foot-1 sophomore Amaya Staton.  Staton finished the game with 17 points.
The Comets entered the second quarter down 18-11.  The Comets played well defensively in the second quarter.  The Comets forced several turnovers and Amaya Staton had two chasedown blocks in the quarter.  At the buzzer, Kate Iliff made a half court shot to cut the deficit to 31-25 in favor of the Bulldogs at the half. Iliff finished with 20 points.
Olmsted Falls made a barrage of three pointers and multiple full court passes from Clare Kelly to Sarah Balfour gave the Bulldogs the momentum back.  Kelly finished with 9 points and Balfour finished with 23 points.  Olmsted Falls carried a 47-38 point lead into the fourth quarter.
It seemed like shots were finally going down for Amherst. That combined with good defense cut Olmsted Falls' lead to just four points with four minutes left in the game. A very even final few minutes of play gave the Bulldogs a hard fought victory.
Olmsted Falls was in control for much of the night but Amherst was nipping at their heels at different moments of the game.
"We know they're really good, you can have a really big lead and they're not going to go away.  They have a lot of really good players," said Coach Eaton.  "I was just telling our girls that [Amherst] has to be one of the better seven seeds in the state, they're a really talented group of girls and their coach does a great job.  When you have a 13 point lead it really only feels like five or six."
Olmsted Falls will go on to play the No. 3 seed Avon Eagles in the district semifinal.  Avon beat North Ridgeville 53-42.  Coach Eaton said they will prepare for Avon similarly to how they prepared for Amherst.
"We prepare pretty similarly to the way we prepare for Amherst, they're tall like Amherst," said Coach Eaton. "They like to go inside out like Amherst.  We're just going to keep doing what we've been doing in practice and make sure that we focus on our defensive scouting report and just keep playing together.  Hopefully the rest will take care of itself."

The game between Olmsted Falls and Avon tips off at 7:45 p.m. at Elyria Catholic High School on Monday.