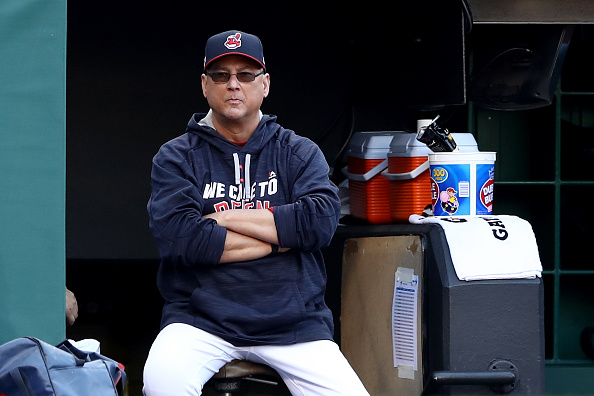 While Andrew Miller is likely to walk away from the American League Championship Series with the MVP Award, the real MVP of not only the ALCS but also the series before against the Red Sox is a player who hasn't swung a bat or taken the field in 16 years.
That MVP of course is manager Terry Francona, who has outmanaged both good friend John Farrell as well as Jays skipper John Gibbons in the two series, so much so the Indians haven't lost a game yet in going 6-0, a game away from a birth in the World Series.
Francona already was a solid candidate for the Hall of Fame for what he did as a manager with the Red Sox, winning a pair of World Series, but he's done his best job from the bench this season, taking a team some had picked to finish as low as 4th in the American League Central and taking them further than just about anyone expected.
Today, with the Indians ready to play game four in Toronto, we look at some of those decisions and how they have helped the Indians reach a 3-0 lead in the ALCS after sweeping his old team in Boston three games to none.
1. Starting Trevor Bauer in Game One Against The Red Sox
Even before the start of the series against the Red Sox, people were raising questions about the Indians managers decision to go with Trevor Bauer to start game one over ace Corey Kluber, who was coming off his quad injury. Instead it paid off, as while Bauer didn't dominate by any means, he instead went 4.2 innings, allowing three runs on six hits, but the bullpen did the rest, and by the time the Red Sox got to Kluber in game two, the Indians had taken control of the series.
2. Starting Lonnie Chisenhall in Game Two Against David Price
Chisenhall's start against the high-priced Red Sox lefty was somewhat of a surprise since he batted just .217 against lefties this season, but it paid off in a monster way, as he blasted a three-run homer to give the Tribe a commanding game two advantage in the eventual 6-0 shutout. Chisenhall was hitting .364 in his career against Price, and Francona decided that was enough for him to allow him to hit instead of sitting him due to Price being a lefty. It paid off.
3. Miller, Miller and More Miller
The Indians are 6-0 in the playoffs, and Francona has gone to Andrew Miller in five of the six games, and it's paid off as he's become a household name with some of the most dominant pitching the playoffs have ever seen. In five games he's earned a win and a save, and in nine innings has an incredible 20 strikeouts. Some managers may be a little nervous throwing out their best relief pitcher as much as Miller has been out, but thus far it's been nothing but an incredible payoff with some of the best pitching the team has ever seen in the postseason.

4. The Bauer Situation
The way that Francona and the team has handled the Trevor Bauer situation has been spot on. First they said all the right things when it came to the incident that injured Bauer's finger, a random accident where the pitcher was practicing a hobby that he's grown fond of. Then they pushed him back a day to throwing Monday hoping that he would recover enough for him to have his finger healed. Instead, what could have been a tough situation worked out when despite only getting a few outs from Bauer, the pen stepped up in an amazing way. Even when things don't go right, they seem to for the Tribe manager.

NEO Sports Insiders Newsletter
Sign up to receive our NEOSI newsletter, and keep up to date with all the latest Cleveland sports news.