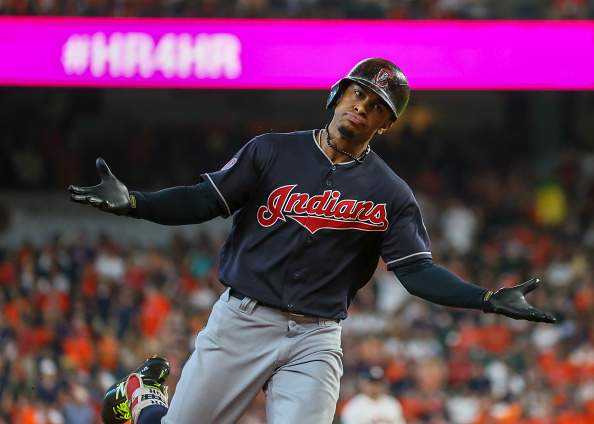 If you're a Cleveland Indians fan, the name Francisco Lindor likely brings about two emotions – excitement and anxiety.
It shouldn't be difficult to explain the first, as Lindor represents one of the best all-around players we've ever seen in an Indians uniform. The second, sadly, is based on the fact we don't know how much longer we'll see him suit up for Cleveland.
Lindor's future with the team was thrust even further into doubt today when we heard the Los Angeles Angels are about to lock up superstar Mike Trout to an absurd 12-year, $430 million extension. This, along with the monstrous contracts Bryce Harper and Manny Machado secured this offseason, tells me one thing when it comes to Lindor's future with the Indians.
We should no longer be worrying about if he ends up playing elsewhere. Instead, it's time to worry about when.
Let's start with a very simple and obvious fact – there's a 0% chance the Indians front office would even consider a $430 million contract for any player whatsoever. Heck, they wouldn't consider the $330 million Harper received, or the $300 million Machado signed for. This type of money is far beyond what Cleveland's ownership is comfortable spending.
However, these deals occurring in the first place confirmed to Lindor that this kind of money is available for star players. Toss in the fact he's a better player than Machado and Harper, and you can see why Lindor will surely want to test the market when his contract is up in Cleveland.
For context, the Indians' signing of Edwin Encarnacion in 2016 marked the largest contract in franchise history. Said deal was for $60 million, laughably low when considering the money being thrown around this offseason.
Additionally, the team has made previous attempts to lock up Lindor. The highest offer we've heard to date was $100 million.
As you can see, this just serves as additional evidence that what Lindor will seek is far more lucrative than what the Indians can offer.
The way this team has handled itself this offseason only sheds more light on the fact its star shortstop likely won't be around much longer.
The Tribe has spent the past four months shedding contracts to drastically reduce team payroll. Owner Paul Dolan has gone public to note the team is losing money, using this to explain the passive winter. As a result, the Indians are expected to contend for a World Series despite their roster being made up of a few sure-things and many question marks.
Knowing this, and knowing how much money players of Lindor's caliber are getting, how can you realistically think the Indians could retain him beyond his current contract?
I'm sure Cleveland will continue making attempts to extend Lindor, as no team wants to just give up and let its best player walk away.
At the same time, unless he's willing to take a historic hometown discount, I can't see the two sides coming to a dollar amount everyone can agree on.
As a result, don't be surprised if trade rumors start cropping up as early as after the upcoming season.
Lindor will head into next winter with two years of team control left on his current deal. If the Indians determine they'll be unable to meet his demands on an extension, they'll likely test the trade market to see what they can get while his value is high. The closer they get to the end of his contract, the less they can expect back in return for his services.
Such an idea is admittedly depressing to think about, especially considering the offseason Tribe fans have dealt with. Lindor is easily one of the most exciting players this team has ever had, yet his uncertain future hangs over the franchise like a storm cloud growing darker by the day.
While we don't know for sure how this is all going to play out, there's one thing I can offer when it comes to Lindor's status with the team.
Enjoy him while he's still here.

NEO Sports Insiders Newsletter
Sign up to receive our NEOSI newsletter, and keep up to date with all the latest Cleveland sports news.