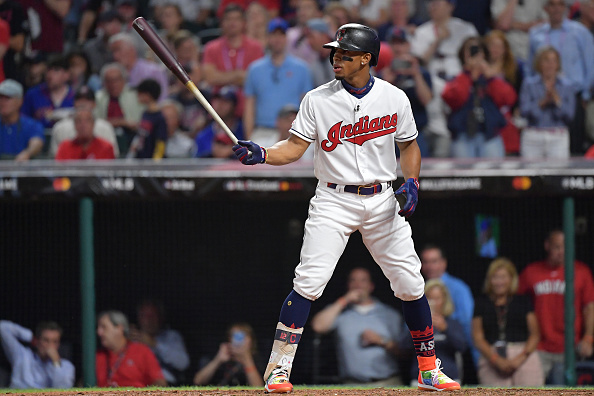 There was a lot to love about Tuesday's MLB All Star Game, especially for the Cleveland Indians' front office. Perfect weather, glowing reviews from fans and media alike, additional revenue, it all helped make Tuesday night quite a success.
That said, amidst the fun and fanfare, there was one aspect of the game which surely provided some anxiety for Cleveland ownership. It came from none other than the team's star shortstop, and all it took was one brief mic'd up segment during the broadcast.
In the span of a few minutes, Francisco Lindor not only further endeared himself with Cleveland fans, he also put even more stress on ownership when it comes to re-signing him.
Let's be clear, the Indians are already facing a high amount of pressure when it comes to retaining Lindor. He's one of the most recognizable faces in baseball, and arguably the game's best shortstop. Simply put, he's a player no team could make peace with losing.
Unfortunately, this is a reality fans are starting to fear.
Lindor has only two more years of team control left, and is expected to command numbers the front office will struggle to afford. Seeing another superstar athlete leave town is not something locals are going to take easily.
On top of this, the Indians voluntarily took on additional scrutiny when owner Paul Dolan made his infamous "enjoy him" comments before this season started.
All of this helps explain why last night's mic'd up segment with Lindor only added more weight on the front office.
Throughout his time on camera, the Indians' all-star continuously called Cleveland "my city." He asked teammates if they were enjoying their time in his town. He set up dinner reservations for the umpires and their families at the local restaurant Lola Bistro.
Sure, it may seem minor to outsiders. However, this is the kind of thing that Cleveland fans embrace like there's no tomorrow, a superstar player referring to their hometown as his as well.
As you can see, it also gave fans more ammo when urging ownership to keep him in Cleveland.
Hearing Francisco Lindor repeatedly refer to Cleveland as "my town" then remembering Paul Dolan saying "enjoy him." pic.twitter.com/JJKB0rjS7T

— McNeil (@Reflog_18) July 10, 2019
"It's my city"

"Are you enjoying my city?"

~ Frankie Lindor to EVERYONE

PAY HIM ALL THE MONEY PLEASE, PAUL DOLAN

— Kerry ☘️⚾️ (@VeryGoodKerry) July 10, 2019
In doing this, something as simple as asking fellow all-stars if they're enjoying his city, Lindor is severely limiting the team's ability to save face should things go south in contract talks. While he's being viewed as an ambassador for Cleveland, ownership continues taking it in the teeth for its inability (or unwillingness) to rightfully pay him his true worth.
In these types of situations, where the likelihood of a star player leaving seems high, it sometimes becomes a race to see which side can play the "we did everything we could" card before the other.
Lindor is officially leading that race.
He's helping carry a Cleveland team which endured severe cost-cutting over the offseason. He's been playing on an ankle some believe still isn't 100%. He's not vocally pushing his way out of town due to ownership's inability to meet his contract extension demands.
And, as of last night, he's being seen on national TV talking about Cleveland as "his city," making it his own.
So, while Lindor's comments made him even more of a fan favorite, they also essentially created a no-win situation for the front office.
The Indians already know he's pricing himself out of their ideal range. Now they're getting even more proof there's no way they can avoid extreme backlash if he ends up playing elsewhere in the seasons to come.
Though I doubt Lindor's "my city" routine was calculated, it definitely gives him a parachute, a way to avoid any scrutiny should the Indians eventually part with him. He can say he did everything he could, that he tried his hardest to bring home a title no matter who he shared the roster with, that he continually expressed his love for Cleveland.
Fans will see this as a reason to love him even if he leaves. Ownership will see it as proof it'll be unable to spin the unfortunate fact that it just wouldn't pony up the money to keep him in town.

NEO Sports Insiders Newsletter
Sign up to receive our NEOSI newsletter, and keep up to date with all the latest Cleveland sports news.