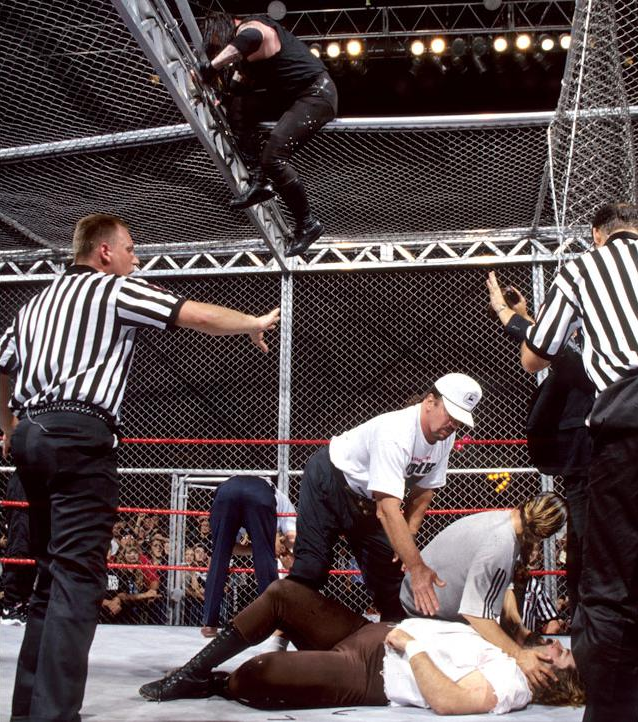 PART 6 OF 10 in the SERIES
As bad as 1997 was for the King of the Ring, 1998 was every bit as great! The WWF was in the midst of their greatest run and it showed with this epic event!
Before we start with the actual tournament, we must begin with the biggest moment of the night, and perhaps the biggest moment in Pro Wrestling History when Mankind was thrown off the Hell in the Cell by the Undertaker. This is widely regarded as the greatest bump in wrestling history. It was a miracle he survived, a bigger miracle would occur moments later when Undertaker proceeded to throw him through the cage from the top.
If two epic falls weren't enough, Taker would eventually slam him on a bed of thumbtacks before mercifully pining him once and for all at the 17 minute mark. This may be the greatest match in pro wrestling history, and it wasn't even the main event.
The main event was just as good as it saw it's red hot champion Stone Cold Steve Austin put his World title on the line against Kane in a First Blood Match. Kane would pull off the upset, as an interfering Undertaker chair shot would bust Austin wide open, causing him to lose.
The double main event capped off what had been a stellar night to that point to begin with. Ken Shamrock won the King of the Ring tournament with wins over Jeff Jarrett, and then The Rock. It was a great night for Shamrock, and perhaps the biggest of his WWE tenure.
Despite the awesome night, the WWF just had to squeeze Jerry the King Lawler into a match. This time as a referee, as he counted the pin for his sons team, "Too Cool" in their win over Al Snow and Head. So this detailed Lawler, actually placing a shampoo bottle of Head and Shoulders underneath a manique head, to assure the victory for his son's team. Perhaps that was finally the last straw with forcing Lawler onto a King of the Ring card.
Despite that debacle, no one can dispute this was by far, the best WWF King of the Ring Pay Per View.
For Part 5 click below
You can follow Vince McKee on twitter at VinceTheAuthor

NEO Sports Insiders Newsletter
Sign up to receive our NEOSI newsletter, and keep up to date with all the latest Cleveland sports news.