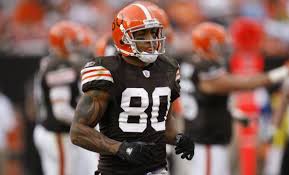 "I can't wait to get back, man. It's all I think about really. I train every day. No days off. I'm ready to break records. I've been out two years, but I'm training like a maniac, man. I'm ready to catch 80 passes, you know, and plus."
Those were the words of former Browns TE Kellen Winslow II when I caught up with him via phone interview on Thursday night. Winslow had just finished up a four-hour day at a gym in San Diego training in hopes of an NFL comeback.
Coming to break records. pic.twitter.com/F8kvKHK4c3

— K2 (@KellenWinslowJr) June 10, 2016
In some ways it seems like only yesterday when the tight end from the University of Miami was declaring himself a soldier and went on to become a member of the Browns from 2004-2008.
In 2007, Winslow was an instrumental part of the team's 10-6 season, their best regular season record since returning in 1999.
He was named to the Pro Bowl in 2007, catching 82 passes for over 1,100 receiving yards. To this day it is the most receiving yards in a single-season by a Browns tight end and the fifth-most receiving yards in a season in franchise history. Just one year prior to that in 2006, Winslow caught 89 passes, which is tied for the most in a season in franchise history.
Of course along the way in Cleveland it was far from smooth sailing all of the time, but when he was at his best, it was some of the best football Browns fans have watched in the last 17 years.
After playing with the Browns, Winslow was a member of the Tampa Bay Buccaneers from 2009-2011, and briefly spent time with the Seattle Seahawks, New England Patriots, and New York Jets.
As Winslow mentioned, he has been out of the NFL for two years. Now the 32-year-old with nine seasons under his belt is looking to make a comeback.
"If I get with the right situation, you know, I'm ready to do my thing," Winslow said.
Part of Winslow's training regiment includes working out with younger players, who are hungry like he is, and offering his knowledge and experience in the game along with being reminded of what it was like to be a young guy striving to reach his ultimate goal.
It felt real good to coach up some young guys who love the game. #LoveDaGameLiveDaGame pic.twitter.com/YVxPqiiV0e

— K2 (@KellenWinslowJr) June 4, 2016
"That picture you saw, it's guys who just love the game," Winslow said. "It would be a disservice if I wasn't at least coaching them up and it actually helps me with myself. You know, you remember things and it's just good to be around guys that love the game, who enjoy the game, and are just still having fun."
It's obviously far from a guarantee that Winslow ends up back on the field on Sundays, but for people who are quick to rule out the tight end's chances of a return to the NFL because of his age, when asked about the tight ends that Winslow admires in the league, I found it interesting which players he named.
"I don't try and be anybody else. What you try and do is steal moves. I've always only watched three guys. Jason Witten, Tony Gonzalez, and Antonio Gates. I didn't watch anybody else."
Something that all three of those players have in common is that Witten (34) Gates (35) and Gonzalez (40) all played or are still playing at a high level even in their mid-to-late thirties.
Gonzalez retired at the age of 37, but made the Pro-Bowl in 13 of his 14 NFL seasons, including his last four consecutive seasons in the league.
Witten and Gates are still two of the better tight ends in the game, so for those who would write off Winslow's chances because of his age, simply look at the guys to whom he is comparing himself and the guys who he considers among three of the best tight ends of all-time.
Winslow did not mention anything about their ages being a factor in the interview, but described how all three of them have some of the best assets a tight end could wish to have.
"Witten, he's the best overall tight end when you talk about blocking. He's one of the smartest tight ends in the league."
"Gates plays basketball out there. He's real crafty. It's kind of like Stockton to Malone with him and Rivers."
"Tony Gonzalez, one of the best ever. What I learned from Tony was to body people."
Winslow hopes to combine the best attributes of all three of those players and still be his own type of player.
The first-round pick from 2004 is aware of how much of a challenge it is to get back in the league after being out for two years and it's no secret he has had his share of setbacks in his career.
When I asked him what he has learned from his whole experience through all the ups and downs, Winslow was appreciative of how hard it is to be in the league and more importantly stay in the league.
"You know the saying, 'you don't know what you've got til it's gone.' It's so true. Like you see guys missing OTA's (organized team activities) and even I used to do it, and I was training, but even though I was training at home in San Diego, just you know being around football and the camaraderie with the guys, but to do that now? Like to think back. Like you don't know what you've got til it's gone, man. That's all I can really say. I love the game and I live the game. Every day. It's hard to see that guys are missing OTA's and stuff because once it's gone, it might not get back. You're gonna' miss that. Careers are short and the NFL is not for long."
Before we concluded the interview, as a life-long fan of the Browns and as a member of the media, I had to ask Winslow if he would be open to a return to Cleveland, just from a curiosity standpoint.
Of course if any player is looking to make a comeback, it's expected that the player won't be too selective on whatever opportunities present themselves, but I was a bit surprised to hear how enthusiastic Winslow sounded when I asked about the possible scenario of playing for the Browns again.
"Oh, for sure!" Winslow said. "Yeah I would definitely love to play with Coach Jackson and RG III and tandem up with Barnidge and a couple of those young receivers they got there. Playing in Cleveland was some of the best years of my life, man. Those fans are amazing."
Again, I'll admit that it's hard for someone looking to make a comeback to tell a reporter, "No, I would not play for that team." But if you question the authenticity of Winslow's quote, listen for yourself. It didn't sound like your typical run-of-the-mill standard answer that someone gives to let a question pass by over their shoulder.
If nothing else, the way Winslow instantly expressed that he would love to play for Hue Jackson, is just another example of the many players who have positive feelings about the Browns new head coach. Jackson is well-respected and admired around the league. Maybe the Browns will be looking for another tight end to compliment Barnidge this offseason.
Obviously we're a long way from the season, but training camp is right around the corner and it will be interesting to see where Winslow winds up and if perhaps his career comes full circle, back to Berea.
If you'd like to keep up with Winslow's NFL comeback attempt and see what he's up to, check out his Twitter @KellenWinslowJr. Along with training hard for his shot back at the NFL, Winslow spends time away from the gym and field with his wife and kids. He is also an avid cyclist and a DJ, who is passionate about House/Techno music.

NEO Sports Insiders Newsletter
Sign up to receive our NEOSI newsletter, and keep up to date with all the latest Cleveland sports news.