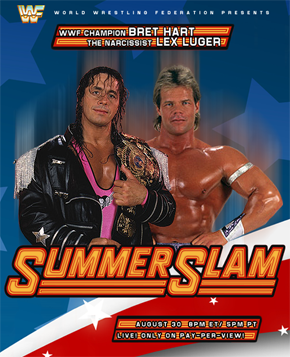 AUBURN HILLS, Michigan – The Lex Express stopped off at the Palace of Auburn Hills just in time for one of the biggest letdowns in Summerslam history.
Luger had all the momentum heading into his clash with WWF Champion Yokozuna but couldn't pull off the pinfall victory. He won by count out instead, allowing Yokozuna to keep the title.
The main event was just one of several letdowns throughout the night as the much anticipated Intercontinental match between champion Shawn Michaels and Mr. Perfect was also a dud. It was clear early on that Henning was past his prime. This match also ended in a count out as Perfect was left floored following a big right hand outside of the ring by Diesel. Having both title matches end in count outs made no sense. That match happened two years too late.
Jerry The King Lawler weaseled out of his match against Bret The Hitman Hart after an entire summer of buildup. He claimed injury, allowing Doink the Clown to take his place. Naturally it was a hoax and Lawler interfered.
The match was forced to restart, this time with Lawler instead. Hart would initially win by submission, only to have the decision overturned and given to Lawler by DQ when Hart would not let go of the hold.
The Undertaker and Giant Gonzales had a terrible match at Wrestlemania IX months earlier, but managed to follow it up with an even worse match that evening. The ending saw Gonzales turn face by choke slamming little Harvey Wippleman.
The hometown team of the Steiner Bro's defended their titles successfully against the Heavenly Bodies.
The 1 -2-3 Kid managed to stay up past his bedtime just long enough to lose to IRS. Ludvig Borga insulted America on his way to beating up Marty Jannety. One point of interest was Ted Dibase wrestling his last career match against Razor Ramone in a losing effort. Other than that, not much to be said for this dismal card.
You can follow Vince McKee on twitter at VinceTheAuthor

NEO Sports Insiders Newsletter
Sign up to receive our NEOSI newsletter, and keep up to date with all the latest Cleveland sports news.