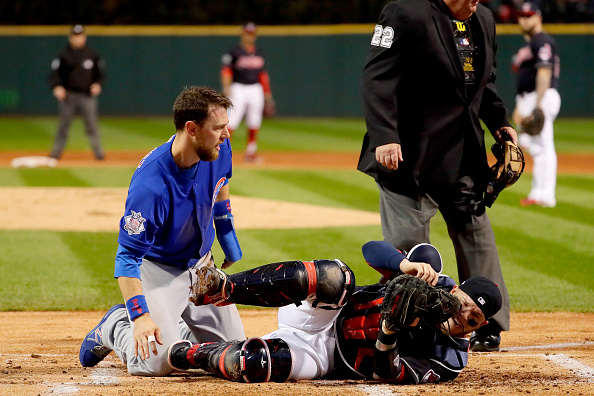 CLEVELAND – Game six of the 2016 World Series was a runaway on Tuesday night, as the party that Cleveland had envisioned will have to wait one more day – or maybe a lot longer depending on Wednesday's outcome.
The Chicago Cubs' bats got hot at the wrong time for the Indians, and also the Indians defense couldn't have picked a better night to start playing 'I got it, no you got it,' as the first inning blunder by Lonnie Chisenhall and Tyler Naquin set the stage for a Cubs dominating 9-3 win.
It might have not mattered even if the first inning play was made, but at least for awhile it would have made it a lot more interesting, as for the second straight game at Progressive Field Indians hitters had no answer for Cubs starter Jake Arrieta.
Here's a quick breakdown of game six and what all went wrong for the Tribe:
1. Catch the Ball
Already up 1-0 and runners on first and third with two outs, Addison Russell hit what should have been a routine fly ball to right center. Both Naquin and Chisenhall went for it, with neither catching it. While it was ruled a double, it really was an error on both players, despite the fact at the end of the day it's really Naquin's ball as the center fielder. It was a monster mistake at a time the team really could have used just the routine out to keep it at 1-0. The play took all the air out of Progressive Field, and set the stage for the blowout win for the Cubs.
2. He Picked a Real Bad Time
Indians reliever Dan Otero had allowed just two homers in 70.2 innings of work in 2016, but picked the worst of times to give up a soul crushing grand slam to Russell in the 3rd inning to basically put the game away at 7-0. The pitch by Otero was crushed to center, and if there was any doubt before about a game seven, there wasn't after the Russell blast. Otero has been excellent all season for the Indians, but Tuesday when they needed him most to get out of a jam, he couldn't deliver.
3. Tomlin's Troubles
You have to feel for Josh Tomlin, who had to be so excited to get the chance in front of his dad to pitch in game six of the World Series and deliver a title to Cleveland. Instead, he didn't fool any Cubs batters who were much more prepared for him this time out instead of Friday night, and they made him pay. When Tomlin is on his game he's a ground ball pitcher, and he had just one of those in the 2.1 innings of work. He was so good in the postseason up to game six, and it was a shame to see him walk off the field not being able to give his dad the gift Tuesday of a title.
4. Waking a Sleeping Giant
The Cubs bats were red-hot on Tuesday, with the usual suspects of their powerful offense waking up, that being Kris Bryant and Anthony Rizzo. While Russell was the big offensive star with six RBI, it was Bryant and Rizzo adding more juice each with homers. If the Indians behind Kluber want to win game seven, shutting down Bryant and Rizzo will be the key. As it's been all season, as Bryant and Rizzo go, so does the Cubs offense.
5. Under Pressure
You have to wonder who will have more pressure entering game seven at Progressive Field. The Indians have been free and easy all season, smiling and having a good time, but after two straight losses it's tough to think they will have that same attitude on Wednesday night. Chicago had a big inning with three runs to win game five, and then got the blowout win in game six to force the deciding game seven. The Tribe has been good about avoiding losing streaks, but let's be honest, it's down to one game so all bets are off. Chicago has been the better team this season, but the Indians have Corey Kluber. Your guess is as good as mine how Wednesday night will turn out.

NEO Sports Insiders Newsletter
Sign up to receive our NEOSI newsletter, and keep up to date with all the latest Cleveland sports news.