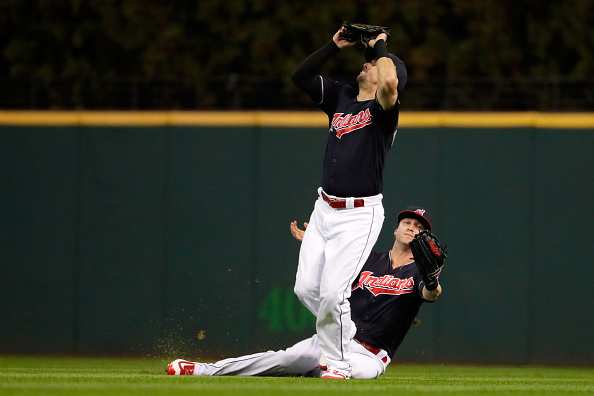 CLEVELAND – Ask anyone about the defining moment of game six of the World Series on Tuesday night at Progressive Field, and you will be hard pressed to find a moment more critical or game-changing than that of the first inning mistake made by two Indians outfielders.
The two guilty parties (as if you don't remember) were center fielder Tyler Naquin and right fielder Lonnie Chisenhall, who allowed a ball to drop between them for a double that allowed the Chicago Cubs to take an early 1-0 lead and make it a quick 3-0 lead.
In a sport defined by inches, the play was a complete momentum turner, and one that took the rowdy crowd that was ready to celebrate a title to sleep rather quickly.
So what happened?
"I thought it was going to be kind of a routine play," Cubs SS Addison Russell said of the at-bat.
And it should have been, as Russell's fly ball was one of the easier plays of the night for the Indians defense, and it would have ended the inning with Chicago ahead just 1-0 after a long Kris Bryant homer.
Instead, with runners on first and third, the ball landed between both Naquin and Chisenhall, and two runs came home to score to make it 3-0.
"It's just loud out there," Naquin said of the critical mistake.
"It was just kind of one of those in-betweeners, and Lonnie got a good break and I got a got a good break and kind of one of those deals you wish you could take back.
"Me being the center fielder, I need to take charge on that, that's my mistake."
Chisenhall didn't shy away from saying he should have made the play, taking responsibility for the mixup that gave Chicago a lead they would never give up.
"You know I should have caught that ball, I made the aggressive move towards it, and somebody's going to catch it, it should have been me," Chisenhall said.
While it's noble of Chisenhall to step up, at the end of the day it's Naquin's ball, and there's no justification to the noise being a factor when the entire postseason at Progressive Field has been loud.
Despite that fact, Naquin again made reference to the fans and the noise, and how much of a factor it played.
"If you are in the ballpark you can tell how loud it is," Naquin said.
"You've got to use some kind of hand signals or something, but like I said that's a tough ball right there, and I should have took that charge."
No matter, if the Indians lose game seven, it could be that play that set in motion the collapse of a team that all season long had used their resolve to overcome.
No question that the team wouldn't be where they are without Naquin and Chisenhall, but Tuesday night, their defensive miscue started the ball rolling to a defeat that now has them on the edge of blowing what was a 3-1 World Series lead.

NEO Sports Insiders Newsletter
Sign up to receive our NEOSI newsletter, and keep up to date with all the latest Cleveland sports news.