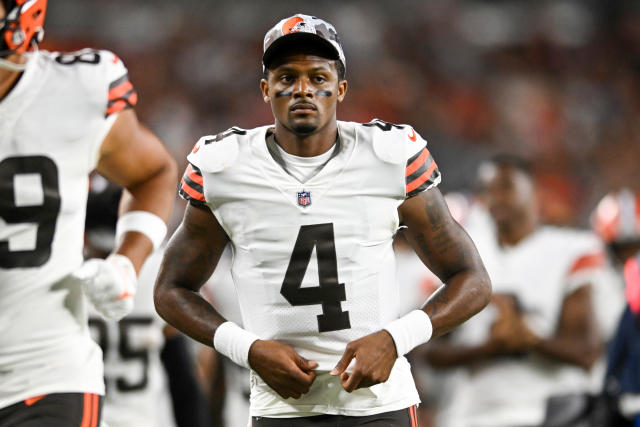 Here we go. The Browns $230M QB is now cleared to play. In a perfect world, the Browns would have gotten Watson with none of the drama. Since 1999, the Browns have been in search of a franchise quarterback. Watson, despite all of the off-field drama, Watson is (or at least we hope) a franchise QB.
RUST?
Watson hasn't played in over 700 days. I don't care who you are, or what you do, if you take two full years off, you're going to be rusty. How long will he be rusty? Who knows. But there will be rust. Expecting Watson to come back this week against the Texans, and immediately be elite is….. a lot.
However, it is tantalizing watching what this COULD be. Here is a guy who before sitting out, threw for 4,823 yards and 33 touchdowns. He did that on a 70% completion rate. That is elite. Like, SUPERSTAR level. The Browns have never had a QB to be in that category. That is the guy the Browns hope to eventually have at their disposal. The reality is we may not see that guy until next season. Again, Watson hasn't played meaningful football since the 2020 season. To expect him to pick up where he left off would be foolish. But there still will be moments when Watson shows flashes. And the Browns will be ecstatic.
Why Cleveland?
While I am not in support of anything Watson has been accused of, I also can understand why the Browns made the move. For a franchise that has been devoid of a star, the Browns saw an opportunity to get this caliber player and jumped at it. It's not often a player like this even becomes available, and it most certainly isn't often that player wants to come to Cleveland. I'm sure the $230M helped with the decision, but the talent in Cleveland also was a factor. In Houston, there was no Nick Chubb, no Amari Cooper, No David Njoku. While the offensive line has issues now, the O Line is always regarded as one of the best in the league. You add that up, and it makes sense why Watson decided to come to Cleveland. Plus, again… $230M guaranteed is extremely hard to turn down.
FANS
Ok. Watson is here. I get it. It's tough to look at this as a fan of the Browns and feel completely ok with this. It sucks that the Browns fans, who have waited for a moment and a player like this, can't 100% get behind this guy. I've seen mixed reviews. One thing that is clear, EVERYONE has an opinion. I have seen lifelong fans say they are done. I have seen fans say Watson is a football player and they don't look at him as the moral compass. For me, I want the best of both worlds. I understand the allegations are serious. I also understand that athletes, over time, can become great redemption stories. I believe we will get there, but right now, the extremes on both sides can be unbearable.
EXPECTATIONS 
No one knows what to expect from Watson. He will be scrutinized for the rest of this year. He comes in as the Browns cling on to their playoff hopes at 4-7 the Browns have an uphill battle. Watson can't fix all the issues. He plays on one side of the ball. But if he can provide some stability, if he can learn from his mistakes, and if at some point in the next 4 years he can lead the Browns to a Super Bowl, I think the Browns, and fans will learn to forgive. Is it worth it? We'll see.

NEO Sports Insiders Newsletter
Sign up to receive our NEOSI newsletter, and keep up to date with all the latest Cleveland sports news.