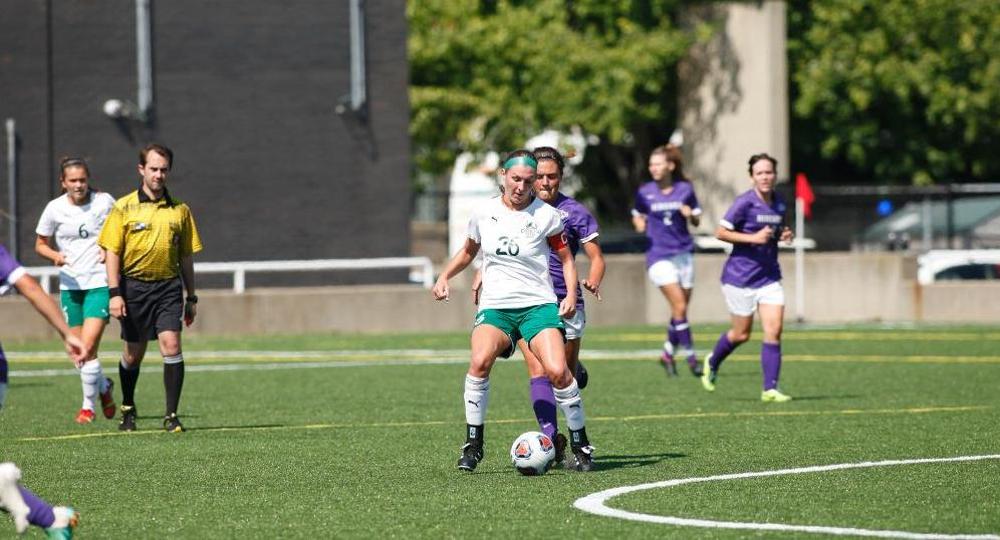 CLEVELAND, Ohio – Cleveland State junior Kaila Sargema and senior Allie Sieradzki were named to the All-Horizon League second team, while freshman Ashley Thiss was voted to the All-Freshman team.
The League office announced the teams on Monday afternoon.
Sargema, who is making her second straight appearance on the all-league second team, is ranked eighth in the league with 14 points, tied for sixth with six goals and tied for fourth with three game-winning goals. Sargema's 12 career goals are tied for fourth all-time in school history, while her 26 career points are sixth most in CSU history.
Sieradzki is making her first-ever appearance on the All-Horizon League squad after totaling nine points on four goals and one assist. Over her four-year career, Sieradzki has steadied the CSU midfield, while totaling nine goals with three assists.
Thiss was named to the all-freshman team after starting 12 of the 14 matches she played, totaling five points on two goals and one assist.
The Vikings will return to action on Monday night (Nov. 2) when CSU opens play in the Horizon League Championship as the No. 6 seed with a 7:00 pm match at No. 3 seeded Northern Kentucky.
Player of the Year: Macy Hamblin, Northern Kentucky
Offensive Player of the Year: Macy Hamblin, Northern Kentucky
Defensive Player of the Year: Cassidy Blanchard, Milwaukee
Goalkeeper of the Year: Kelly Fritz, UIC
Freshman of the Year: Claudia Eustaquio, Detroit
Coach of the Year: Troy Fabiano, Milwaukee
1st Team All-League
Macy Hamblin, So., F, Northern Kentucky
Rita Craven, Sr., M, Valparaiso
Joan Sieja, Sr., F/M, Oakland
Jessica Frey, So., F, Northern Kentucky
Bryce Hueber, So, M, Wright State
Alice Palmer, Jr., F, Oakland
April Cronin, Jr., F, Valparaiso
Maria Stephans, Jr., M, Milwaukee
Cassidy Blanchard, So., D, Milwaukee
Nikki Romero, So., M, Wright State
Kelly Fritz, So., GK, UIC
2nd Team All-League
Kaila Sargema, Jr., F, Cleveland State
Alyssa Lotito, Sr., D, Detroit
Anna Smalley, So., M, Milwaukee
Kelsey Holbert, Sr., M, Milwaukee
Allie Sieradzki, Sr., M, Cleveland State
Ashley Gogolin, Sr., M, Wright State
Olivia Everin, So., F, UIC
Kyler Lum, So., M, Youngstown State
Madison Pollard, So., D, UIC
Callie O'Donnell, Jr., M, Milwaukee
Paige Lincicum, Jr., GK, Milwaukee
All-Freshman Team
Claudia Eustaquio, GK, Detroit
Aaliyah Patten, F, Wright State
Taylor Spaulding, D, Northern Kentucky
Kelli Swenson, D, Milwaukee
Ashley Thiss, M, Cleveland State
Naomi Rushe, Fr., F, UIC
Maria Zandi, Fr., D/M, Oakland
Emily Zweng, Fr., GK, Oakland
Madison Hughes, M, Youngstown State
Kelsey Jahn, M, Valparaiso
Molly Kane, M, Detroit