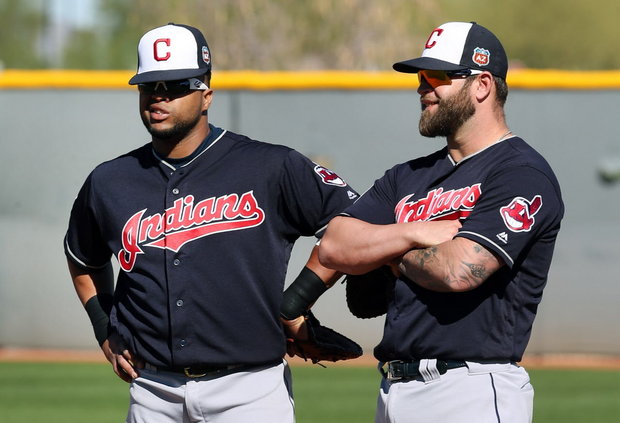 With Opening Day at the Corner of Carnegie and Ontario just 10 days away, we wanted to start our countdown of the top ten reasons why the Tribe will rock in 2016.
Today we start with reason #10. Veteran Leadership.
Tribe fans know from Terry Francona's last three seasons in Cleveland that the 2-time World Series manager loves his veteran leaders.
The new Front Office led by Team President Chris Antonetti and General Manager Mike Chirnoff went out this off-season and acquired several experienced players with impressive track records over long careers.
What would probably be considered the biggest off-season acquistion was the addition of First Baseman/Designated Hitter Mike Napoli.
Napoli had an up and down 2015, in which he got off to a rough start, but finished strong.
He started the season with Boston, hitting just .207 before getting traded to the Texas Rangers in August.
Napoli was like a different player the rest of the season, helping the Rangers reach the playoffs.
Whether it was just the change of scenery, getting back to the team where he played two seasons and became an All-Star between 2011-2012, or just the fact that Texas is a great hitters' park, Napoli hit .295 in the last 35 games of the season.
He finished 2015 with a combined batting average of .224 with 18 home runs and 50 RBI.
But Napoli was not the only veteran added to the Tribe's lineup.
Outfielder Rajai Davis, who has done his fair share of damage to the Tribe over the years, figures to play a big role in Cleveland this season.
Davis is 35 years old, but has still been productive in recent years, owning a career average of .269. Davis hit .258 in 2015, stealing 18 bases.
One of his best assets is his speed, as Davis has stolen 322 bases in his 10-year career, and although we can't expect him to go back to the days of his mid-twenties, don't be surprised to see Davis use his legs to score some extra runs for the Tribe this year.
What would probably be considered the third biggest off-season acquisition for the Tribe was the addition of Third Baseman Juan Uribe.
The 37-year-old has put together a solid, respectable career no matter where he plays. Cleveland will be his 7th different team of his career, and the fourth club he will be a part of in the last two seasons.
Uribe was one of the components to the Mets' run to the World Series in 2015, hitting six home runs in 44 games after being traded to New York in July.
He hit a combined .253 with 14 home runs and 43 RBI in 2015. Whether Uribe plays almost every game or does not get every day playing time, he should be a valuable mentor for Giovanny Urshela, who already had an excellent season defensively in his 2015 rookie campaign, and is hitting the ball well in Spring Training.
The other big acquisition the Tribe made in terms of a veteran leader was outfielder Marlon Byrd.
Although he only signed a little over a week ago, Byrd could provide some power from the right side of the plate.
It's still not a guarantee that he makes the club, but the 38-year-old hit .247 with 23 home runs and 73 RBI in 2015.
He also hit 25 home runs in 2014 and 24 in 2013.
For a team lacking power, Byrd could make a big difference.
What all of these players can add to the team, whether they play like they did five years ago or not, is veteran leadership.
The Tribe was a relatively young team in 2015, with leaders like Corey Kluber, Michael Brantley, and Jason Kipnis just approaching the age of 30.
Between the Tribe's core of Brantley, Kluber, Kipnis, Yan Gomes, and Carlos Santana, none of them have played more than one postseason game in their careers, which was the Wild Card game they lost in 2013 to Tampa Bay.
Between Napoli and Uribe the pair has played in 96 postseason games. Davis has only played in three, but he's been in the Majors for 10 years.
What's even more impressive about Uribe and Napoli is that they have played in a combined 22 World Series games. Uribe has two rings. Napoli has one.
That kind of experience can only help a young team, striving to reach the playoffs and contend.
Which player do you think will help the Tribe the most in 2016?
Which Veteran Leader Are you Most Excited About for the 2016 Cleveland Indians?

— NEO Sports Insiders (@NEOSportsInside) March 25, 2016
Come back tomorrow for reason #9 to be excited about the Tribe!

NEO Sports Insiders Newsletter
Sign up to receive our NEOSI newsletter, and keep up to date with all the latest Cleveland sports news.