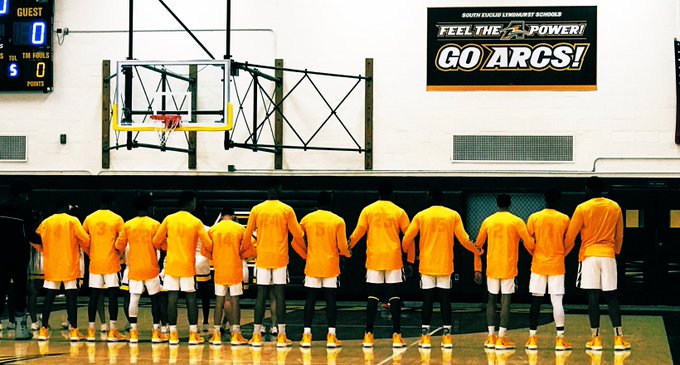 LYNDHURST, OHIO – While Pittsburgh commit John Hugley was the center of attention throughout Tuesday night's contest, it was Corey Floyd Jr. who stole the spotlight in the final seconds.
With just seconds left on the clock, Brush guard Tyreek Crump drove to the edge of the paint, where he kicked it to Floyd Jr. Floyd, who finished with 10 points on the game, pulled the trigger and connected to give the Arcs a 67-64 victory.
Brush jumped out to an early lead, taking a 19-11 advantage into the second quarter. After Aaron Whitehead and Deonte Benejan would lead Lorain back into the ballgame, neither team wanted to give up the advantage.
Hugley, the 6-foot-10 Pittsburgh commit, just bullied Lorain's defense throughout most of the game. With only one player taller than 6'4, the Titans were forced to double team Hugley, to no avail. The big man finished with 24 points and 18 rebounds, as well as 3 blocks on the other end.
Despite another dominant performance by Hugley, Lorain was able to stay in the game until the final buzzer. Every time Brush was poised to pull away, Lorain would strike back with a momentum-shifting shot of their own.
In the absence of St. Vincent-St. Mary transfer and West Virginia commit Seth Wilson, Lorain guard Jordan Jackson stepped up to the challenge.
Jackson buried the game tying three pointer with 15.8 on the clock to send the gym into a frenzy. The senior finished with a team high 19 points, with Deonte Benejan (13) and Davante Jackson (12) also contributing into the effort.
After Floyd's go-ahead three pointer, Lorain was able to salvage a few seconds for a chance to send the game into overtime. They weren't able to capitalize, as Whitehead would lose control of the ball trying to swing it to Jackson. The game would end without the Titans getting a shot off, as Brush would secure the 67-64 home victory.
Brush (2-0) will travel to Eastlake North (0-1) on Friday to open conference play. Lorain (1-1) will have a week off before hosting a conference opponent of their own as Bedford (1-0) comes to town for the home opener.
Box Score
(1-1) Lorain Titans 11 23 15 15 64
(2-0) Brush Arcs 19 17 16 15 67
Leading Scorers
Brush
John Hugley – 24 Pts
Elmore James – 12 Pts
Corey Floyd Jr. – 10 Pts
Lorain
Jordan Jackson – 19 Pts
Deonte Benejan – 13 Pts
Aaron Whitehead – 13 Pts

NEO Sports Insiders Newsletter
Sign up to receive our NEOSI newsletter, and keep up to date with all the latest Cleveland sports news.