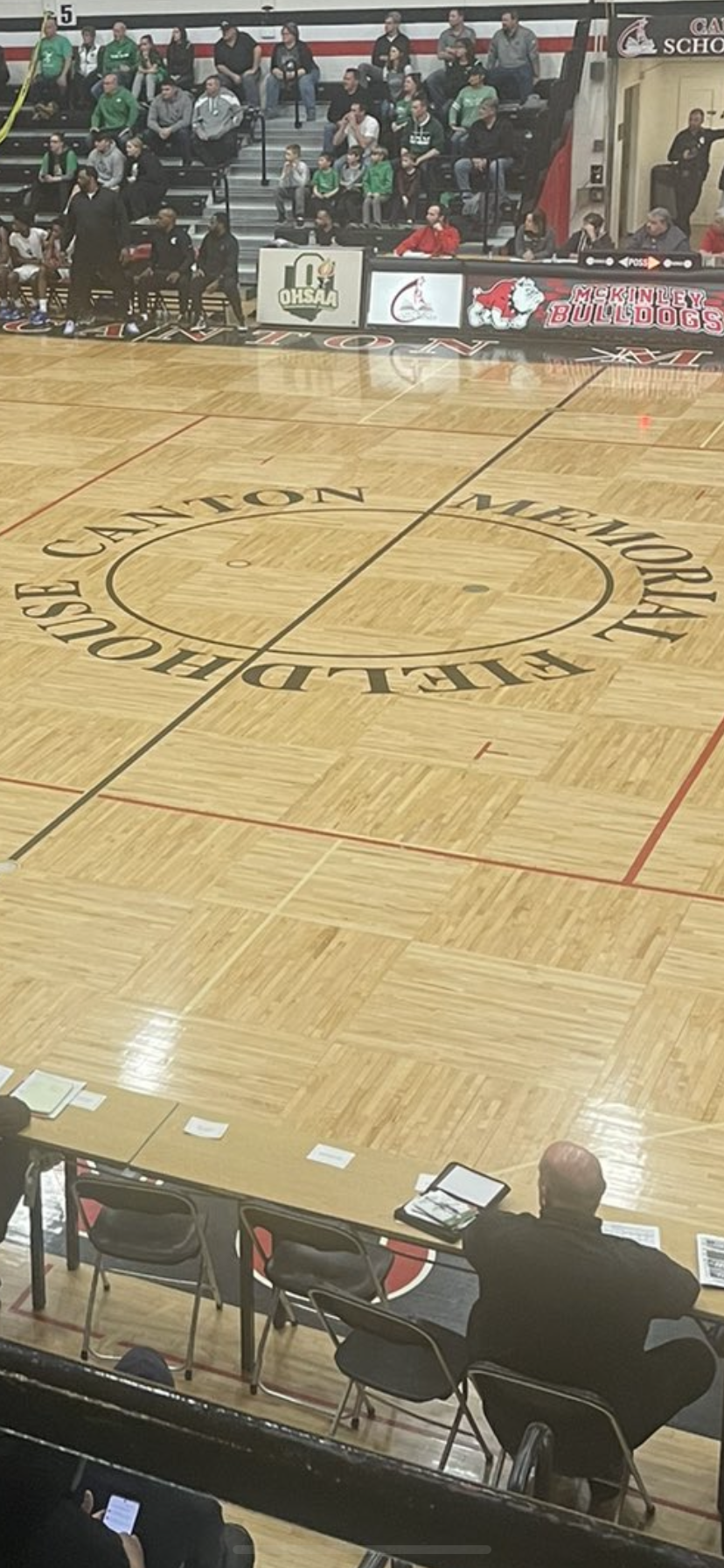 March 8 Canton, Ohio
Coverage provided by NEOSI writer Devin Lowe
Tuesday night's semifinal action from the Canton Memorial Fieldhouse saw the Richmond Heights Spartans  (22-4) 60-40 and the St. Thomas Aquinas Knights (15-10) top the Mathews Mustangs (25-2) 77-58, setting up a regional final clash Friday night at 7pm.
In the early game, Margaretta got on the board first, but it was all Spartans from there, taking a 28-15 lead into the first half break. It was obvious from the tip, part of the game plan for the Bears was to lock down Heights big man London Maiden, holding him to just two points at the half. These double teams led to open looks from three and the Spartans capitalized on those chances.
Unfortunately, for the Bears the second half was more of the same as the Spartans used their length and athleticism to lock up Margaretta on the offensive end. The Bears fought all game long but just could not muster enough offense to keep up with the Spartans size and shooting. Leading the way for Margaretta was Jake Leibacher with 17 as his impressive career and the team's historic season came to an end. The lead man for the Spartans was West Virginia commit Josiah Harris who led all scorers with 19 as Jaiden Cox-Holloway chipped in 12.
The nightcap saw St. Thomas overcome a rough first quarter en-route to a 77-58 regional semifinal win over a tough team in Mathews. Mathews came out firing in the first quarter, hitting four 3's and getting out in transition on their way to a 20-11 lead at the end of one. The Knights came battling back in the 2nd and finished the half with a two-handed exclamation point jam by Chris Tackett to take a 32-31 lead into the break.
Whatever head coach Scott Gianmarco said to his team in the locker room worked as the second half of the game was all Knights, outscoring the Mustangs 46-26. The transition opportunities the Mustangs had in the first half were not there in the second as St. Thomas ratcheted up the pressure on the defensive end, forcing turnovers and leading to tough, contested shot attempts.
Leading the way for the Mustangs was Vinny Sharp with 18 and Dominic Greenwood who chipped in 16. For the Knights, big man Chris Tackett had an 18-point double-double and teammate Deshaun Leishman was right behind, finishing with 17.
Friday night's matchup should be an interesting one, as the Spartans of Richmond Heights look to make a return trip to Dayton to avenge a state semifinals loss a year ago and the St. Thomas Aquinas Knights look to continue their Cinderella run after finishing the regular season 10-10. Tip-off is set for 7pm Friday night at the Canton Memorial Fieldhouse.

NEO Sports Insiders Newsletter
Sign up to receive our NEOSI newsletter, and keep up to date with all the latest Cleveland sports news.