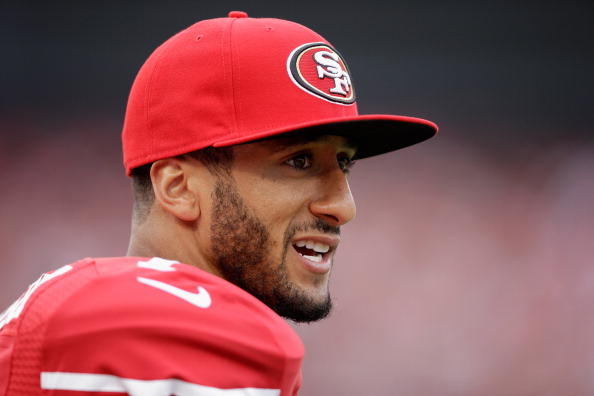 This past Friday evening, San Francisco 49ers QB Colin Kaepernick chose not to stand and salute the flag during the National Anthem prior to the game vs. the Green Bay Packers.
In his words: "I am not going to stand up to show pride in a flag for a country that oppresses black people and people of color," To me, this is bigger than football and it would be selfish on my part to look the other way.
There are bodies in the street and people getting paid leave and getting away with murder."
We live in a country where we have heroes who wake up each day to lay their lives on the line to protect the freedoms and liberties that we enjoy each and every day. Kaepernick included.
Although what he said may be described as un-American, un-professional, dillusional, disappointing, the fact is he has the right to express himself, as do we all.
Recently, many professional athletes in all sports have spoken out about the need to get into the neighborhood, work on the racial divide in this country, maybe this was Kaepernick's way of contributing to his community, no one knows for sure.
The problem as I see it is not what he said as much as the hypocrisy oozing from his comments.
Kaepernick was born to a 19 year old indigent white female, his father, an African-American male left her to fend for herself with a newborn and, making a decision no mother should have to make, put her child up for adoption where he was then adopted by an affluent upper class white family from Wisconsin.
Kapnerick has a net worth of an estimated 60 million dollars, let me simplify that, $60,000,000.00. That being said, how can he possibly know the plight of the oppressed black community?
He wasn't raised that way. He didn't have to fight his way out, he is "protesting " against the same establishment that gave him what he has.
His problem isn't the American Flag or what it stands for, it isn't the National Anthem and what that means to all of us, heck, it's not even Blaine Gabbert, the man he should be worried about taking his starting QB job, no folks, Colin Kaepernick's problem is…… Colin Kaepernick.

NEO Sports Insiders Newsletter
Sign up to receive our NEOSI newsletter, and keep up to date with all the latest Cleveland sports news.