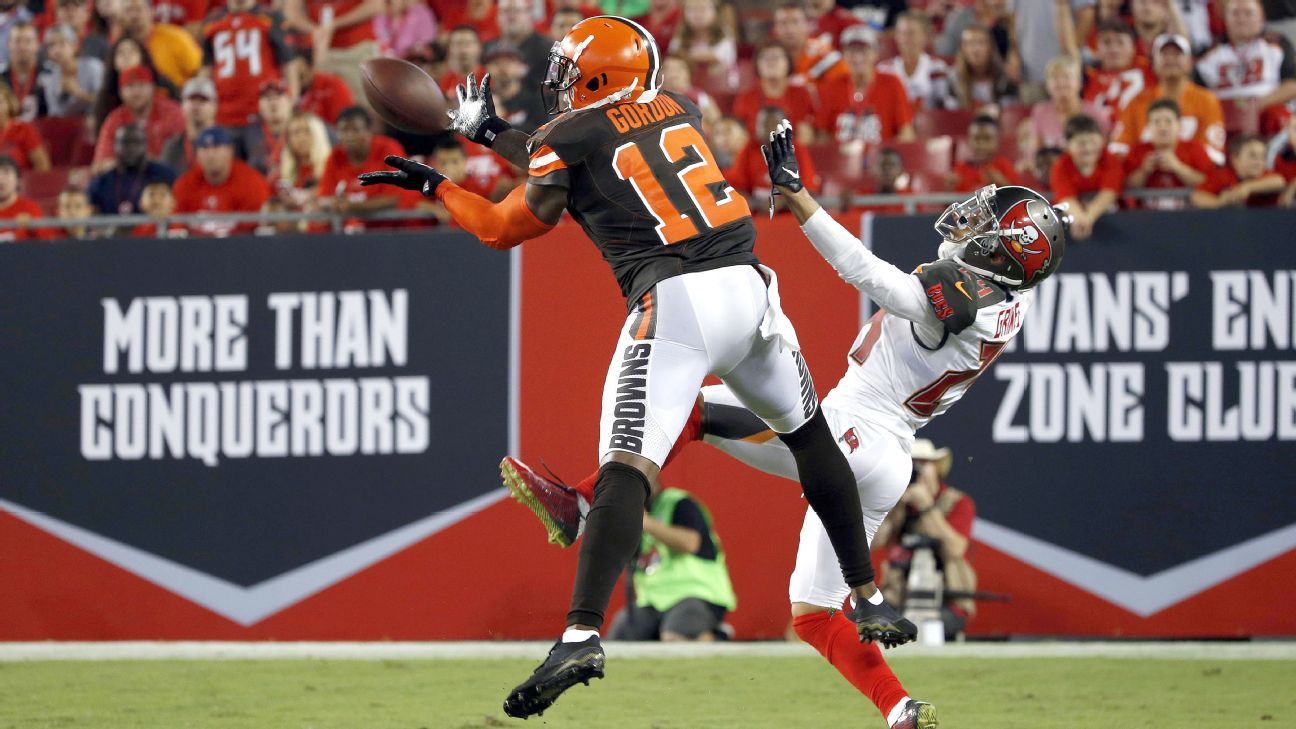 The Cleveland Browns faced the Tampa Bay Buccaneers in their third preseason game on Friday night. After starting the preseason with two losses, the Browns just wanted to win and show improvement on both the defensive and offensive side of the football.
Quarterback Robert Griffin III started the game where he left off last week going 8-14 for 119 yards and a touchdown. The great thing about this game was watching wide receiver Josh Gordon shred the defense earning himself two catches for 87 yards and a touchdown.
Let's take a look at five takeaways from this loss to the Bucs and how the Browns can improve next week.
5. Special Teams Fails again! – In the last few preseason games the special teams unit has looked just plain terrible. Last night the Browns gave up a 73-yard punt return when wide receiver and return man Adam Humphries took it all the way for a touchdown. After the game Humphries talked to the media about his outstanding performance against the Browns saying, "It's important to contribute to this team in any way I can, I'm going to do whatever the coaches ask me to do and give my all, give great effort."
This team needs to do better on special teams. If they struggle early on in the season, then they will loose football games. It's as simple as that. Get your special teams unit in order and stop big returns!
4. Earning Sacks Wins Football Games! – The Tampa Bay Buccaneers registered 8 total sacks last night against the Browns. This means the offensive line was NOT doing their job, and that the Bucs just might have a stronger defensive line this year. Either way it should NOT happen. Especially when the Browns registered ZERO sacks on the night. I could just see one or two but ZERO? That's just plain horrific. Earning a few sacks a game will help a team win a football game. It makes the other team's quarterback nervous which tends to make them mess up and cost their team the game.
Heading into the 2016 regular season, the Browns don't have too many pass rushers. The team is filled with younger athletes that need to step up. Last week we saw defensive end Carl Nassib earn himself a sack fumble and recovery. If he does that in the regular season a few times, this team will be just fine when pressuring the quarterback.
3. Run Defense Needs Work BUT Looked Decent: In my opinion this is one of the most important takeaways from last night. Another week down, another game with a questionable run defense. If the Browns want to win football games it starts up front. This goes back to the previous takeaway. If you want to win football games you need to be able to sack the quarterback and stop the run. This front defense has had it's ups and downs. They just need to stop the run this season and they should be in good shape. Last night against the Bucs the Browns defense gave up around 70 yards on the ground.
The big concern I had with this team was their ability to let the running backs go through big holes. They need to tighten up the defensive line and they should be good to go for the regular season. When everyone is healthy and on that d-line, this team just might do good against the run.
2. Quarterback Robert Griffin III Continues to Succeed: Yes, it is preseason. Yes, these games don't count. BUT… Just look at quarterback Robert Griffin III and how he is playing smart football. Griffin is sliding down to avoid taking hits, he is throwing accurate short to intermediate passes, and he is not making many mistakes. After having a terrific game against the Falcons, where he went 6-8 for 96 yards and two touchdowns, the young quarterback had yet another solid performance against the Bucs. Griffin went 8-14 for 119 yards and a touchdown.
If he continues to throw the ball accurately and avoids mistakes, he will have a breakout season with the Browns.
1. Josh Gordon Showed Up To Play!! – The Browns have a wide receiver that is truly an elite athlete when he is healthy and not breaking the NFL's substance abuse policy. Wide receiver Josh Gordon played in his first NFL football game since 2014. He was suspended for the entire 2015 season and was reinstated this offseason. He will miss the first four games of the 2016 regular season, and will return in week 5 against the New England Patriots. Gordon had himself a night.
He earned two catches for 87 yards and a touchdown. If he continues to play like this after he returns from suspension, this will help quarterback Robert Griffin III become a better overall player.
First Catch: Slightly under thrown by Griffin, Gordon had to stop and catch the ball.
Welcome back, @JOSH_GORDONXII!@RGIII to Gordon for 44 yards!https://t.co/c8Ula3KV8a

— Cleveland Browns (@Browns) August 27, 2016
Second Catch (Touchdown): Absolutely perfect throw by Griffin this time, and an even better adjustment for the ball by Gordon, who then hauls in the catch.
⚡️⚡️⚡️@RGIII finds @JOSH_GORDONXII for a 43-yard TD!#CLEvsTBhttps://t.co/636Hf7RnBj

— Cleveland Browns (@Browns) August 27, 2016
Conclusion:
Even though the Browns have yet to win a preseason football game, it doesn't even matter. We have witnessed solid performances from quarterback RGIII, the running backs, and some defensive "splash plays". If this offense can produce like it has been, then teams will struggle against the Browns.
The only thing I have to say is the defense needs to stop the run better. When everyone is healthy and playing week one against the Philadelphia Eagles, fans and the coaches should see improvement on the defensive side of the football. If they don't, it will be an offensive showdown in 2016.
Go Browns! 

NEO Sports Insiders Newsletter
Sign up to receive our NEOSI newsletter, and keep up to date with all the latest Cleveland sports news.