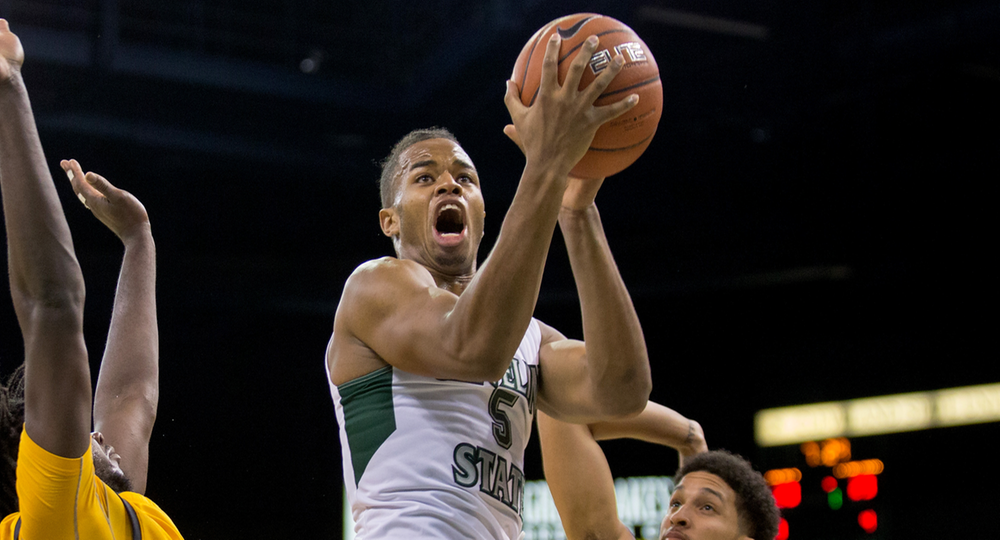 This CSU Game Recap is brought to you by our fine sponsors at
http://www.extremepumpitupfitness.com/
http://www.littlestarsgymnastics.com/
http://www.rlnhomehealthcare.com/
http://www.mdgflooringamerica.com/
GAME #3
Coppin State (0-2) at Cleveland State (0-2)
Showcase on the Banks Classic
Friday, November 17, 2017 | 7:00 pm
Cleveland, Ohio | Wolstein Center
Live Stats | ESPN3 | AM 1420
PDF GAME NOTES
Coppin State at Cleveland State
GAME PREVIEW:
•     Cleveland State hosts Coppin State on Friday (Nov. 17) at 7:00 pm in the 2017-18 home opener in the Wolstein Center.
•    The game is the second of four in the Showcase on the Banks for CSU.
•    The Vikings are 0-2 this year, dropping road games at Akron and Rutgers to begin the season.
•    Coppin State is 0-2 this year, falling at ECU and Oregon.
•    The Bald Eagles are in the midst of playing their first eight games on the road and will also play at Cincinnati on Thursday (Nov. 16) night.
•    Friday's game will be available on ESPN3, as well as AM 1420 and AM 1420.
•    Al Pawlowski and Pat Vuyancih will have the call on ESPN3, and the radio.
GAME PROMOS:
•     Friday's game will feature the return of 216 Hoopy Hour with $2.00 chicken tenders, $1.00 drafts and $6.00 tickets.
•    The first 216 fans in Hoopy Hour will also receive Viking Horns courtesy of Pepsi.
•    Tickets are available by phone or text at 216-687-4848, in-person at the Wolstein Center Box Office or online at www.csuvikings.com.
THE COPPIN STATE SERIES:
•     Friday will be the first meeting between the two schools in men's basketball.
•    It is one of just two teams that CSU will play for the first time in program history this year (ECU on Nov. 20).
GAME 2: RUTGERS 70, CSU 38 (11/14/17):
•     CSU opened play in the Showcase on the Banks Classic with a 70-38 setback at Rutgers.
•    Stefan Kenic scored 12 points with four rebounds, hitting a pair of three-pointers.
•    Kenny Carpenter tallied 11 points, six rebounds and four assists, while Tyree Appleby finished with six points, three rebounds, two assists and two steals.
CARPENTER DOUBLES UP:
•     Kenny Carpenter recorded his first career double-double with 11 points and 12 rebounds in the season opener at Akron (Nov. 11).
•    Carpenter also added a team-best four assists and a steal.
•    His previous career high in rebounds was seven which he did multiple times.
… AND BEGINS SENIOR YEAR STRONG:
•     Through two games, Kenny Carpenter leads the team in scoring (11.0), rebounding (9.0) and assists (4.0).
•    He has led the team in rebounding and assists in both games this year.
•    Carpenter is shooting .588 (10-17) from the field this year.
FRESHMEN SOLID IN DEBUTS:
•     A pair of CSU freshmen – Tyree Appleby and Stefan Kenic – both had solid debuts at Akron (Nov. 11).
•    Both players were signed in the late signing period in April by head coach Dennis Felton and his staff.
•    Appleby scored a team-best 13 points, adding three rebounds and two steals.
•    Kenic finished with nine points, three rebounds, two blocks and two steals.
FELTON BEGINS TENURE AT CSU:
•     Head coach Dennis Felton made his CSU regular season debut on Saturday night at Akron.
•    Felton was named the 15th head coach in program history on March 24, 2017.
•    Felton is a coaching veteran with more than 30 years of experience, including 10 full seasons as a head coach.
•    During his time on the sidelines Felton has amassed 184 victories, won seven conference championships and led six of his teams to the postseason, including four NCAA berths.
KASH IS MONEY:
•     Kasheem Thomas has started all 33 games in his CSU career.
•    He started all 31 games as a freshman last year, the most starts for a first year player in program history.
•    Thomas has started both games this season.
•    Thomas averged 7.7 points, 2.7 rebounds and 3.3 assists (9th in HL) last year, ranking third in the Horizon League in assist-to-turnover ratio (2.1) with 102 assists and 49 turnovers.
•    He had seven games with at least six assists.
WORD UP:
•     Senior Bobby Word is the top returning scorer from last season as he averaged 11.1 points per game.
•    Word also ranked seventh in the Horizon League with 2.1 three-pointers per game.
•    He made at least four three's in nine games last season.
FOR THREE:
•    CSU has hit a three-pointer in a school record 599 consecutive games.
•    The Vikings have hit at least three three's in 148 straight contests, extending the streak with three trifectas at Rutgers on Tuesday night.
•    The last time CSU failed to make a three-pointer was Feb. 21, 1998, when the Vikings were 0-for-8 in a 60-57 win over Detroit.
WILLIAMS & JOHNSON SIGN WITH CSU:
•    Detroit, Mich., natives Rashad Williams and Deante "Spider" Johnson have signed National Letters of Intent to attend CSU beginning in the fall of 2018.
•    A 6-foot-3 point guard, Wiliams averaged 24.0 points, 4.2 rebounds and 6.7 assists at Wayne Memorial HS last year.
•    He was the first player from Wayne Memorial to earn Associated Press first team all-state honors in 20 years, leading team to the district finals.
•    Williams led the team to its first KLAA championship, knocking down 78 three-pointers last year as the squad went 19-4.
•    The 6-foot-9 Johnson was named to the Class C all-state team and was selected as the Class C Defensive Player of the Year in Michigan.
•    He led the school to its first regional championship and appearance in the state semifinals, posting 17 points, nine rebounds and four assists in the state semifinal contest.
•    One of the top defensive players in the State of Michigan with a 7-foot wingspan, Johnson averaged 16.0 points, 8.0 rebounds and 3.5 blocked shots, while shooting 68-percent from the field last year.
UP NEXT:
•    The Vikings continue play in the Showcase on the Banks Classic with a 7:00 pm contest at ECU on Monday (Nov. 20).
•    CSU closes play in the event on Friday (Nov. 24) when the Vikings host Central Connecticut at 5:00 pm in the Wolstein Center.

NEO Sports Insiders Newsletter
Sign up to receive our NEOSI newsletter, and keep up to date with all the latest Cleveland sports news.