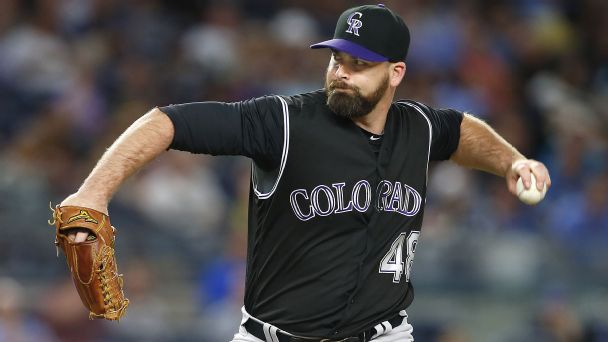 Sources: #Indians in agreement with free-agent LHP Boone Logan, pending physical.

— Ken Rosenthal (@Ken_Rosenthal) February 2, 2017
Ken Rosenthal reported on Thursday that the Cleveland Indians have signed Boone Logan.
This would be the first time since 2013 that Logan would be in the American League. In 2013, Logan was with the Yankees and went 5-2, had a 3.23 ERA in 39 innings pitched, he struck out 50 batters.
Boone Logan has also pitched in the AL Central previously at the start of his career from 2006-2008 with the Chicago White Sox. In 2008, he went 2-3, had a 5.95 ERA in 42.1 innings pitched, striking out 42 batters that season.
While pitching in the American League Logan put up a record of 23-11 with a 4.34 ERA in 286.1 innings pitched. Logan has also accumulated 294 strikeouts while pitching in the AL.
Boone Logan is 28-23 with a 4.45 ERA in 410.1 innings pitched in his 11-year career. He also has 437 career strikeouts.
Former Rockies manager Walt Weiss, had this to say about Boone Logan back in July according to MLB.com's Thomas Harding:
"He's got some deception, a lower arm slot that makes him even tougher on lefties, but he's pitched with his fastball better this year. He's gotten some strikeouts on his fastball. Last year, he had to get you on his slider or he wasn't going to get you."